Free Stuff, Discounts, Special Deals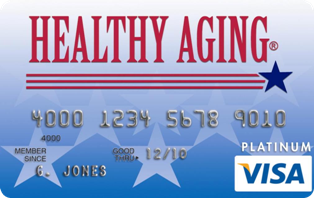 The Healthy Aging® Visa® Platinum Rewards Card
Discounts and rewards from the Healthy Aging® Visa® program will help you, as a cardholder, age successfully . It is never too late to get started on the road to better health!
No Annual Fee.
Low Introductory APR on Purchases and no balance transfer fees for 6 months.
PLUS Earn 1 point for each dollar charged. Earn 2 points for every dollar of interest billed to your account.
Enhanced Visa Platinum benefits, including 24/7 Emergency Customer Service and 100% Fraud Protection, Auto Rental and Travel Accident Insurance and much more.Special Bonus: Apply now and earn points for balance transfers. 1 point for each dollar you transfer. SIGN UP DETAILS HERE
Advertisers and companies who wish to offer special deals, discounts or freebie to the Healthy Aging card members, CLICK HERE to contact us with your special offer.