Seminars -- Ideas and Tools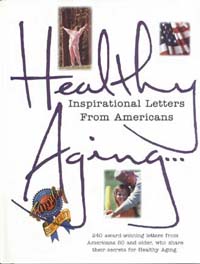 If you are looking for a simple seminar or session to offer your group, here are suggestions.
Many resources, free tips and techniques on positive aging can be found throughout our website, www.healthyaging.net.
The Healthy Aging® Discussion Guide offers ideas on how to set up seminars on physical, social, mental, and financial wellness. Recommendations for local speakers as well as a video (or DVD) and a pack of 20 Healthy Aging® brochures. Click here for more information on the discussion guide: HEALTHY AGING DISCUSSION GUIDE
Click here for other resources that are available: Resources
Here are some additional suggestions:
BULLETIN BOARD IDEA
You might consider doing a bulletin board. Title of board: What's YOUR SECRET for Healthy Aging®? Have members of your group write up their "secrets" or "tips" for Healthy Aging on 3 x 5 cards, sign their name and age (if they would!) and pin to the board. You can give a prize for the best ones, like our book, Healthy Aging®…Inspirational Letters from Americans.Healthy Aging...Inspirational Letters from Americans It's a coffee-table size book containing over 240 essays from real people around the country, sharing their perspectives on positive aging. It would make a great part of your display.
You might also consider getting the Healthy Aging® brochures. The brochure folds out into a sort of poster and you can hang that up too. Or you can get packs of 20 and hand out.
Just some thoughts! We would love to receive the essays or tips that your group writes up so we can post on our website to share with others! Share your tips with us by clicking here!