23 Apr

New Cookbooks for Spring Flings!

H

ooray … warmer weather is upon us and we can turn our thoughts to the first of the spring and summer fruits and vegetables to add to our menus. Dust off the barbecue. Head to the farmer's markets. Get your raised bed going too while you are at it!

To help inspire you, we have discovered several amazing cookbooks filled with ideas not only for spring and summer but all year long.
The Peached Tortilla. Modern Asian Comfort Food from Tokyo to Texas by Eric Silverstein
A cross-kitchen between Tokyo and Texas may seem unlikely but author Eric Silverstein will make you a fan through his new book, The Peached Tortilla. Silverstein's draws from his Asian food culture background and later from his immersion in Southern and Southwestern cuisine to write this new cookbook based on recipes from his hip restaurant, The Peached Tortilla located in Austin, Texas.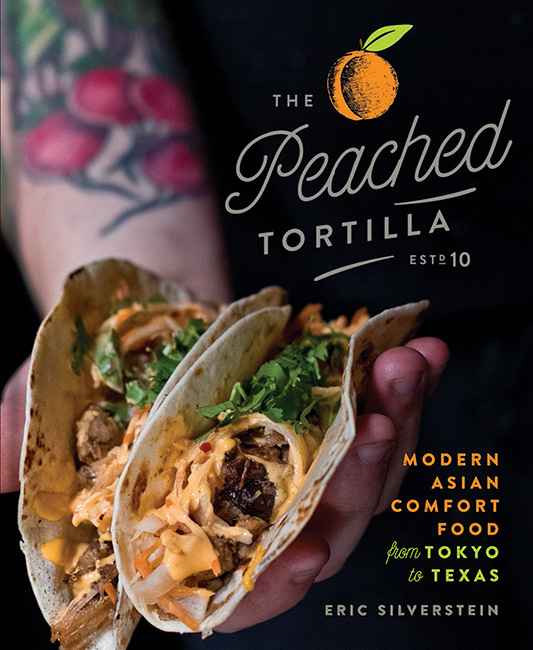 The edgy-style cookbook is loaded with 100 recipes and many beautiful photos. Signature dish recipes are here like the Banh Mi Taco, Japajam Burger and Bacon Jam Fries. The Peached Tortilla is Asian fusion at its best intertwined with soul-satisfying comfort food with a kick.
Silverstein did not take the traditional route into the hospitality world. The former litigator always had a passion for food and aspired to become an entrepreneur, so he decided to combine the two by opening a food truck.
His first truck opened in Austin in September 2010 and The Peached Tortilla empire has since expanded into a fleet of food trucks, three brick-and-mortar restaurants, and a full-service catering business and event space, Peached Social House. He opened a new fast casual outpost of The Peached Tortilla in the Austin-Bergstrom International Airport in the spring of 2018 and his most recent project, Bar Peached, opened January 2019.
Silverstein was born in Tokyo, Japan, where he lived for 1 years before moving to Atlanta, GA. At age 27, he moved to Austin. It was his upbringing in both the Peach State and his "atypical" approach to food that inspired him too name his business, "The Peached Tortilla."
His style of cooking is heavily influenced by Japanese, Chinese and Malaysian cuisine from his time growing up in Japan with hints of flavors from his time spent in the South.
Hot dog lovers will delight with his fun recipe "Yume Dog." According to Silverstein, "creating a Japanese-inspired hot dog was by no means my idea." He wanted to combine the all American hot dog with the Japanese flavors of tonkatsu sauce, wasabi and nori. He suggests a light weight bun that does not overpower this Asian-fusion dog topped with tempura-battered onion strings, wasabi mayo, tonkatsu sauce and shredded nori (dried seaweed sheets).
This is Sunday Dinner … 52 Seasonal Italian Menus by Lisa Caponigri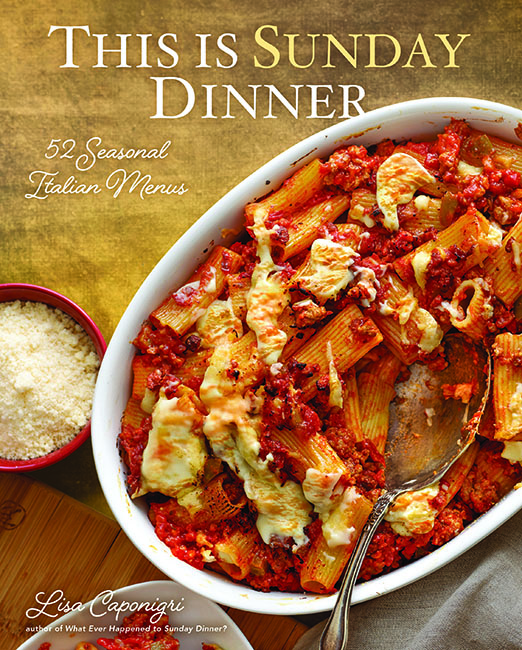 A sequel to Whatever Happened to Sunday Dinner?, Lisa Caponigri now offers This is Sunday Dinner … 52 Seasonal Italian Menus with a seasonal approach that reflects the cuisines of Piemonte for winter, Campania for spring, Sicily for summer and Tuscany for fall.
All of the recipes reflect the seasonal produce from summery artichokes, apricots, figs and the famous San Marzano tomato to hearty roasted meats and rich risottos to ward off the cold.
The book is chockful of the author's experiences of living in Italy along with anecdotes about her family with lots of advice for how to get a spectacular Sunday dinner on the table.
Caponigri also has developed a line of prepared foods and sauces called Lisa's Italian Kitchen. She has appeared on QVC and other television programs. She lives in South Bend, IN.