25 Apr

Profile: Aerial Photographer Follows Her Passion

Why am I so poor?

I will get to that later. First, I want to welcome you to my world of flying, photography, and golf!

I have been flying airplanes for thirty-two years, since my first husband left to pursue other interests in different women. At that juncture in my life, flying saved my life. I had a zoology degree and was a wildlife and underwater photographer, dreaming of someday being a park ranger in the Florida Keys.

One day, I decided to try my hand at aerial photography. I bought a Cessna 172 aircraft two months after getting a pilot's license and a medium-format camera, called a Bronica. I became the only aerial photographer in Florida to shoot aerial photos on square-format film.

After a couple of years of playing around with this idea of aerial photography, building my ego back up with the "I'm an aerial photographer story," but also needing to eat, I started a real aerial photography company with my second husband. During this time, golf became my distraction to the alcoholism in our home, and learning the game gave me a much needed escape. Fore! Look out, I'm taking up golf! At this point, golf saved my life.

Fast forward thirty-two years from when I first started flying: I now have a third husband and a sixteen- year-old son, who is also a golfer (he really didn't have a choice), plus having a deeper commitment and understanding of a loving God. This is where God saved me from my destructive self. I started a business called In the Sand Golf (ITS Golf), which got started when I wanted to give my wonderful husband—also a great golfer—a unique golf gift he didn't have and wouldn't throw away (we re-gift or throw away many of the silly golf-related things our non-golfing family and friends give us).

During my many Florida monthly flights I started looking for sand traps shaped like the letters of the alphabet so that I could spell his name. I decided the letter B would be the hardest letter to find for his name, Bruce. Literally, seconds later, I spotted a B while flying over Bonita Springs. It was off to the links. I was on a mission, ready and determined to find R, U, C, and E!

After that, of course, all my friends wanted their names too. So, after a year and 400 hours I captured and recaptured the letters of the alphabet twice, once in lowercase and again in uppercase. I have not doctored the photos you are about to see, except to make the color of the grass greener and a more similar shade, since the courses have different types of grass, and a few have very little grass.

The F is the exception letter, printed backwards as a mirrored image to the actual shape of the sand trap (or "bunkers," as my Scottish followers have pointed out!). I replaced many letters when I found some with more character (pardon the pun) or more unique surroundings.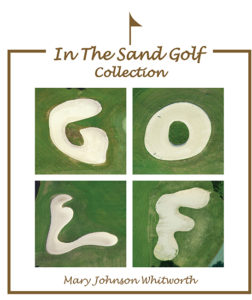 Okay, so back to my original question of why am I so poor? The answer of course is because I like to play a lot of golf, which takes a lot of time and money, but it has made my life rich in so many other ways!
Mary Johnson Whitworth is the author of In the Sand Golf Collection published by Mascot Books, 2019. MJW was born and raised in 1957 in Tampa Florida. She earned a degree in zoology, as well as certifications in scuba diving and underwater photography. She obtained her first pilot's license at Peter O. Knight Airport in Tampa, then went on to become an aerial photographer. She photographed golf sand traps shaped like letters of the alphabet to use in her new business, In The Sand Golf.