05 Jun

Tom Chapin, The Troubadour of the Hudson Valley

"Musicians Don't Retire; They Just Reload"

It was a sunny Friday afternoon in 1991 when I sat with my arms around my two sons, then 5 and 6 years old, in the front row of the Westport Country Playhouse in Connecticut. We were weekly subscribers to the playhouse's children's theater where we saw children's plays such as Alice in Wonderland, Pinocchio, and then … Tom Chapin.

The boys and I were wowed by Tom who became the highlight of the playhouse's children's series for us over several summers. We escaped the summer heat, sang along with Tom strumming his guitar in the restored-barn-turned-playhouse with its creaky wooden floors and the allure of ice cream after the show.

The Westport Country Playhouse provided a special venue for the concerts. Built in 1835 as a tannery and a hatter's leather shop, the playhouse opened as a theater in 1931 with Dorothy Gish in The Streets of New York.

Although the history of the theater may have been lost on my little boys, it was fun for me to listen to Tom in a building that had been graced with the talents of Burgess Meredith (Hide and Seek), Ruth Gordon (The Country Wife), Henry Fonda (The Virginian), James Earl Jones (Thurgood), and later Paul Newman (who directed Of Mice and Men) and his wife, Joanne Woodward (who directed The Constant Wife).

We didn't know a lot about Tom at first. But we soon became big fans. We bought Tom's albums on cassettes (remember those?) and listened to them in our Ford Explorer. My boys grew up on Tom's lyrics. (I did, too.)

"Library Song," "Parade Came Marching," "Long Way Home," and "Big Rock Candy Mountain" were all some of our favorites.

Tom's song "Shoveling" made us laugh and was all so true.

We loved snow days, and the little boy who wanted to play in the snow while his father was busy shoveling sounded like our boys.

Shoveling, just me and my dad. We're shoveling, shoveling, Shoveling all night long. I said, "Hey Daddy, Daddy, Daddy-O, "Let's build a snowman in the snow." He said, "No. We're shoveling. Now get to work!" Shoveling, shoveling, shoveling All night long.

Then there was, and still is, "This Pretty Planet," which rings especially true now. Excerpt:

This pretty planet, Spinning through space, You're a garden, you're a harbor, You're a holy place.

Golden sun going down, Gentle blue giant, spin us around.

All through the night, Safe till the morning light.

The song—which Tom sang as a round with Judy Collins and his daughters, Abigail and Lily Chapin—is a classic. Originally recorded for his Family Tree album in 1988, it was played on the space shuttle Discovery to wake up the astronauts. It was also a favorite song of Christopher Reeve and his family.

It has been widely sung in elementary schools and has been recorded hundreds of times by schools everywhere. YouTube has seemingly endless versions of the song. It's also being released as a beautifully illustrated storybook published by Simon & Schuster (November 2020).

"John Forster and I wrote [the song "This Pretty Planet"] together," Tom said. "We needed a woman's voice, so I called up Judy Collins. She was sweet enough to sing three songs with us."

"Together Tomorrow," another favorite of ours, became an important song for Tom's audiences.

"We end every concert with it," said Tom.

Here are a few lines …

I don't like to say goodbye. I don't want today to end. But we will be happy together tomorrow. Together tomorrow again.

Together, tomorrow, Together, tomorrow, my friend. We will be happy together tomorrow, Together tomorrow again.

You may walk a rocky road. Your road may twist and bend. We'll share all our stories When we get together, Together tomorrow again.

Tom's focus on children's music was influenced by his daughters.

"There was a moment when my daughters were 8 and 6. They had outgrown children's music," he said. "What do you play in the car that they would want to listen to?

"They loved Bob Marley and the Beatles. Boy, this would be fun to do, a recording that would be kid-friendly and adult safe. So, I got together with Michael Mark and John Forster, and we wrote the album Family Tree."
Healthy Aging® Television Special
A few years after we attended the concerts, I produced a television special to launch the Healthy Aging® multimedia company that exists today. I asked Tom to write an opening song for the documentary Healthy Aging…Redefining America. His younger brother Steve Chapin wrote the music score for the rest of the show. It was all about the baby boomers, some of whom were about to turn 50, and changing the face of aging.
When I was a young man I just made my way No thoughts of tomorrow I gulped down each day
Now I'm older and wiser And my step has slowed And I wondering what waits for me down the next road
When my mom she was 50 I thought that was aged Now she's almost 80 and still fully engaged Now I am as old as she was and find I'm not old Almost half of my life has yet to unfold
I'm half of a hundred Stretching my wings Still chasing the future and the changes it brings Half of a hundred With a will to survive The joy and challenges of being alive
I know so much more now than I did back then About the love of a family, the comfort of friends, And the power of reason The joy of a game How ends and beginnings are often the same
I'm half of a hundred Stretching my wings Still chasing the future and the changes it brings
Half of a hundred With a will to survive The joy and challenges of being alive
That was almost 30 years ago. And here we are.
A Musical and Creative Life
It's no surprise that Tom has lived a musical and creative life. Born in Charlotte, North Carolina in 1945, he is the son of the late Jim Chapin, a jazz drummer, and Elspeth Burke, a seamstress and creative in her own right. He was also the grandson of author and critic Kenneth Burke and portrait painter James Chapin. Tom grew up in New York City and later in Brooklyn.
"I have to say, I was most influenced by Pete Seeger and The Weavers. When I was 12," Tom said, "I heard The Weavers, you know 'Kisses Sweeter Than Wine' and 'Sixteen Tons' folk songs. Our older brother Harry said, 'We can do that.' My brother Steve and I were choirboys at Grace Episcopal Church in Brooklyn Heights. So, because we were choirboys, we put together a trio.
The trio began performing professionally in the early 1960s, playing in Greenwich Village folk clubs as The Chapin Brothers. Their dad joined them to appear on The Merv Griffin Show in 1965 with Harry singing lead, Tom and Steve as backup, playing guitars and as singers, and Dad on the drums.
Harry went on to become famous for such songs as "Taxi" ("And she said, 'How are you, Harry?' I said, 'How are you, Sue?'"), and "Cat's in the Cradle," ("And the cat's in the cradle and the silver spoon. Little boy blue and the man in the moon"). Harry died when he was 38 in a car crash on a Long Island parkway, but his fame lives on through his songs. Not to be forgotten, WhyHunger, https://whyhunger.org/ a nonprofit that Harry co-founded, continues through the support of Tom Chapin and his family.
A Life of Reinvention
Like many of us, Tom has faced forks in the road and a few roadblocks that forced him to reinvent himself or take a different path.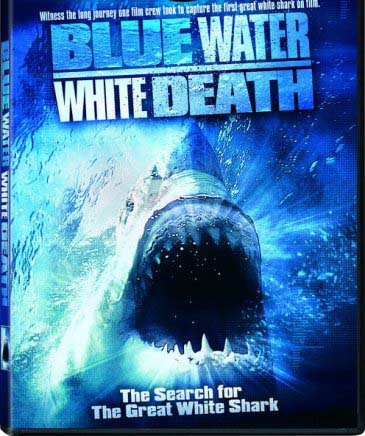 In 1966, Tom graduated from the State University of New York at Plattsburgh. Three years later, he got to work on the making of Blue Water, White Death, a documentary filmed in pursuit of a great white shark in the Indian Ocean. Some say that the documentary paved the way for Jaws, the blockbuster film that made you think twice about taking that worry-free beach vacation.
Tom's uncle Richard Leacock was a well-known documentarian (Leacock/Pennebaker films) and introduced Tom to the film's producer. "I was hired as assistant cameraman and assistant soundman. I took most of the sound for the documentary film and provided a soundtrack, on screen and off," Tom said. The shoot took six months.
Tom had thought he might go the film route. And in some ways, he did. From 1971 to 1976, he was the host of the ABC News children's series Make a Wish, which included a blend of animation, news, and Tom's music. The Peabody Award-winning show also featured songs written by Harry.
Tom's filmmaking career was put on the backburner in 1976 with the launch of his first solo recording album, Life Is Like That. It was the first of a string of albums that helped establish his reputation as both a gifted storyteller and a natural entertainer, winning him an uncommonly loyal fan base in the process.
With music as his underlying talent, he continued to venture into other creative areas, playing the lead role in the hit Broadway musical Pump Boys and Dinettes; working off-Broadway as musical director of both Cotton Patch Gospel and Lies and Legends, The Musical Stories of Harry Chapin; and serving as host of TV's National Geographic Explorer.
He's also written and performed satirical topical songs for NPR's Morning Edition, and had a cameo role as the vice-presidential candidate, Governor Edward Nelson, in Jonathan Demme's 2004 remake of The Manchurian Candidate.
"There are those moments when life takes you off on another track," Tom said. "Roadblocks like that make you rethink where you want to go next. Suddenly, you are three months behind in your rent, and then you are off again."
At one point, an agent he'd had said, "Tom, your music is dying. Maybe you should become an actor. One of my brothers said, I guess you need a new agent."
But through ups and downs and brief explorations down different paths, Tom has built a solid reputation as the troubadour of the Hudson Valley. He has released 26 albums, 13 for kids and families and 13 for adults; received eight Grammy nominations, and won three Grammys.
Last year, he received an honorary doctorate of music from his alma mater, SUNY Plattsburgh.
Tom turned 75 on March 13.
Also this past March, Tom received the Spirit of the Hudson Award from Clearwater, an environmental organization established 50-some years ago by his mentor, Pete Seeger, to clean up the Hudson River, a cause that Tom has become passionate about.
Although he has enjoyed many successes and fulfillment as a musician and now as an environmental activist, Tom is the first to admit that the life of an artist is not always the smoothest.
But he has no plans to retire. "Musicians don't retire," he said. "They just reload!
"I'm at that place in my life where I follow what interests me. I still love the guitar. I still love to sing. And I still love the thrill of creation—a good song, a good recording, a good concert. I feel blessed to be my own boss, creating my own material and performing for so many different audiences, ages, and generations."
Enter COVID-19
COVID-19 has put a curve in the road for everyone. And musicians are no exception. Public gatherings are prohibited. Concerts have been postponed or canceled for at least several months. No one is sure what the future of live concerts will be.
Tom and his daughters, Abigail and Lily, were set to lead a musical cruise to Alaska in May, but, as with many other events, it has been postponed.
We'd hoped to go to Tom's 75th birthday concert, which had been scheduled to occur at The Towne Crier https://www.townecrier.com/ in Beacon, New York, but, even with limited attendance, that was canceled, too.
All of Tom's bookings are gone for the foreseeable future.
So, now what?
How the Chapins Are Turning the Tide—Concerts at Home
Abigail and Lily who inspired Tom to create his adult-friendly children's songs perform as The Chapin Sisters. He has five grandchildren: two 4-year-olds on the East Coast, and three grandchildren on the West Coast, ranging in age from 10 to 15. He has written songs for each of them.
As with all their upbeat music, the Chapins have put a positive spin on sheltering in place. The family is self-isolating at home together, including his two daughters, their husbands, and two of his grandchildren.
Every morning, Tom, Abigail, and Lily, with occasional appearances by his granddaughters and sometimes the family dog, Wiley, offer a 30-minute live family show, "Mornings with Papa Tom," at 11 a.m. from their living room on Facebook and Instagram and archived on YouTube.
"For me, it's been revisiting songs because, for the past 10 years, I've been doing more adult songs as a singer-songwriter," said Tom. "We do five or six songs, and my daughters join in. It's been great for us and wonderful for listeners."
The show receives supportive comments from all kinds of people around the world who are sheltering in place. The Chapins have heard from listeners located across the U.S. as well as countries such as Bermuda, Canada, England, France, Ireland, Mexico, Panama, and Poland.
Many viewers talk of feeling lonely, sad, stressed, and missing family members whom they are now physically separated from.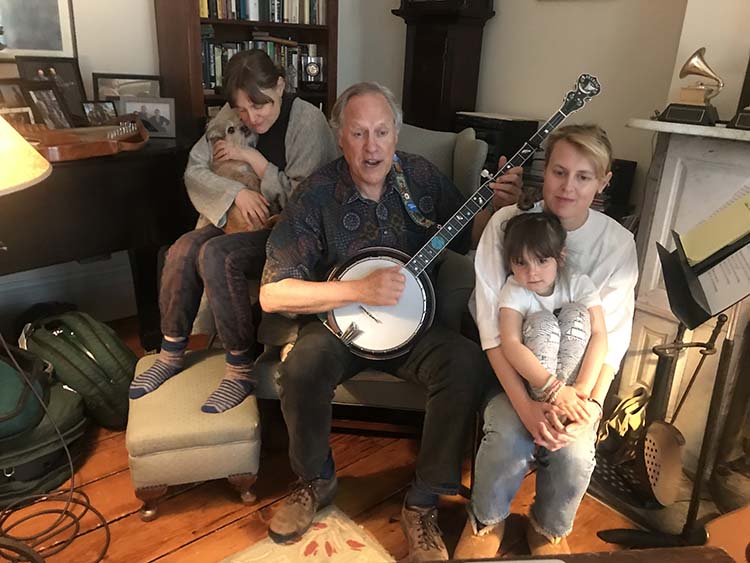 The show brings joy, many memories, and a structure to the day. They say this half-hour gives them a sense of family, seeing the three generations interact.
The Chapins have set up ways to accept small donations for whoever is so inclined. They have launched a PayPal, a Patreon, and a Venmo account.
"This may be the way it is for a while, so we are learning this online thing. My whole life has been about if a door goes ajar, be open to new things" Tom said. "This has been a good trait to have in this crazy world. It has been hard for us musicians with streaming taking away our livelihood and now live concerts out."
To sum up a life so far so well-lived, Tom said his greatest accomplishment would be, "The life I am living. This world, especially the creative world, can really beat you down. I have a personality that doesn't get angry. Also, the family we grew up in. It's the life, the creative life. And to have the family life with a big shout out to my wife, Bonnie, would be my biggest accomplishment.
"It's magical to be with my daughters. I'm proud of them, their choices in mates. Family is a big deal. That's what I am most proud of."