22 Jan

Full-Circle Sojourner

Traversing the Appalachian Trail from Springer Mountain, Georgia to Mount Katahdin, Maine is a bucket list check off that has driven and inspired trail walkers since Earl Shaffer became the first 2,190-mile "thru-hiker" in 1948. Like scaling Everest, surfing the Banzai Pipeline, or crossing the Sahara, walking the entire trail in 12 months or less has become one of those ultimate challenges that beckons only the most adventurous souls.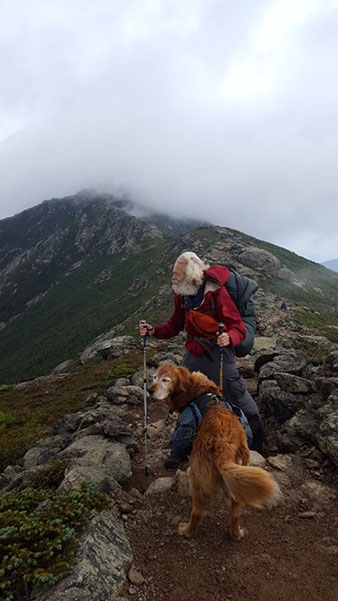 The "A.T.," as it is called by insiders, is arguably the Holy Grail of walking trails. Since it was officially completed in 1937, over 15,000 hardy hikers from some 40 countries have walked end to end—although from year one to 1969, only 59 completions were recorded. It took Ed Garvey's book Appalachian Hiker: Adventure of a Lifetime, published in 1971, to define the 2,000-plus-mile "thru-hiker" as a walker's ultimate endurance feat.
Garvey's book, filled with anecdotes and trail lore, captured the imagination. It arrived on the heels of America's first fitness craze, launched in 1963 by JFK's 50-mile-hike challenge and the subsequent obsession with marathon running plus other feats of endurance and unprecedented physical challenge. Catching that wave was the ever-growing number of A.T. 2,000-milers that hit the historic total of 10,000 by 2008.
Nearly a decade before JFK's 50-mile-hike challenge, some 15 years before the Appalachian Hiker was published, and a lifetime before the 10,000th hiker completed the A.T., a 14-year-old outdoorsy and serious-minded boy from Fairfield County, Connecticut had a dream to make the legendary 2,000-mile trek from end to end during the summer of 1956.
Like many teenaged fantasies, it never happened.
Over the years, his dream flickered and nearly went out. That is until October 27, 2016 at 1:45 p.m. when Soren "Sojo" West, age 75, took his last, painful step on a chilly day in Maine to become one of fewer than 30 septuagenarians in history to become a thru-hiker of the Appalachian Trail.
This is His Story
Today, Soren West is an Old Testament look-alike. With his six-foot, slightly hunched frame, long gray beard and alert, almond eyes, one can imagine how he must have appeared that day when he came out of the woods from his eight-month trek from Georgia to Maine.
Pretty beat up. Somewhere around Rangeley, Maine, he was moving fast, tripped on a stone, and met a tree root face-first. It slammed his left incisor into his jaw and spilled blood. After Rangeley, Maine's only dentist reset the tooth, he was back on the trail.
Many hundreds of miles earlier, another sharp stone resulted in planter fasciitis, a painful affliction of the planter tendon that stops many hikers in their tracks. Swapping high-top hiking boots for low cuts shifted the pain to raw heals and interdigital blisters from scrunched toes.
An infected bursa in his right shoulder had to be aspirated with just over 100 miles to go to the finish at Katahdin. The result was a four day hospital stay on IV antibiotics to prevent any infection getting to a left partial knee replacement from 2014. The doctor wanted to operate, effectively ending the trip. With a 'no thank you,' Sojo pressed on.
"My feet hurt from Marion, Virginia to somewhere in Massachusetts. I fell down some 40 times and there were days when I experienced physical and mental meltdowns," he admitted.
Lesser men and wannabes would have justified quitting for any one of his many setbacks. Or those who wouldn't even start when facing the real truth of the A.T. 2,000-miler, "No rain, no pain, no Maine." In fact, only one in four who attempt the thru-hike ever finish.
The Beginning
Sixty-one years ago, Soren West was a bright, fresh-faced young man, the kind of kid who could've graced the cover of a 1950s Boy Scout handbook. His love of nature and the woods grew from summers spent at Camp Idyllwild on Lake Winnipesaukee in New Hampshire's White Mountains and from boarding school at Mount Hermon in the rolling hills of northern Massachusetts.
[awesome-gallery id=5419]
"As a kid, I just loved the outdoors," he said today. "My brother and I would escape into the woods around our home in Connecticut to camp out, and my favorite summers were hiking the Whites in New Hampshire. I did Franconia Ridge at age 12 and as a camper at Idyllwild, hiked 67 miles of the A.T. and all of the surrounding peaks. I think that's when the outdoors kind of reached into my soul. It was a calling that stayed with me throughout my whole life."
He couldn't recall exactly how the end-to-end challenge first captured his imagination. Other than by a handful of hardy outdoorsmen, the fully completed A.T. was barely known in 1956, the year Soren and his prep school roommate, Joe Watterson, fantasized the great adventure.
There had only been a dozen thru-hikers by the mid-50s. Like "Grandma Gatewood," the first female to make the trek in 1955, perhaps Soren and Joe were inspired by an old 1949 National Geographic article that presented 17 pages of black-and-white adventure about "The Skyline Trail from Maine to Georgia."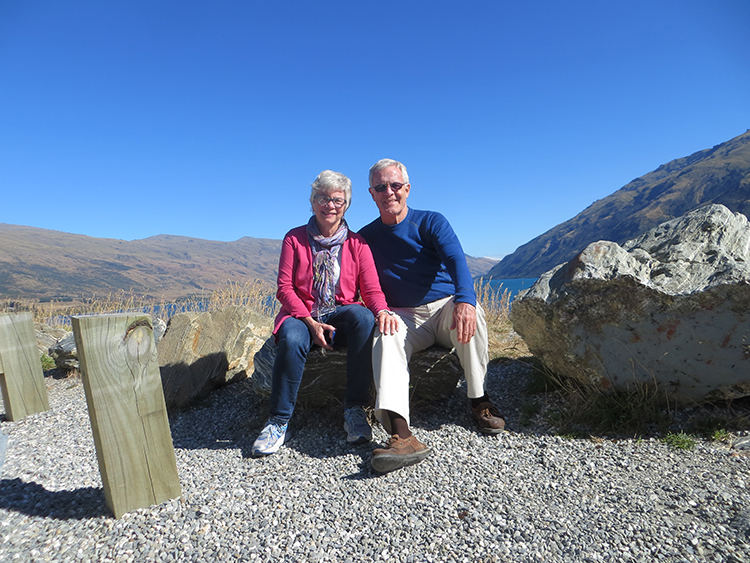 No matter. Life got in the way. Soren graduated from Yale in 1964, the same year that he met Bonnie at a spring mixer and confesses that ever since he has had "eyes for none other." Their marriage has lasted 51 years and produced five children.
But balancing a family, transitioning from an English teacher to attorney—"I didn't have the love of students or the patience to teach"—meant that any thought of the thru-hike was buried in day-to-day priorities. Representing plaintiffs in personal injury litigation, far from the White Mountains, widened the disconnect.
"You know the idea, the dream, just retreated into the dark resources of my mind," he said.
As the years marched on, Soren's motivation was a sense of duty and deep-seeded desire to help others, win cases, and provide for his family. The closest he came to the outdoor adventure of his youth was family ski trips, some overnight hikes with his boys, and his desire to stay fit playing tennis, squash, and racquetball.
He also loved flying and, notwithstanding the full demands of family and career, he took to the air.
"I used to love landing in a hilly and unlighted corn-field-turned-runway day or night, guided in the dark by a single light on a nearby hanger. I can imagine, in another life, being a bush pilot in Alaska. There is something about the exotic—challenging, somewhat risky, and far away …"
Spoken from the heart of a true adventurer.
The Awakening
In 2005, Soren West was facing his 65th birthday in June of the following year. His children were grown and pursuing their own lives. His law practice was doing well but was getting old, the joy of helping win cases was being worn down by the litigation mentality. "I was becoming weary of battle as a way of life," he said.
Out of the introspection brought on by the advancing timeline of life, his unfulfilled, adolescent dream resurfaced and, as he put it, "I faced a thought that must have slowly germinated in some fertile recess of my soul: Wouldn't it be neat to celebrate my 65th birthday on Katahdin?"
He shared the idea with his family to little resistance but with some unspoken skepticism from Bonnie. "You know, I never knew this was a dream of his. He was serious, I could see that, but I had my doubts that he could put everything aside to actually do it."
Soren realized that a challenge of this magnitude required serious preparation. Making it to Maine by June meant departing right after Christmas to complete the thru-hike in five months, an aggressive goal for anyone past 50. It also meant that it would take a good bit of time to arrange a significant hiatus from his solo law practice and family life, so he could depart with peace of mind.
So he put it off … again. But the germ of an idea had sprouted and inexorably began to mature.
"Every year, I would say to my staff and my family, 'If I can close my office by the end of the year, I am going to start the trail next March.'"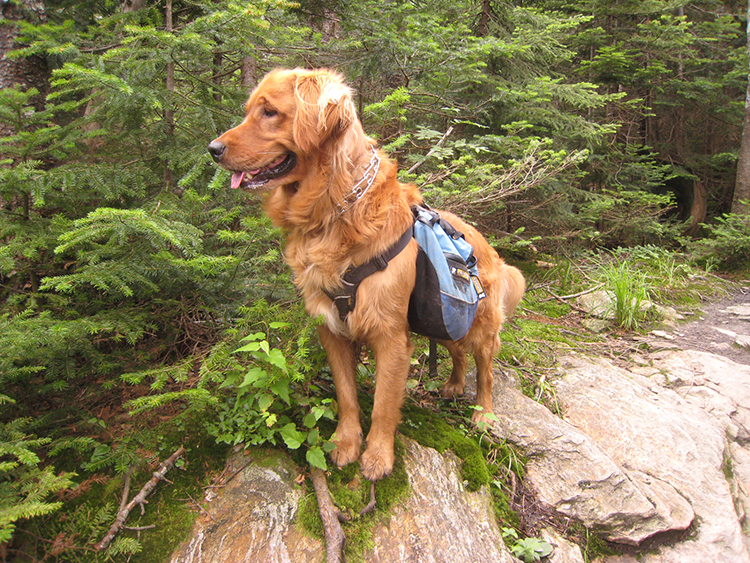 It took another decade to inch toward taking that fateful step. One new family member who never questioned his resolve was Theo, his three-year-old Golden Retriever and Soren's self-described "litter mate."
Beginning in 2010, they hiked over 400 miles together in Vermont and Pennsylvania, figuring out their gear, what they really needed to carry, and how well they would fare in months of endless woodland mountains over rocky terrain and through unfriendly weather. Soren had found his faithful adventure partner.
Bonnie began to understand. "I realized that this idea wasn't going away. At first, it seemed so impractical, but I could see he needed this to satisfy the romantic, adventurous part of him. It pulled him through the tedious aspects of each year, away from the nitty gritty of life."
He circled 2016 on his calendar and carefully studied the trail maps. He changed his license plate to read IK9AT16. He told family and friends that he and his dog were committed. Theo would be 8, Soren would turn 75 on the trail. He told himself, "If you're going to do it, this is the hour."
"In 2015, with Bonnie's extraordinary help, I renovated space above our garage, and I moved my office there. I cleaned out the basement and my closet, updated my will, wrote my wishes for burial, and cleaned up as many bills and as much paperwork as I could in preparation for my long absence and to have things as much in order as possible upon my return."
This time, there was no turning back.
The Trail
"My family of 16 all gathered on Valentine's Day, 2016 to wish me and my 'litter mate' well," he recalled. "On February 18th, Theo and I headed south in a one-way car rental with my pack and trekking poles and his saddlebags in the trunk. At 74, I was beginning an eight-month thru-hike of the Appalachian Trail, 60 years after I first thought to do it."
It was a sobering thought. He was a responsible patriarch leaving his family behind for a personal, some might say selfish, calling from his youth. Only a handful of the hardiest septuagenarians had ever completed the thru-hike. But his family rallied behind him. He couldn't let them down, or himself.
What ultimately transpired was an adventure and then some.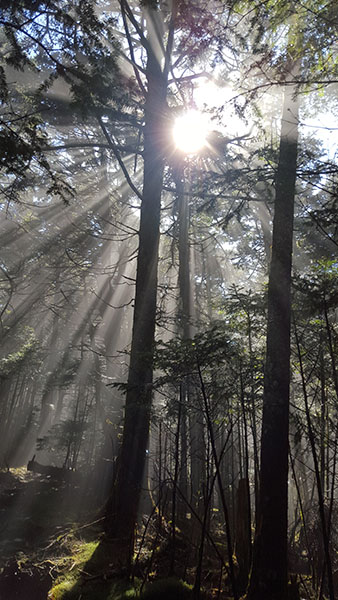 The A.T. passes through 14 states in 3 sections. The southern three states—Georgia, North Carolina, and Tennessee—are mostly dirt-and-leaf trails up and down endless mountains with long zigzag switchbacks. The middle states—Virginia, West Virginia, Maryland, Pennsylvania, New Jersey, New York, Connecticut, and Massachusetts—have similar trails over lower elevations with many miles over endless rocks and boulders. And the northern three states—Vermont, New Hampshire, and Maine—feature steep mountain trails, without switchbacks, that become steeper and more treacherous through New Hampshire and Maine. Challenging terrain, spectacular views, unspoiled forests, bountiful wildlife, and ever-changing weather are the hallmarks of the Appalachian Trail.
Soren's overwhelming takeaway was the elemental power of nature that he first experienced as an adolescent on Franconia Ridge six decades before. "Although I'm not a tree hugger, I love our planet and realized, as I hiked toward my New England roots, that I have always had a deep connection with nature and that I was coming back to where I first felt it."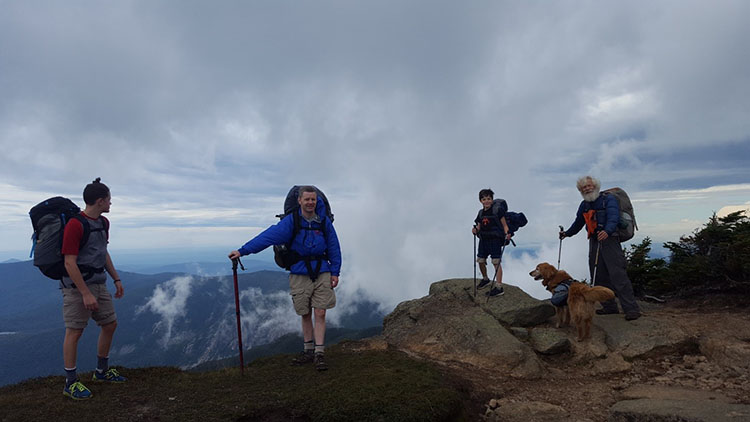 He reached Franconia Ridge on August 30th, this time accompanied by his son, Christopher, and two of his own boys. They climbed through Franconia Notch to the top of the Ridge, just like Soren had done six decades and a lifetime ago.
"The weather put on an incredible performance to welcome me back," Soren recalled. "We had climbed above the tree line as mist and clouds formed and separated, came and went, again and again, opening up views and shutting them off in a fantastic show with wind howling all the while. Something in me came uncorked, and I howled back at Mother Nature with a primitive cry from deep within. I faced her head-on and relished the encounter."
[awesome-gallery id=5154]
Aside from the occasional primal moment, Sojo's trek was filled with the kind of stuff that tests resolve and makes for great stories. Although he often went for days at a time without seeing another human, he was passed by thru-hikers like "Goat" from Turkey whose mission was to complete the trail in 90 days, "Mr. Bean," a section hiker from Hawaii, and "Journeyman," a 65-year-old retired social worker who had just been honored as "Social Worker of the Year." He met astrophysicists, engineers, retirees, and college students. And, from time to time, he was joined by members of his own family who faded in and out just to share some of the experience. But for the majority of the trek, Soren was accompanied only by his faithful companion, Theo.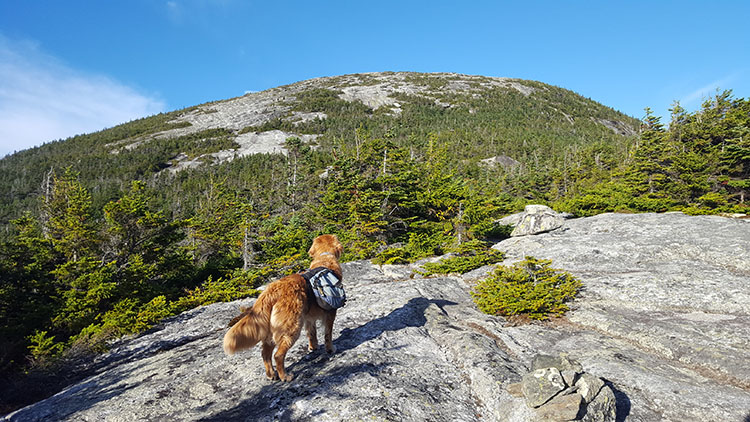 "Honestly, Theo was the best companion. I can't imagine doing this without him. He was loyal, obedient, and had an amazing trail sense. There were times, usually late in the afternoon, when he would take the lead. It was almost as if he was saying 'we can do it.'"
They covered 20.1 miles on their longest day north of Damascus, Virginia. Their shortest—and hardest—day was 2.7 miles, including an impossible mile of rugged, boulder-strewn climbing through Mahoosuc Notch in Maine where a 78-year-old hiker just weeks before reportedly fell and dislocated his shoulder to end his trek.
All in all, they spent 247 days together with the single-minded mission of covering all 2,189 miles of the trail from Georgia to Maine. In all that time, they only took 35 days including a welcome three-day visit from his entire family to celebrate his 75th birthday in Middletown, Virginia, three days at Laughing Heart Lodge in Boiling Springs, NC to write an appellate brief for a client and four days in Danbury, CT at a sister-in-law's to treat his damaged feet.
The venture nearly came to an end not even halfway through when he reached Hamburg, PA near his home in Lancaster. In daily contact by cell phone, Bonnie knew he was having a rough time and suggested he spend a few days off the trail. "When I picked him up, he looked like he had just stepped out of central casting for Shindler's List," she recalled. "He was practically a skeleton and was physically and emotionally depleted. His feet were raw and blistered. He'd had a horrific case of diarrhea. I thought maybe he'd had enough."
Not so. After four days of solid rest and good food at home, Soren was back on the trail. Asked if he ever thought of quitting, he said, "Never, never! Although I went through some bad moments, my purpose was fixed. The dream had become a challenge. There was no way I wasn't going to finish."
Changing Times
Many oldsters before him had set the bar high.
By age 69, Emma "Grandma Gatewood," mother of 11 children and grandmother of 23, had completed thru-hikes in 1955 and 1957 wearing Keds tennis shoes and carrying a homemade knapsack. Without a tent, sleeping bag, map, or compass, she was protected from the elements by just a wool blanket and plastic shower curtain.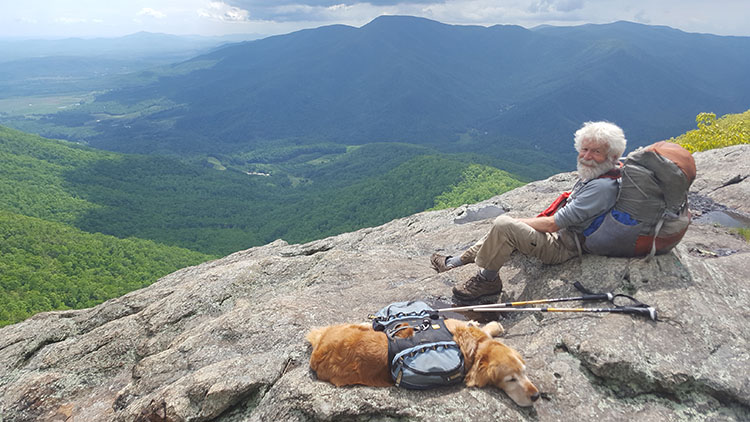 Sojo knew better. A decade of preparation meant his attack on the A.T. was planned down to the tent stakes. He researched all the latest uber-gear for the trail, including an ultralight sleeping bag, water-repellent duplex tent, down booties, iso-propane jet-boil stove, freeze-dried Mountain House food, headlamp, compass, cellphone, Crocs, dog vitamins, sleep pad, water bottle, and more. David Miller's book AWOL on the Appalachian Trail provided daily advice for water sources, shelters, resupply spots, elevation changes and off trail shuttles. Between Sojo's backpack and Theo's saddlebag, the whole travel kit tipped the scale at under 50 pounds.
Regardless of the modern gear, the reassuring vibe of a cellphone and the ability to check into a motel now and then, Sojo still had to put one foot in front of the other for over 2,000 miles. In 247 days, he took some 5-million steps and climbed 509,000 vertical feet, equating to more than 16 trips up Everest.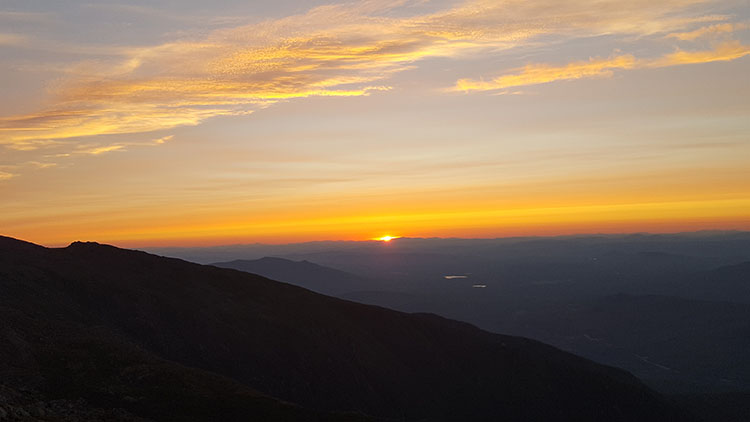 In eight months, he and Theo walked through rain, snow, lashing wind, oppressive heat, and numbing cold. They had witnessed clear dawns and radiant sunsets, friendly humans and wild animals. They sat on mountain tops and drank from springs that had been the same for thousands of years. There was plenty of time for reflection and, in one of those moments, Soren faced the essence of who he was. He wrote, "You know, maybe the simplest way to conceive of this whole thing is to admit that I am a romantic for whom the far away and off the beaten track, the exotic, and extraordinary have always been alluring."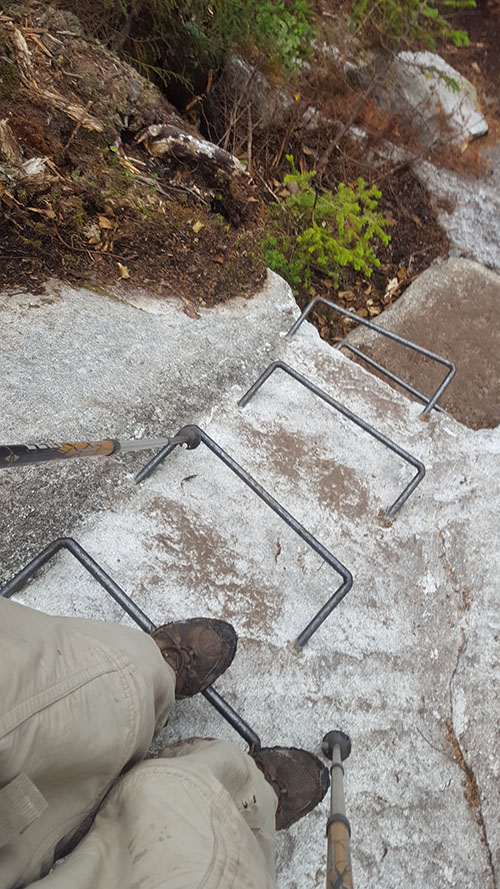 As fall chilled toward winter, Soren faced the end of the trail—the notorious 100-mile wilderness leading to Katahdin. The woods turned cold, wet, and snowy. He had lost 30 pounds, and his body ached with every step. It was the end of cell service.
Bonnie, a deeply religious woman, prayed for him after their last phone call as he headed into the Maine woods for the final two weeks. "By then he was running on fumes," she said. "I had been given the grace to accept that he had to do this, and I had become so proud of his persistence, his drive to finish. I knew he would make it, but I also accepted the fact that if he died, he would die fulfilled."
"Going deep into the wilderness was a psychological challenge," Soren recalls. "It was the tail end of the hiking season and Theo and I would be alone for sure. Although we did see some people, it was a cold, wet and lonely time. What I thought would take seven months was taking eight months and six days. A thunderstorm drenched my tent and my clothes. I hiked for seven days in more rain and heavy snow, fording rivers and climbing mountains in cold and wet gear, damaging nerves in my fingers and toes."
Soren's mind kept him going. The steady, slow rhythm of placing one foot in front of the other was driven by the love and support he had received from his family and the mantra that played in his head, "Their …love … will … see … me … through … their … love … will … see … me … through …"
The Takeaway
For two weeks after he got home, Soren could barely walk up the stairs. Theo slept a lot.
Slowly, the strength and weight returned. But Soren's bushy, gray beard remains, along with a comforting sense of completion and a new definition of himself.
He struggled with how to express it. "For sure the experience changed me. I feel like I got a clear and authentic picture of who I am, going all the way back to my youth. In some ways, it was an out-of-body experience … something I can always draw from."
He is certainly proud of being the oldest thru-hiker of 2016. But that's not the benchmark he carries inside. Asked what it is, he thought for several moments and then, almost in a whisper, he said,
"Holy shit, I walked 2,000 miles …"
All photos courtesy of Soren West
Ten Tips from Sojo for the A.T. Thru-Hike
1. Take some long hikes—at least a week or two to find your legs and your tolerance and to try out your gear and food. Get a sense of good nutrition, and try out dehydrated and freeze-dried foods—some of which can be purchased in bulk online if you're not into dehydrating your own.
2. Visit outfitters and ask tons of questions about lightweight gear and research the numerous books, websites, and YouTube videos for tales and tips.
3. Packs and boots are your most important gear—perhaps even give your boots a workout. Good suppliers want you to be happy with their wares and will probably exchange without cost.
4. Clothing in layers is critical and allows flexibility. Zippers are like HVAC—up, heat; down, air conditioning. Wool, fleece, or Gortex—never cotton. Use a thin liner sock under wool socks to prevent blisters. Rain gear helps you get only less wet.
5. Mittens for winter—gloves give you manual dexterity, but they also isolate your fingers so they freeze individually.
6. Ultralight isn't everything. It's super, but some of us have to accept some heavy items: peanut butter is tops for nutrition and heavy, same with honey. A multi-charge backup battery is heavy but indispensable. Carry only the essentials for first aid.
7. Lightweight trekking poles provide balance, prevent falls, help over streams and bog bridges, push the upper torso up hills, and hold you back on steep descents. Legs have to work harder without them.
8. Learn to rest by hoisting your pack off your shoulders. Hang your head and torso between your poles with hands in straps from bottom as designed—few get this—lock your knees, and close your eyes. Amazing how this helps—you will be refreshed in 30 seconds!
9. Take photos. Unless you're a professional photographer, current cellphones have awesome cameras.
10. Ship ahead. If you decide to have food and supplies shipped to you, address them to hostels. Owners are often happy to hold packages shipped to "Hiker [Trail name]" instead of post offices that may or may not be open and may require a shuttle ride to locate. Resupplying food in town can save a lot of hassle and package handling.
Editor's Note. Video to Watch: Appalachian Trail in 5 Minutes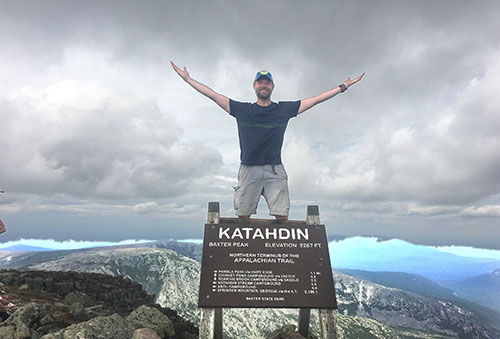 To experience the entire Appalachian Trail in 5 minutes, watch Craig MacPherson's video on YouTube.
MacPherson, 48, also hiked the trail in 2016. He clocked 175 days from March 4 to August 25th. The best part for him was all of the people he met. The worst? Hiking in the rain for days on end and never being dry.
To learn more about the AT
If you yearn to hike the Appalachian Trail, a good place to start is by visiting the Appalachian Trail Conservancy website. Good luck!