21 Jan

Active Travel: Road Trips Across America

Picture it: a full tank of gas, the perfect playlist, one arm hanging out the window, and the wide-open road beckoning.

Whether it's a long weekend getaway or a month-long trek across the country, the great American road trip is back, big time.

In fact, according to the 2017–2018 Portrait of American Travelers report by the travel and marketing agency MMGY Global, domestic travel now makes up 85% of American vacations, and 39% of those are road trips.

It's not hard to see why…

Road trips are inherently more free-form than most travel: You see and experience more when you're on the road. You can stretch your legs and explore gorgeous scenery and quirky pitstops. And it's much cheaper than an international flight.

All you really need is a car and a sense of spontaneity. Armed with a guidebook, you'll have the added bonus of local insider tips and itinerary suggestions right there in the glove box.

There's a lot of ground to cover in North America. So, choosing a route for your next adventure can be daunting. For a little inspiration to get started, here are five incredible road trips to add to your must-do list…
New England
Discover a slice of America that's both steeped in history and full of exciting food, art, and culture. Sample farm-fresh cuisine in the Berkshires, or hit up the famous Tanglewood Music Festival in the summer. Dive into Boston's revolutionary history, or browse the funky galleries in Brattleboro, Vermont. Take to the sea off the coast of Maine to spot humpback whales and puffin colonies, or lounge on the beach and snag a buttery lobster roll.
To start planning, check out Moon New England Road Trip.
California
A cruise along the California coast is an epic journey: hundreds of miles of vibrant cities, lively coastal towns, and dramatic cliffs, all bordered by the glittering Pacific Ocean. Coast by fields of golden California poppies, or stop at a seaside grill in Santa Barbara for the best chicharrón and Baja fish tacos you've ever tasted. Marvel at the thundering waves at Big Sur, or dance down rainbow-colored streets in San Francisco's Castro District.
To start planning, check out Moon California Road Trip.
Nashville to New Orleans
From Music City to the Big Easy, cruising through the heart of the South along the verdant Natchez Trace Parkway is pretty much nonstop fun. Grab some hot chicken, and two-step to country classics in Nashville. Indulge in jazz and Creole cuisine in New Orleans, and enjoy barbecue and blues in Memphis. Visit important monuments of the civil rights movement, and learn about the South's musical legacy on the Mississippi Blues Trail.
To start planning, check out Moon Nashville to New Orleans Road Trip.
The Southwest
Wind-carved red rocks, brightly painted adobe houses, and miles of open desert road: a drive through the American Southwest is pretty much the quintessential road trip. Revel in the glitz of Las Vegas, or shop the markets of Santa Fe. Admire at the sandstone spires of Monument Valley and the cliff dwellings of Mesa Verde National Park. Or go mountain biking in Moab or swimming in Havasu Falls.
To start planning, check out Moon Southwest Road Trip.
Blue Ridge Parkway
One of America's most scenic highways connects the green valleys of Shenandoah National Park to the Great Smoky Mountains. And from the museums of Washington, D.C., to the breweries of Asheville, North Carolina, there's plenty of culture to soak up along the way. Listen to live bluegrass music with a glass of local moonshine, drive past fields brimming with fireflies, and wander through American history.
To start planning, check out Moon Blue Ridge Parkway Road Trip.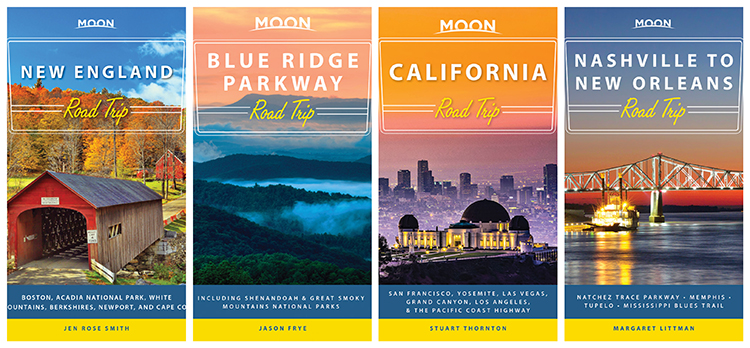 Bonus: Can't make up your mind? No problem! For the ultimate in classic two-lane highway adventures, grab a copy of Moon Road Trip USA.