21 Jan

Old Lady on the Trail

Shoot. There's still smoke.

Disappointed, I started the descent from Swiftcurrent Pass. I'd hoped the smoke would be cleared. Other hikers had told me it was clear from Many Glacier to the top of the pass, but they'd left Many Glacier two days earlier. Today, smoke from the fire that had consumed the Sperry Chalet had spread even past Swiftcurrent Pass. It had joined with smoke from the Canadian fire near Waterton. Still, the haze was slightly less than the day before. I wanted to take it all in, intentionally observing everything, trying to soak it all into my vision and memory.

In spite of the smoke, the high country was still beautiful—all shades of brown, yellow, and red ground cover in this very dry September. (The ranger on the border had said no measureable precipitation had fallen for 90 days.) The few remaining banks of snow amid rocky crags gradually became more visible as I neared them, smoky haze not obscuring everything. Although, no pictures I took would show the clear beauty of a blue sky. Green trees and bushes, rocky crags, and ground cover were all grayed with smoky haze.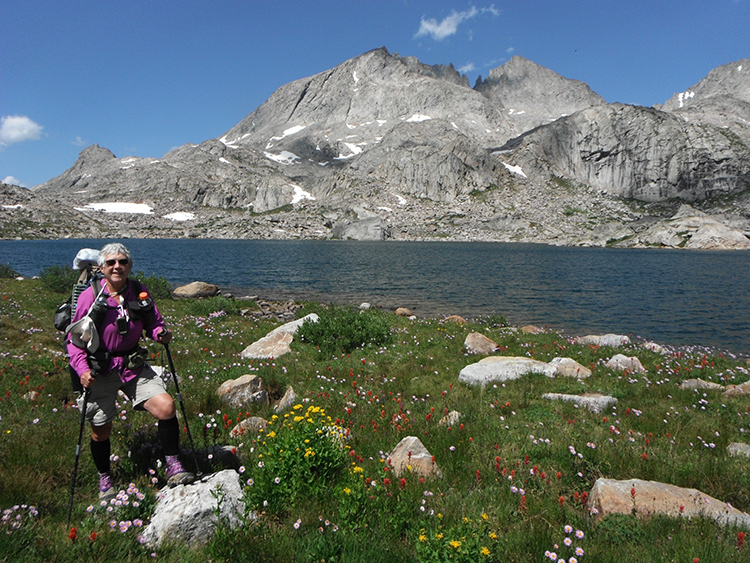 This was my last day to complete the Continental Divide Trail for my Triple Crown. No putting it off until another year. At age 76, I couldn't be sure that I would have another year with the ability or opportunity for a multiday backpack. This was the year to complete my goal, a journey that had begun 14 years ago, before I knew a Triple Crown existed. I'd walked nearly 8,000 miles for the Triple Crown and 2,000 miles more on other long trails. Who knew how many more trails I would be able to walk?
As I descended, I could see two moving white dots on the opposite hill. Goats. Mountain goats. Walking a little closer, I could make out heads, too, reaching down to graze, and barely seen legs moving white dots across dry forage between rocky cliffs. I was excited and happy to see the goats.
The best was yet to come. I turned a corner around the shoulder of a ridge, singing old Girl Scout songs at the top of my lungs as a warning to bears that I was on the trail. And, WOW. A grizzly bear popped out of the trees on the lower side of the trail, 50 to 75 feet in front of me. The grizzly didn't even glance at the walking singer, just lumbered gracefully across the trail and up the gulley. Stunning!
I watched in awe, but the bear was not interested in me or a threat to me. I also saw another bear up the gully. These were mature grizzlies. Though I'd been walking in grizzly country since northern Colorado five years ago, I'd never seen a grizzly before. I was thrilled.
How quickly the grizzly covered ground, even though he seemed in no particular hurry. Big boulders and a few trees kept getting in the way of a clear view. I didn't want to spend precious moments trying to focus a camera. I only wanted to watch the grizzlies until they turned the corner out of sight in a rocky cleft above the trail.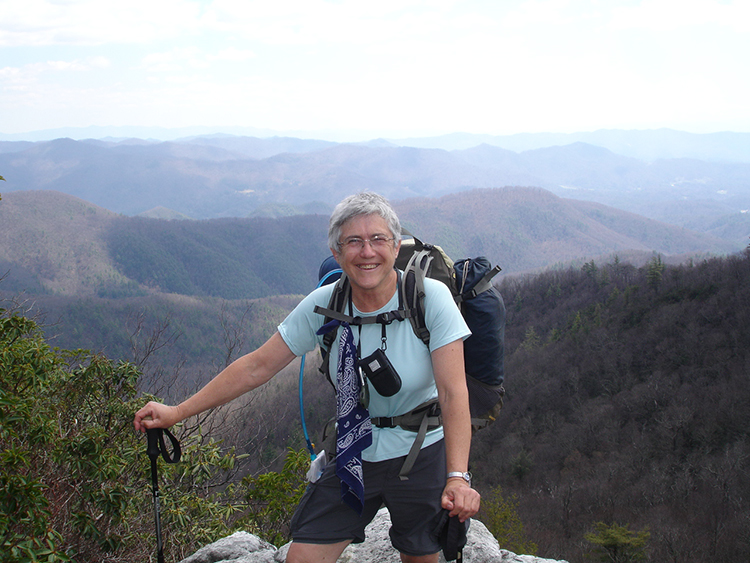 What an amazing gift for my last day on the Continental Divide Trail.
After the grizzlies disappeared, I continued down the trail and turned another corner. Swiftcurrent Basin opened up. The trail was cut along cliffs, switchbacking down to the valley below. Four thin waterfalls plunged hundreds of feet into the high mountain bowl. Even through smoky haze, I could look above the waterfalls to glaciers. Yes, there was smoke. No, the pictures wouldn't be as spectacular as they would have been without the smoke. But even a smoke-filled valley couldn't completely obscure the grandeur of the view as I made out the outline of Bullhead Lake far below me.
It was an awesome way to end the Continental Divide Trail. On a personal high, I walked the rest of the way to Many Glacier. Last day on the trail and two magnificent grizzly bears. Pretty hard for a 76-year-old lady to beat that.
There were lots of day hikers from Bullhead Lake to Many Glacier. Several spoke to me. I was the one with a big smile on my face, carrying a backpack. I was only too happy to announce that I thought I might be the oldest hiker to complete the Triple Crown.
Several of them said I was an inspiration as they, in their 50s and 60s, were thinking their hiking days might be over. They said if I could complete a Triple Crown at 76, perhaps they could continue to hike. I recommended they recognize their limitations, not try to do what young hikers do in exactly the same way, or even what they themselves used to do, but plan their hikes according to what they could do now: get lightweight equipment and keep on hiking.
It can be done. I know. I am an old hiker. I have three joint replacements and the usual assortment of conditions common to those in their 70s. Yet, I completed the Triple Crown of long-distance hiking at age 76.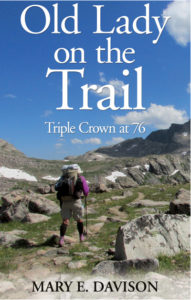 Some people I have met along the trails and years, as well as on that day, suggested I write a book. I hope they and others will enjoy reading this book. It is not a how-to book. It is the story of my journey to the Triple Crown, the story of an aging hiker completing the Triple Crown in spite of problems common with advancing age. Come, adventure with me. Discover the joys and challenges of three of our National Scenic Trails.
With lightweight equipment, a love of walking through wilderness, a certain skillset for living outdoors and moving safely on the trail, and creativity in adapting expectations to abilities, older hikers can hike long trails.
If you are one of those older hikers, huzza for you. If you are an armchair reader, may you enjoy the trails vicariously as you meet your own challenges, discover your own possibilities, and celebrate your age.
Mary E. Davison completed the Appalachian Trail, the Pacific Crest Trail, and the Continental Divide Trail at age 76. And she's the oldest person to do so. She received the Triple Crown Award from the American Long Distance Hiking Association and wrote a book, Old Lady on the Trail: Triple Crown at 76.