21 Jan

Finance: Transitioning Your Assets … A 4-Step Process

Afinancial plan isn't complete without a well-thought-out design for transitioning assets. Whether that transition occurs during life or at death (or both), it's an inescapable process that every individual will eventually face—voluntarily or not.

Estate planning has traditionally focused on passing wealth to future generations and doing so in a tax-advantaged manner. This is an important objective. And the successful implementation of this objective can minimize costs, frustrations, confusion, and disputes upon death. Even though estate planning is often both motivated and driven by the elimination, or minimization, of estate or other transfer taxes, there are other important objectives, such as enhancing creditor protection and divorce protection for beneficiaries, that can also be accomplished.

As anyone who has tried to read a will or a trust agreement knows, estate planning can be complicated. The deluge of tax provisions, transfer formulas, contingencies, and trustee powers can be overwhelming and intimidating. For families with substantial wealth, several different trust agreements, all with an overlapping set of instructions and beneficiaries, can further complicate the situation. While acknowledging that estate planning can be complicated, it helps to boil it down to three simple questions:

1. Where do you want your assets to go? 2. Who do you want to be in charge of your assets? 3. What do you want the rules to be?

Your estate-planning advisor should walk you through these questions. And at the end of the process, you should have a firm understanding of how these questions have been answered and implemented into their estate-planning documents.

An estate planning advisor should be able to clearly articulate the process from beginning to end. Laying out the process ahead of time not only demystifies it, but it also helps provide structure to conversations and a framework against which to judge the progress being made. Done well, it's a four-step process…
1. Design Phase
The beginning is the most important of any planning process. And the beginning of the estate-planning process is to establish your goals and objectives. Failure to establish them may lead to inefficiencies, unnecessary additional work, and general frustration.
A good analogy to the design phase is an architect's blueprint for a home. The architect may know that the client wants three bathrooms. But knowing where to put those bathrooms is crucial. The effective design of an estate plan is similar to this process.
2. Implementation Phase
After the estate-planning blueprint is complete, the next phase is implementation. Continuing with the home-building theme, the implementation phase is analogous to constructing the home. For an estate planner, this means preparing the documents that will answer in detail the three questions offered earlier:
1. Where do you want your assets to go? 2. Who do you want to be in charge of your assets? 3. What do you want the rules to be?
Typically, these documents will include healthcare and financial powers of attorney, a will, and a revocable trust.
The implementation, or "drafting," phase is often what people dread the most. It would mean receiving a 50-plus-page trust document full of legalese and words that no one other than estate planners would use. Although some of this is unavoidable, a helpful advisor should accompany these documents with an outline in plain, easy-to-understand language and a summary diagram that illustrates the flow of the estate plan. Once the documents have been drafted, reviewed, and approved, signing the documents would complete this step.
3. Funding Phase
An estate plan will often consist of one or more revocable and irrevocable trusts. Unfortunately, it's not enough to simply sign the estate-planning documents. A necessary next step is to "fund" the trust(s). Using the home-building analogy, you're now moving the furniture into the house.
There are an unlimited number of permutations or options to choose from when considering the funding of trusts. These options can affect income, gift, and estate taxes; administrative convenience, costs, access, and control of assets; and other issues. As a result, it's necessary that your estate planner work with your tax professional and investment advisor to provide appropriate counsel, which would ensure that the documents are working together to achieve your goals.
Planners who operate in a vacuum—whether they're estate planners, financial advisors, bankers, insurance professionals, or accountants—can be dangerous for the overall plan. Communication among advisors should be a basic requirement, especially in the funding phase.
4. Monitoring Phase
The last phase is the monitoring phase. Over time, just as a home needs maintenance to repair structural damage (leaky roof), changing circumstances (the family has expanded and outgrown the home), or to accommodate available improvements (more efficient windows or furnace), when the assumptions upon which the estate plan was built change, the estate plan will need to be reviewed. In addition, a regular review should be scheduled because laws frequently change. This was the case in 2018 when the amount of assets that may be excluded from the estate tax was doubled, which provided the opportunity to shield additional assets from estate taxes.
In addition to death and taxes being certainties of life, change is also inevitable. Some changes are exciting and desirable, like the birth of children or an increase in net worth; some changes are difficult and undesirable, like health changes, death, or legal problems; and others are beyond our control and may fluctuate periodically—there's no better example than income, gift, and estate tax laws. A good estate-planning advisor will help design an estate plan with change in mind.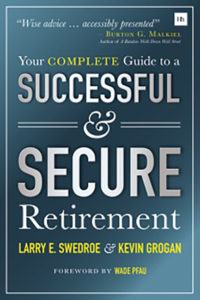 Flexibility in estate-planning documents, and the ability to react to life's changes, is imperative. Even when there are no dramatic changes in your health or family, it's advisable to have regular meetings with your estate-planning advisor to determine if there have been changes in the law that would allow for additional planning opportunities. A good advisor would seek out their clients to discuss these changes, rather than the other way around. Thus, when you choose an estate-planning attorney, asking existing clients about this issue should be part of your due diligence process.
Adapted with permission from Your Complete Guide to a Successful & Secure Retirement by Larry E. Swedroe and Kevin Grogan. Published by Harriman House. © 2019. All rights reserved.
Larry Swedroe and Kevin Grogan are the coauthors of Your Complete Guide to a Successful & Secure Retirement. Swedroe serves as the director of research, and Grogan serves as the director of investment strategy for Buckingham Strategic Wealth and The BAM Alliance, a community of more than 130 independent registered investment advisors throughout the country.