21 Jan

Hooray for Winter and One-Pot Meals

One of the joys of winter is a roaring fire and a hearty stew or soup with homemade bread to be savored on a laid-back Sunday.

Take that, snowbirds!

A one-pot meal may have meant dinner prepared in a big stew pot to you. But the "one pot" for today's cook can take the shape of much more than a stew pot. It could be a slow cooker, pressure cooker, Dutch oven, skillet, sheet pan, or the latest, an Instant Pot®, which is today's answer to the pressure cooker.

If you grew up in the 1950s and had a mother who was skillful with the pressure cooker, then you were lucky.

As a baby boomer, the thought of using a pressure cooker with the chance that it might explode deterred me from even trying what appeared to be a clumsy, scary piece of equipment.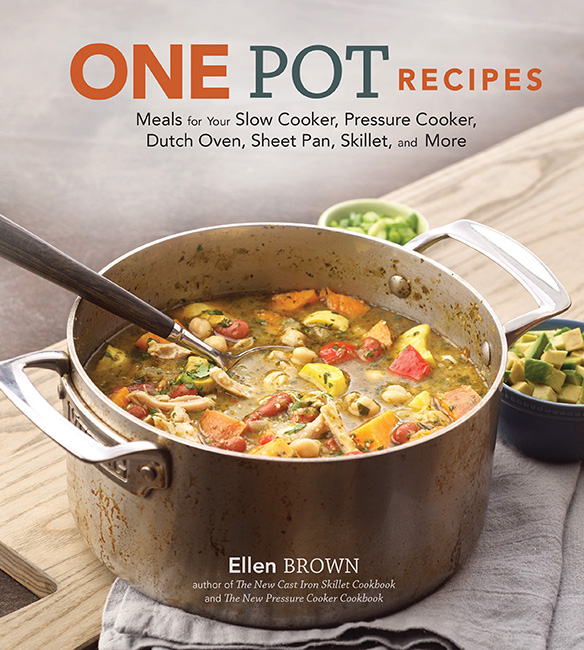 But things have changed as Ellen Brown, author of more than 40 cookbooks and now One Pot Recipes, tells us in her new cookbook.
"Cooking with just one pot or a pan is a welcome throwback to the historic roots of American cooking," Brown said. "It's only been in the past century that cooking has involved more than a few pans. That's because most folks only had one pot and one skillet … If a meal didn't get made in a Dutch oven or a cast iron skillet, it probably didn't get made at all."
In her new One Pot Recipes book, Brown details the history of the pressure-cooker renaissance. She describes how pressure-cooking was introduced in the 17th century and evolved to the appliance of the 21st century that satisfied the need to get a meal on the table easily.
"It was the 2009 introduction of the Instant Pot that did for pressure cookers what Crock-Pot® did for slow cookers," Brown said. "The new generation of pressure cookers is totally user-friendly, with tons of built-in safety mechanisms; the most important of which ensures that the pressure cooker will not turn on unless the lid is properly secured."
Phew! It's worth revisiting pressure cookery with an Instant Pot!
Brown organizes the recipes in the book according to the pot in which they're cooked. Those include Instant Pots, pressure cookers, slow cookers, the Dutch oven, saucepans, skillets, sheet pans, and roasting pans.
Three of our favorites are Crispy Fish Tacos using the sheet pan, Peruvian Vegetable and Quinoa Stew using the Dutch oven, and Vegetable Gratin using the standard roasting pan.
About the author. Ellen Brown is the founding food editor of USA Today and a prolific cookbook author. Some of her other titles include The New Cast Iron Skillet Cookbook and The New Pressure Cooker Cookbook, published by Sterling Epicure.