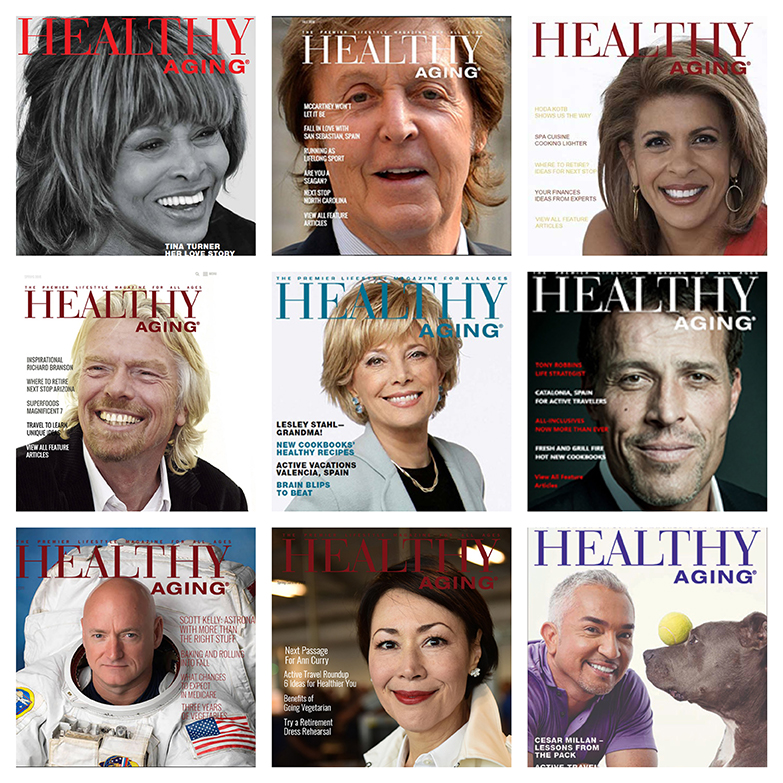 Healthy Aging® Magazine is the upbeat quarterly digital magazine targeting middle to upper-income men and women ages 45 and older. Each issue of Healthy Aging® Magazine features tips, techniques and resources for how to live a more healthy life.
The publication is a celebration of life and what you can do rather than what you can't do. It is not a medical journal. Rather, it is filled with articles on how to what to do next, from second-careers and travel to financial planning and recipes.
Extensive travel, food, and lifestyle enrichment articles are included.
Key highlights include a cover profile of a nationally known person who has reinvented himself or herself later in life (Tina Turner, Rachael Ray, Arianna Huffington, Sheryl Crow, Regis Philbin, Paul Anka, Dolly Parton, Steven Tyler, Duchess Sarah Ferguson, Colin Powell, etc.).
User Friendly
The digital Healthy Aging Magazine is very user-friendly. It works on all devices from your laptop to cell phone and IPAD or Kindle. Forget the flipping of pages, zooming in and out to read an article. Enjoy the gorgeous photography, easy to read font, through the website-style magazine.
Healthy Aging Magazine is Right for the 45-Plus Audience
We believe we are absolutely in the right place at the right time to reach active adults over 45 including the nation's 78 million baby boomers – the wealthiest, best-educated and most health-conscious generation in history. Our readers have the health, means, and desire to pursue an active lifestyle and enjoy content that is all about what you can do next, discover alternatives to the classic image of "retirement" and how it is possible to rede­fine your­self at any stage.
Healthy Aging®, www.healthyaging.net, is as a national, ongoing, health platform designed to broaden awareness of the positive aspects of aging and to provide inspiration for active men and women, ages 45 and above, to improve their physical, mental, social and financial health. The underlying theme is that it is never too late to achieve a better quality of life. The focus is on passion for life rather than the perils and diseases of adulthood.  September is Healthy Aging® Month was created over 15 years ago to draw attention to healthy, active lifestyles at any age. This national observance month is part of Healthy Aging® promotional initiatives.
Healthy Aging® Website Audience:  Over 600,000 monthly impressions reaching the general population of adults over 45, health and wellness educators, media, aging network professionals and the business community focusing on the senior market. Healthy Aging®, www.healthyaging.net, is ranked number one when one searches for healthy aging on Google, Yahoo, Bing, Ask and AOL Search. Healthy Aging® is a U.S. federal trademark owned by CWI Productions, Inc., the producer of Healthy Aging®.
Carolyn Worthington, Publisher, Editor-in-Chief, Healthy Aging® Magazine
Carolyn Worthington has led development of the Healthy Aging® brand since its inception in 1990. She is the president of CWI Productions, Inc. and is a television producer and marketing communications specialist. Her background in the consumer products, television and radio industries encompasses corporate, agency and consulting positions and includes work on a variety of national advertising and communications campaigns, conferences and special events.
Worthington is a graduate of New York University. She attended Le Cordon Bleu Cooking School in France and, early in her career, worked as a food consultant, stylist and spokesperson for food companies. She has been a marketing communications executive for a national wine and spirits corporation overseeing five operating companies and has appeared on numerous television programs as a spokesperson for clients.
After working with a sports film production company, she opened CWI Productions, Inc., a film and video production company focusing on public television specials and corporate image videos.  As a professional photographer, Worthington has photographed numerous sporting events.
Worthington's journalism credits include numerous articles in Healthy Aging® Magazine and website on travel, food, feature articles, lifestyle and health, as well as news articles, television and documentary scripts on many topics.
Worthington is an active supporter of the Pennsylvania Keep Farming First and has become a supplier of locally grown vegetables to restaurants from her Chevelo Farm.
She is a current member of Les Dames d'Escoffier, North American Travel Journalists Association, the Association of Health Care Journalists, OWL-Voice of Women 40+ and a past member of the United Way of Southeastern Pennsylvania's Marketing Committee and Women's Initiative Committee.
She lives in Chester County, PA with her husband and two sons. The offices of CWI Productions, Inc. are located in Unionville, Pennsylvania.
BARBARA CHAPMAN, Creative Director, Healthy Aging® Magazine
Healthy Aging® Magazine design is created by Barbara Chapman who also serves as an integral part of the Healthy Aging® promotion and editorial team.
One of America's top designers, Chapman brings a depth and breadth of experience plus an intelligent, elegant eye to Healthy Aging® as Creative Director. This award-winning "designer's designer" has an expansive background that encompasses editorial and commercial projects. Her work includes high-end luxury clients and mass marketers, consumer and business-to-business, covering virtually every product category and medium.
Chapman's editorial work for many outstanding national and regional magazines include L'Officiel/USA, Ladies Home Journal, Seventeen, Texas Homes and Victoria. Her work has received award recognition from the Society of Publication Designers, The Art Directors Club of New York, The Retail Ad Conference and Catalog Age. She has been a guest lecturer on editorial and catalog design at several schools, including the publishing program at Rice University.
Among her clients are FAO Schwarz, Dean & Deluca, Madame Alexander Dolls, The Metropolitan Museum of Art, Bloomingdale's, Target, Porsche, A&E Television Network, The Hemmeter Collection, William Secord Gallery, Talbot's, the ASPCA, Cash's of Ireland, Rosenthal China, and many more.
Chapman earned her BFA at Boston University School of Fine and Applied Art and continued her education at the School of Visual Arts in New York. She resides in Manhattan with her family and her Soft-Coated Wheaten terrier.
Subscribe To Healthy Aging® Magazine