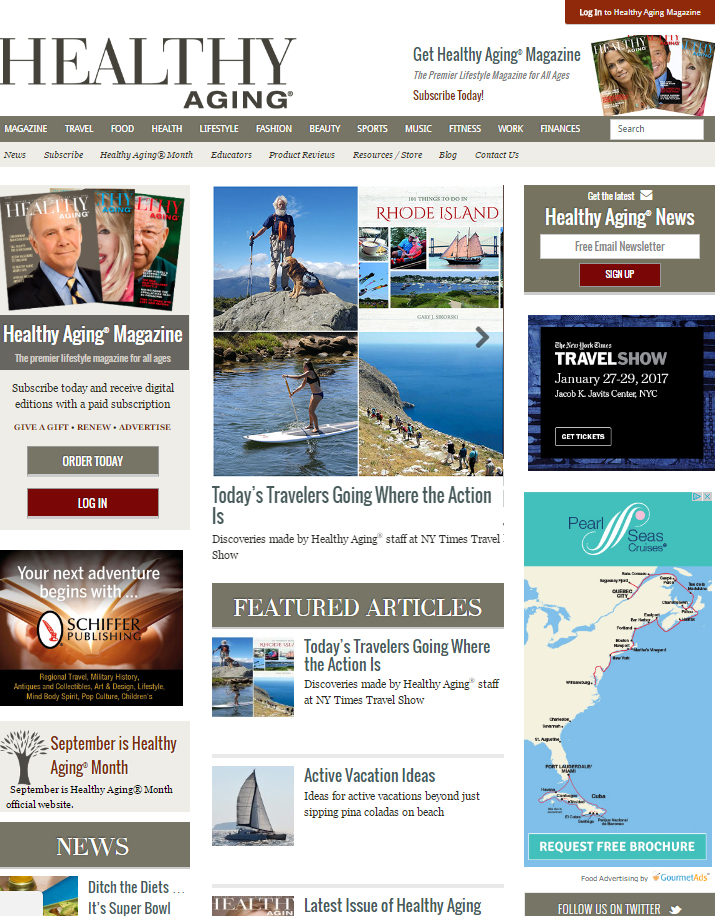 The Healthy Aging® website debuted in 2000 as part of the Healthy Aging® multi-media platform for positive information about healthy lifestyles.  Healthy Aging® Magazine was added in 2012.  The site was re-launched in 2014.
The Healthy Aging® website brings information on travel, social and mental well-being, recipes, second careers and more to the audience of active 45-plus adults.
News and features appear on the latest ideas about how to improve one's life.
Excerpts from Healthy Aging Magazine also appear on a regular basis on the website.
Other features published include beauty and fashion tips, lifelong sports, music reviews beyond "oldies," next passage ideas, as well as information for educators and care givers.
Advertising is accepted in the form of box and skyscraper ads. Sponsored content is also considered. For more information, contact: advertising@healthyaging.net
Website by Atkinson Visual Communications.  Janet Atkinson specializes in creating custom hand-crafted web design, content strategies and web development solutions for large and small businesses.  Atkinson is not only a talented designer, but extremely skillful in taking complicated projects, simplifying and executing them professionally.
John Worthington, senior systems consultant, provides technical consulting, database development and programming.  Worthington was previously a senior systems engineer for IBM for over 40 years.  Following IBM, he has developed databases and has provided the technical expertise for the development of websites for such companies as Educational Television Network, Inc., CWI Productions, Inc., Pro Cycling Tour, American Cycling Group and others.