The following article is excerpted from Healthy Aging® Magazine. To continue reading this article and more like it, subscribe to Healthy Aging® Magazine, the lifestyle magazine that is all about following your passion and what you can do rather than what you can't.
By Carolyn Worthington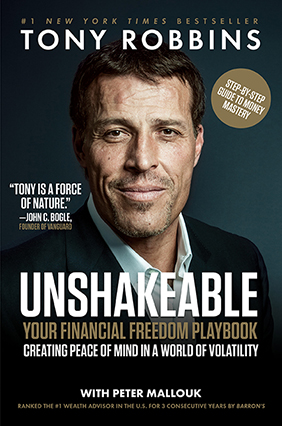 If you are confused by the financial world just like many of us, the latest book by Tony Robbins, Unshakeable, is a good resource to help you make sense of it. This is a great book to recommend to your children and offers those of us who are worried about retirement strategies and a pep talk that it is never too late.
Robbins, who has written the book with Peter Mallouk, attempts to take the mystery out of investing by providing you with simple tools and strategies in an easy to understand presentation.
Here is some of what you can learn from this book:
How to put together a simple, actionable plan that can deliver financial freedom.
What your 401(k) provider doesn't want you to know. How a few simple steps can add a decade or more of additional retirement income to your savings.
Strategies from the world's top investors on how to protect yourself and your family.
How to maximize profit from the inevitable crashes and corrections to come.
The core four principles to help you maximize the upside and minimize downside.
"We all dream of achieving that tremendous inner peace, that comfort, that independence, that freedom," Robbins says in the book. "We all dream of being unshakeable."
"You need to learn the rules of the financial game, who the players are, what their agendas are, where you can get hurt, and how you can win. This knowledge can set you free."
Robbins wrote this book through helping others achieve financial freedom. "The big purpose of this small book is to provide you with that essential knowledge," he said. "It will give you a complete playbook for financial success, so that you and your family won't ever again have to live in fear and uncertainty but can enjoy the journey with true peace of mind."
Lamenting that millennials are not investing in the stock market like generations before him, this book might provide a playbook for them.
Robbins gives another reason for writing this book as "I want to show you how to avoid being eaten by sharks … one of the biggest obstacles to achieving financial success is the difficulty of figuring out who you can and cannot trust."
Unshakeable serves a financial guidebook with sections such as:
Rule Book for Wealth & Financial Success … if you don't know the rules, you can't hope to win.
Financial playbook including basic principles he learned from interviewing more than 50 of the world's greatest investors and how to "slay the bear," concepts for how to meet a bear market head on without fear. Key principles to guide your through all investment decisions.
Basic financial information in simple terms are here like what's a correction really mean? What's the difference between a bull and bear market.
Hidden fees you may not even know about.
Checklists for building your financial legacy and ways to save on taxes.
An especially thought provoking section on how do you achieve ultimate happiness. Is it really by amassing large amounts of money or is there a way to achieve that beautiful state right now? "Real wealth is emotional, psychological, and spiritual," Robbins said.
The Take Away?
Throughout Robbins' book, with its easy-to-read style, you will find plenty of ideas for improving personal finances, whether you want to share it with your kids or need help now.
You will be inspired "to go for it" and feel that maybe it really is never too late even for financial wellness. Perhaps, you will want to follow Robbins personal philosophy: "Today I am fortunate to be alive, I have a precious human life, I am not going to waste it."
Unshakeable: Your Financial Freedom Playbook, by Tony Robbins with Peter Mallouk, © 2017, published by Simon & Schuster, hardcover. Cover photo of Tony Robbins: Joseph Seif. Tony Robbins website: https://www.tonyrobbins.com