The following article is excerpted from Healthy Aging® Magazine. To continue reading this article and more like it, subscribe to Healthy Aging® Magazine, the lifestyle magazine that is all about following your passion and what you can do rather than what you can't.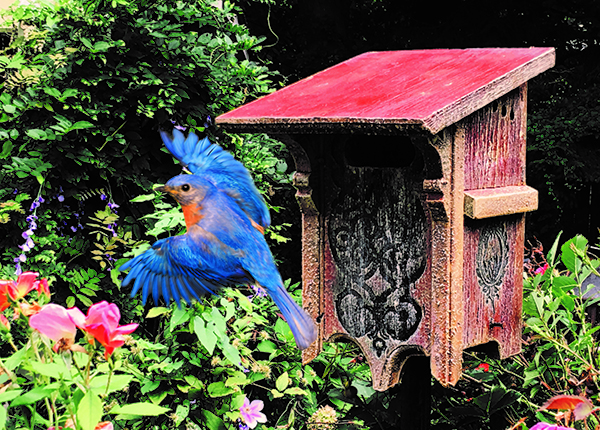 Bluebird investigating birdhouse built by John Guertin. Photo:  Tom Campbell
The fascination of watching birds flit in and out of birdhouses has mesmerized people for hundreds of years. What is it about watching these often-tiny beings so merrily go about their day, building their nests, hatching newborns, and exploring the nature around them?
Creating houses for birds goes back to 15th century Turkey where ornate birdhouses appeared on walls of churches and other buildings.
Native Americans used birch bark to craft their birdhouses. In Europe, clay pots were set on their sides and attached to homes or buildings.
Making a Birdhouse
If you would like to get closer to nature, have some extra time on your hands, and want to try making a birdhouse, here are some ideas.
For starters, you might grab a copy of the book 40 Bird Boxes Feeders & Birdbaths, Practical projects to turn your garden into a haven for birds by Jen Green.
Throughout this gorgeous book filled with color photos of unique structures for birds, you can explore tables, feeders, nest boxes, birdhouses, roosts, and birdbath.
See Healthy Aging Magazine for step-by-step instructions for building Green's rustic bird table.
There are directions for very rudimentary houses to be found on the Home Depot and Popular Mechanics websites. Kits, such as these, can be purchased on Amazon.
Barns Into Birdhouses
For 20 years, Barns Into Birdhouses has been handcrafting designs from repurposed 19th-century barns. "We harvest and preserve their remains and transform their ancient planks and siding into rugged works of art that defy the elements," said John Guertin, founder of the company.
"Barns Into Birdhouses makes unique birdhouses, feeders, and bat houses that are functional, rugged, and beautiful," Guertin said. "They are a fusion of architecture and science that are well-researched for the needs of native birds. Wild habitats are diminishing and the stewardship role of every person with a good conscience becomes, with each passing year, more urgent."
BirdhouseChick.com
More ideas in the Healthy Aging Magazine feature article are houses from Beth Wheeler started over at 45 by following her lifelong passion for backyard birding and gardening. On a shoestring budget, Wheeler hatched BirdhouseChick.com in 2008.
Thousand Oaks Barrel Company
Thousand Oaks Barrel Company makes barrels for aging wine, whiskey, bourbon, and tequila. As a line extension, the company makes fun personalized items including birdhouses.
One Man's Hobby Migrates Into Charitable Effort
Baby boomer Chris Grejtak began building rustic birdhouses as a hobby. That hobby has since turned into an altruistic endeavor.
"Over the past couple of years, I have built over 50 'rustic' birdhouses built entirely out of wood from pallets," said Grejtak. "I would be remiss to say that there are plans for each birdhouse—there aren't any. Instead, my birdhouses (coffee and end tables, serving trays, and cheese boards), follow the tenants of 'Bricoleur,' one who starts building something with no clear plan, adding bits here and there, cobbling together a whole while flying by the seat of their pants.
Whether you want to adorn your yard with a beautiful, handcrafted birdhouse like many of these or if you choose to build one yourself, the fun of watching birds awaits.
"Today, the birdhouses have homes throughout Fairfield and New Haven counties in Connecticut. Some have been doled out to friends and family; others have been purchased through a local garden center.
"With more ready to go out, I am looking for people who want a one-of-a-kind, rustic birdhouses (tables, cheese boards, serving trays, plant trays, etc.) and will donate whatever they would pay for the house to a local charity. And that's why I continue to head to my workshop: for the joy of building something that can make a bird or a person a little happier and, at the same time, provide some needed funding to local charities."
Whether you want to adorn your yard with a beautiful, handcrafted birdhouse like many of these or if you choose to build one yourself, the fun of watching birds awaits.
What better way to connect with nature and to get outside?