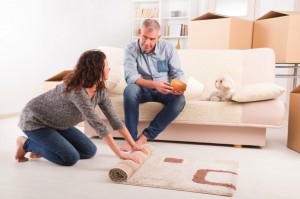 During the past three years, over half of all U.S. adults  (52%) have had to make at least one sacrifice in order to  cover their rent or mortgage, according to a new survey of  housing attitudes released today by the John D. and  Catherine T. MacArthur Foundation. These sacrifices  include landing a second job or picking up more hours at a  current job (most likely), deferring funds from retirement,  racking up credit card debt, cutting back a health care plan,  or even moving to a less safe neighborhood (least likely).  The rate of these sacrifices were even higher for those  paying more than 30% of their income – the established benchmark of economic stress – on housing alone, causing many Americans to believe that the housing crisis is not over.
The How Housing Matters Survey, conducted by Hart Research Associates, found that only 25% of Americans believe that the housing crisis has been resolved, while 42% believe the housing market today is still a serious problem. With the way that the economy has been, becoming a homeowner has become less appealing. It has been found that the public has taken a higher interest in renting to achieve the "American Dream."
Survey highlights include:
The concerns and challenges related to affordable quality housing are real for many Americans.
The public demonstrates a clear understanding of the sacrifices that must be made by families struggling to maintain their housing.
One reason for their awareness of these challenges is that a majority of Americans has faced them.
Renters and owners paying more than 30% of their income on housing –an established benchmark of financial distress – have had to make many of these sacrifices at even higher rates.
While economists and housing experts say the housing crisis is behind us, large proportions of the American people are not feeling the relief. Very high proportions of the public (70%) continue to believe that we are still in the midst of the housing crisis (51%) or that the worst is yet to come (19%).
The American people believe that the country's housing environment is changing. While most non-owners (70%) aspire to own a home someday, homeownership is not viewed as the vehicle to building wealth that it once was, and the public believes that renting has grown in appeal while owning has declined.
A majority of Americans believe that government can do much to solve the problem of housing affordability, yet do not favor either homeownership or rental housing over the other.
"The housing crisis that began more than five years ago has left an indelible mark on the attitudes and experiences of Americans," sad Geoffrey Garin, president of Hart Research Associates. "Housing affordability has driven a large share of the American people to make significant financial adjustments. Concern and insecurity about the ability of middle class Americans to maintain their footing and for people to rise up into the middle class is a central theme in American today and this research shows that housing is front and center in these concerns."
"While homeownership continues to be the dream for most renters, this year's How Housing Matters survey confirms our initial findings from last year: Americans want a more even-handed approach to housing policy," said Garin.
"The continuing stresses felt by the cast majority of Americans in the aftermath of the housing recession are real and profound," said Julia M. Stasch, MacArthur's Vice President of the U.S. Programs. "This survey provides insight into the substantial burden of costly and unstable housing, particularly for low and middle-income families. It is clear that Americans believe more can and should be done to improve housing affordability for renters and owners, and that government should take action to invest in both equally."
For further information on the survey: www.macfound.org/housing