The following article is excerpted from Healthy Aging® Magazine. To continue reading this article and more like it, subscribe to Healthy Aging® Magazine, the lifestyle magazine that is all about following your passion and what you can do rather than what you can't.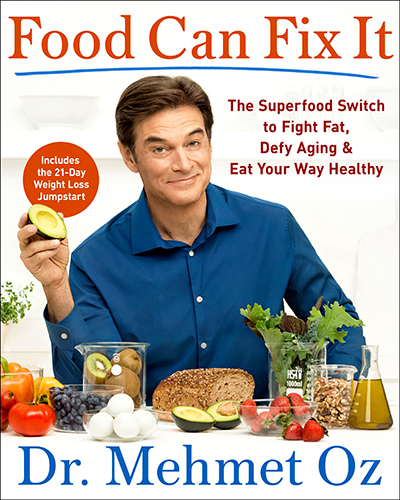 With fall  in the rear view mirror, many of us are heading into the kitchen for the holidays with the determination to make, serve, and eat healthier foods while enjoying the season.
Certainly, the fall months seem to make us clamor for comfort foods with gatherings of friends and family. Now, the spotlight is all of that with the emphasis on healthy.
What we are not looking forward to is the beginning of the "holiday 15."
If you used the summer to get in shape, you are ahead of the game and are ready to tackle the fall and holiday food extravaganzas. If you didn't or if you don't want to slip back, we have some new books for you to use as resources. All are guides to preparing healthy meals that are perfect for the season and all year long.
New Cookbook Recommendation
Today we begin with the new Dr. Mehmet Oz book, Food Can Fix It: The Superfood Switch to Fight Fat, Defy Aging and Eat Your Way Healthy, which is chockful of ideas for how to get your health back on track, including a 21-day weight-loss plan.
Check back with Healthy Aging® to read upcoming reviews of more new cookbooks!
Food Can Fix It: The Superfood Switch to Fight Fat, Defy Aging, and Eat Your Way Healthy By Dr. Mehmet Oz
You may have started to know Dr. Mehmet Oz when he appeared as a health expert for The Oprah Winfrey Show back in 2004. Today, Dr. Oz hosts his own show, The Dr. Oz Show, now in its eighth season.
About Dr. Oz
What makes Dr. Oz such a reliable resource is that he is a cardiac surgeon, a health expert, and an author who shares his knowledge of health and wellness along with the importance of the balance of mind, body, and spirit.
A professor of surgery at Columbia University, Oz directs the Cardiovascular Institute and Complementary Medicine Program at New York Presbyterian Hospital and performs 100 heart operations annually.
This new book is not his first rodeo as an author. Oz has coauthored six books, started The Good Life magazine (Hearst Corporation) three years ago, and is a regular columnist for O, The Oprah Magazine.
What's Inside Food Can Fix It?
Food Can Fix It: The Superfood Switch to Fight Fat, Defy Aging, and Eat Your Way Healthy (Simon & Schuster) is his latest book. Drawing on his medical experience, Dr. Oz shares his knowledge of how food affects our bodies, "food fixes," or what you can eat to fight what ails you. His important message is to "change the food you eat, and you change your body." This simple but important rule is important for all of us.
Dr. Oz shares ideas on how food can help fix what ails you from how to lose weight and also issues with the heart, fatigue, pain, brain power, bad moods, immunity, skin and hair, and the gut.
Sprinkled throughout the book, making it not only an interesting but also a fun read, are tips and factoids to devour. There's the "10-Second Headache Reliever," which touts drinking six extra glasses of water a day to help relieve chronic headache pain; the anti-inflammatory punch of adding cinnamon to coffee; and ideas for how to feed a cold.
Wow, did you know that vitamin B9 and B12 deficiencies can lead to prematurely gray hair? Who knew? But this is just one of the many, many facts from Dr. Oz's latest book.
The 21-Day Plan to Change Eating Habits
The Food Can Fix It's 21-day plan is designed, he says, to help you change your eating habits. On it, you could lose three to four pounds during the first week and one to two pounds each following week. Suggested menus for breakfast, lunch, snacks, and dinners are included, along with easy-to-follow recipes (many including color photos).
"Food can break you, but it also holds the power to fix your body, prevent some diseases, and reverse others." He explains how food's a medicine that can cure or prevent illness and disease, can be an elixir to a longer life, and is "sacred" in the way it brings people together and affects our spiritual and emotional well-being.
Dr. Oz offers the road map through his 21-day plan and 125 recipes. The plan is designed to help you "re-train your body and your taste buds so that you can start a life-long commitment to eating well—and loving every body-changing bite."
Rather than offering lists of superfoods, Oz shares his vision for how to create a "superfood way of life." He says the goal for this book is to instill habits rather than to offer silver bullets.
We give Dr. Oz three cheers for his thoughts on how food should be thought of as even more than just good for the physical body. "You should not only love the foods you eat, but also love the people you eat with. That way meals become memories."
No-Excuses Salad Just One of Great Recipes in Book
A trendy salad these days is one you can carry in a ball or Mason jar. Dr. Oz gives you step-by-step instructions in his No-Excuses Salad for how to layer salad dressing, veggies, protein foods like hard-boiled eggs or chicken and greens—all without creating a "soggy mess."
Here's how:
Bottom layer: Vinaigrette dressing made with olive oil (pour it in first so the rest of the ingredients don't get soggy) Second layer: Crunchy vegetables Next layer: Sturdy foods like hardboiled eggs or chicken Top layer: Greens (so they don't get crushed by the weight of the other add-ins)
Mix and match the ingredients as you like, then shake to coat with the dressing (or empty into a bowl) when you're ready to dive in.
See Healthy Aging® Magazine for the following Dr. Oz recipes and more reviews of new cookbooks with recipe samplers:
Baked Eggs with Swiss Chard is one of his healthy breakfast or brunch recipes. Making four servings, it's packed with Swiss chard, which will provide more than 100 percent of your daily vitamin K, he notes.
A unique take on Brussels sprouts is Special Occasion Veggies Roasted Brussels Sprouts with Grapes. The roasted sprouts are combined with roasted shallots and grapes and then topped with roasted almonds.