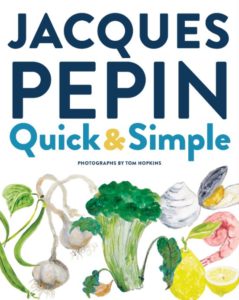 The holidays are here and, let's face it, we want to serve spectacular food without spending hours in the kitchen.
Famed chef, cookbook author, and star of the PBS cooking series, Jacques Pepin, saves the day again. The author of twenty-nine cookbooks shares his latest collection of 225 recipes in Jacques Pepin Quick & Simple. We love Jacques Pepin (Check out the cover feature of Jacques Pepin Healthy Aging® Magazine/fall 2019 to learn more about his amazing culinary career and other books).
According to Pepin, "This book is intended to make your life easier. I share streamlined cooking techniques, teach you how to make use of good quality convenience foods, suggest supplies for a well-stocked freezer and pantry, and specify the most useful cooking equipment and utensils. … the book celebrates simple, satisfying fare that can be prepared easily and cooked quickly at the end of a busy day."
As in many of Pepin's book, you will find the beautiful photography by Tom Hopkins. Recent additions to Pepin's books are his own artwork, also seen on the inside covers and throughout the book. Three of our favorites are Mom's Cheese and Spinach Soufflé, Chunky Vegetable Soup, and Mussels in Hot Sauce.
Mom's Cheese and Spinach Soufflé
Makes 4 servings
13 tablespoons plus 1 teaspoon unsalted butter
3 tablespoons all-purpose flour
1 1/4 cups cold milk
1/4 teaspoon salt
1/8 teaspoon freshly ground black pepper
1/8 teaspoon ground nutmeg
3 cups baby spinach leaves
1 1/2 cups grated Gruyère or Beaufort cheese (about 4 ounces)
4 large eggs, lightly beaten
3 tablespoons coarsely chopped flat-leaf parsley or basil
Melt 3 tablespoons of the butter in a medium saucepan over high heat. Add the flour and stir with a whisk until well combined and sizzling, then whisk in the cold milk and bring to a boil, stirring and mixing with the whisk so the mixture doesn't stick as it thickens. Boil for about 20 seconds, mixing continuously with the whisk. Add the salt, pepper, and nutmeg and remove the pan from the heat.
Use the 1 remaining teaspoon butter to grease the bottom of a 3- to 4-cup oval gratin dish. Place the spinach in a bowl and microwave for 2 minutes, or until wilted.
By now, the white sauce should have cooled a little. Add the spinach and cheese to it and mix with the whisk. Add the eggs and parsley and mix well. Pour the mixture into the prepared gratin dish. This step can be done a couple of hours ahead and the dish kept in the refrigerator until cooking time.
When you are ready to cook the soufflé, preheat the oven to 400 degrees. Place the gratin dish on a cookie sheet lined with nonstick aluminum foil for easy cleanup and bake for approximately 40 minutes, until well puffed and brown. Serve immediately.
This is the ideal soufflé to assemble ahead and cook at the last moment.
Mussels in Hot Sauce
Makes 2 servings
2 pounds mussels (about 30), full and heavy
1/4 cup dry white wine
2 teaspoons Sriracha or other hot sauce
1 tablespoon olive oil
2 teaspoons toasted sesame oil
1 tablespoon dark soy sauce
1 teaspoon potato starch, dissolved in 2 tablespoons water
1/3 cup coarsely chopped cilantro
Wash the mussels in a bowl of cold water, rubbing them against one another, and remove the beards, if any. Place the mussels in a deep saucepan along with the wine, hot sauce, oils, and soy sauce. Cover and bring to a boil over high heat, shaking the pan to move the mussels around. Cook for 2 to 3 minutes, until all the mussels have opened. Pull off the empty shells, discarding them, and arrange the mussels on the half shell in two soup plates.
Add the potato starch mixture to the juices in the saucepan. Bring to a boil, stirring, and stir in the cilantro. Pour over the mussels and serve immediately.
Excerpted from JACQUES PÉPIN QUICK & SIMPLE © 2020 by Jacques Pépin. Photography © 2020 by Tom Hopkins. Reproduced by permission of Houghton Mifflin Harcourt. All rights reserved.