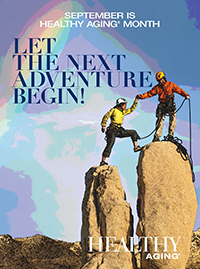 POSTER: 2023 September is Healthy Aging® Month
4-color Healthy Aging® Month poster
18″ x 24″ inches, quality 80 lb. cover stock
BOOK: Healthy Aging
®


Inspirational Letters from Americans

Today's views on aging are told by Americans from across the nation. Adults, ages 50-plus, share their secrets for Healthy Aging®. Candid, original, inspirational — a must-read for every gerontologist, doctor, or anyone who needs a bit of inspiration as they head toward older ages. It's a great gift or fundraiser for your organization. Quantity discounts are available.

268 pages, hardcover book.
Winner of the Family Channel Seal of Quality
Personal introductions by Jane Brody, Dr. Robert Butler, Dr. James Birren, and Art Linkletter
$24.95 (plus $7.85 shipping)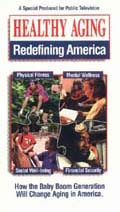 DVD: Healthy Aging®
Redefining America
On-camera host and nationally-acclaimed folk singer Tom Chapin guides the viewer through upbeat, inspirational profiles of middle-aged Americans who are finding ways to deal with what lies ahead.
Meet experts, authors, and educators in this hour-long entertaining and informative video.
60 minutes, DVD
$19.95 (plus $4.95 shipping)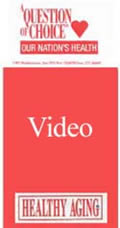 DVD: A Question of Choice:
Our Nation's Health
Learn how diet and fitness can help prevent heart disease, and how simple changes in lifestyle can improve your health.
This video is the winner of the American Heart Association's prestigious award for best national broadcast.
60 minutes,  DVD
$19.95 (plus $4.95 shipping)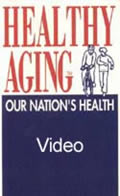 DVD: Our Nation's Health
Healthy Aging®
Dispel the myths of aging with this upbeat video that profiles older adults who have aged successfully. Contains interviews with leading professionals in the aging field: Dr. Robert Butler, Dr. James Fries, and leaders from the AARP, NIA, NASUA, and other important organizations.
60 minutes, DVD
$19.95 (plus $4.95 shipping)