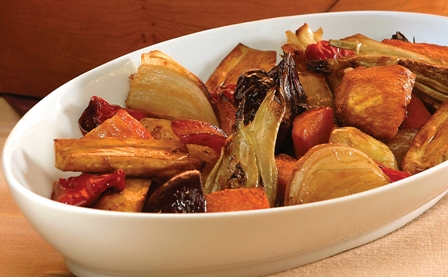 BALSAMIC ROASTED ROOT VEGETABLES
3 parsnips, peeled and cut into 2- to 3-inch lengths, each cut in half lengthwise
2 rutabagas, peeled and cut in half crosswise, each half cut into 6 to 8 wedges
2 turnips, peeled and each cut into 6 to 8 wedges
4 carrots, peeled and cut into 2- to 3-inch lengths, each cut in half lengthwise
2 onions, peeled and each cut into 8 wedges
3 beets, peeled and each cut into 6 wedges
1 red pepper, stemmed, seeded and cut into chunks
1/3 cup STAR Originale Olive Oil
1/4 cup STAR Balsamic Vinegar
salt and pepper
Preheat oven to 450ºF.
Place cut vegetables in large shallow roasting pan or casserole.
In small bowl, whisk oil and vinegar. Pour over vegetables and toss to coat evenly. Season to taste with salt and pepper. Roast 15 minutes then stir vegetables. Roast 15 minutes longer and stir again. Roast another 10 minutes. Check for seasoning. Serve hot.
Makes 10 to 12 servings
Recipe and photo courtesy of Star Olive Oil