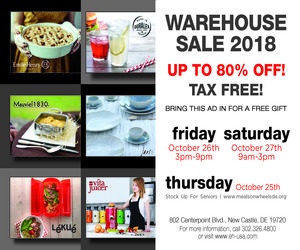 Consumers and professional chefs are invited to the tenth annual Factory-to-Table Sale of home and kitchen products in New Castle, DE on Friday, October 26 and Saturday October 27. This year's event includes exclusive products not available at prior warehouse sales or anywhere else in the United States. Products purchased at the sale are tax free and many up to 80% off retail prices.
What's on Sale
Thousands of people converge on the industrial complex in the first state each year for bargains and factory seconds from premium European brands: Emile Henry, Duralex, Lékué, Mauviel, Rösle and Novis Vita Juicer.
Shoppers will be able to pick up holiday gifts for everyone on their gift lists including products for professional and amateur cooks and bakers, serious grillers, healthy eaters, movie night fanatics and even news year's revelers.
Cooking enthusiasts will have the opportunity to buy the stainless-steel BBQ tools, the French ceramic lasagna baker, the copper stewpot, the centrifugal juicer and hundreds of other kitchen products they've been coveting for years.
Great Finds at the Sale
For cooks who don't know these brands, here are a few facts: Emile Henry colorful, all natural, heirloom quality ovenware and tableware is made from Burgundian clay in the French town of Marcigny.
Mauviel 1830 is one of the only copper cookware manufacturers left in the world today and makes all of its products in Normandy, France.
Rösle's award winning, German designed kitchens tools are backed by a lifetime warranty.
Duralex is the French manufacturer of the renowned French Picardie drinking glasses and Lys glass bowls.
Lékué is a Spanish manufacturer of platinum silicone cooking tools and bakeware designed for healthy cooking.
Novis offers a Swiss designed, multifunctional, powerful juicer in a range colors.
Products from all six brands are sold in premier kitchen stores and online catalogs and have been featured in hundreds of articles and shows in the national media including the Today Show, Good Morning America, Food Network, Cooks Illustrated, Fine Cooking, New York Times, USA Today, Wall Street Journal, Washington Post, Bon Appetit, Food & Wine, The Oprah Magazine, Martha Stewart Living, House Beautiful, Good Housekeeping Magazine and the Los Angeles Times.
Stock Up for Seniors Fundraiser
The annual Stock Up for Seniors Meals on Wheels Delaware fundraiser is scheduled for Thursday, October 25 from 6:30PM to 9PM the night before the sale opens to the general public. Visit www.mealsonwheelsde.org to purchase tickets to the fundraiser. Ticket sales as well as 5% of the proceeds from the warehouse sale will benefit Meals On Wheels Delaware.
Where and When
The two-day sale on Friday, October 26 and Saturday October 27 is in the Centerpoint Business Complex Park in New Castle at 802 Centerpoint Blvd. Follow signs from Route 273 to the warehouse. Doors open at 3:00PM on Friday and 9:00AM on Saturday. Cash and credit cards will be accepted. For additional information on the sale, please call 302-326-4800.