There are only so many shows on Netflix to watch before your mind starts itching for some other creative outlets. One perfect way to keep your brain moving is to pick up some colored pencils, pastels, watercolors, or even Photoshop and start coloring.
Yes, coloring!
Growing up doesn't mean throwing away your creativity. Remembering your childhood might conjure up the image of a night spent lying on the carpet surrounded by a slew of colorful crayons, scribbling inside and outside the lines of books full of houses, trains and animals.
The word "coloring" might sound childish, but more and more adults are picking the activity back up and are finding it to be quite the stress reliever. These people aren't coloring in the capes of superheroes or simple box houses, though. Being an adult means you get better pictures to fill in.
Sample Coloring Books with Free Download Here
A number of artists have created coloring books geared toward helping adults unwind and relax. While staying at home, bills, maintenance, cleaning, and cooking can be stressful but coloring seems to be the latest stress reliever. Enter markers, colored pencils and crayons that don't require a great deal of thought or labor. Rather, they just need hands, a little bit of your free time and some imagination.
Rizzoli Books has graciously shared free downloads from 5 of their favorite coloring books that you can print at home. At least 13 pages are included from each book.
Color Your Own Masterpiece: 30 Paintings from the Renaissance to Expressionism
A delightful coloring book for any age, offering a range of masterpiece paintings that any art enthusiast can bring to life. The original paintings are included as reference or get creative and make your own masterpiece! This beautiful book brings together thirty major works of art history, from the fifteenth to the twentieth centuries, to discover and make one's own through the creative and meditative act of coloring.
Works in the book include Botticelli's Allegory of Spring, Fra Angelico's The Annunciation, Bosch's The Garden of Earthly Delights, Vermeer's The Music Lesson, Van Gogh's Wheat Field with Cypresses, and Picasso's Portrait of Marie-Thérèse, to name a few. Try it yourself … click to download below.
Want more? Buy it here
Edible Paradise Coloring Book
A delightful coloring book that celebrates the magnificent beauty of the edible plant kingdom. The book provides an enchanting journey of discovering the seasonal delicacies found in forests, fields, gardens, and urban farmer's markets.
Want more? Buy it here.
Tiffany Glass Coloring Book
An elegant new coloring book inspired by and celebrating the spectacular designs of Tiffany lamps at the New-York Historical Society.
Want more? Buy it here
The Official Bobs Burgers Coloring Book
The first and only coloring book based on Fox's Emmy-winning animated hit TV show.
Want more? Buy it here.
The Official Bob Ross Coloring Book: The Colors of The Four Seasons
A collection of sixty-five seasonal paintings refashioned from Bob Ross's hand-drawn original works. Featuring many of Ross's most famous quotes and catchphrases about happy little trees, friendly squirrels, and more, the book also includes a full-color gallery of the original artwork. But as he would no doubt want, coloring fans of all ages are encouraged to make their own decisions, embrace their mistakes, and make each painting their own.
Want more? Buy it here.
Activities for Kids
We know many of you are at home caring for children or grandchildren not currently in school. Rizzoli Books is sharing 17 easy scientific experiments you can do together or share with others using simple backyard and household items—all guaranteed to entertain and educate your kids during this hiatus.
Activities include:
• Make a science journal
• Big bird count
• Birdbath for all seasons
• Make a bird feeder
• Soil texture experiment
• Make a phototropism box
• Learn about hapa zome
• Make a plant press
• Root-growth viewer
• Grow plants from food scraps
• Dye it with avocado
• Help birds avoid windows
• Tornado in a bottle
• Make mushroom prints
• Make a cloud in a jar
• Write with invisible ink
• DIY fossils
Want more? Buy it here
Other Coloring Books to Sample
Another artist is Johanna Basford. Drawing inspiration from her own backyard in Scotland, she has built up a world full of furry creatures and blooming flowers. Now she's asking the world to add a little color to her creations.
Basford has created two coloring books that can help adults rediscover any creativity they might have let go over the years. Her first book,
Secret Garden: An Inky Treasure Hunt
has sold over one million copies worldwide. It's full of intricate, nature-inspired designs that Basford has hand-drawn with pen-and-ink. While it's for all ages, adults will appreciate the delicate, detailed drawings begging to be filled in.
Topiaries shaped like flamingos and rabbits, a page full of different sized beetles, a wishing well surrounded by twisting flora and so many more designs will take you out of this world and into your imagination. Throughout the 63 illustrations, Johanna Basford has hidden little secrets for you to find, and an index in the back of the book that tells you what to look for. Sometimes, it may be a matter of spotting a number of owls amongst a tree full of bustling leaves or something as simple as a couple of bees in flowers. Either way, each page holds a secret.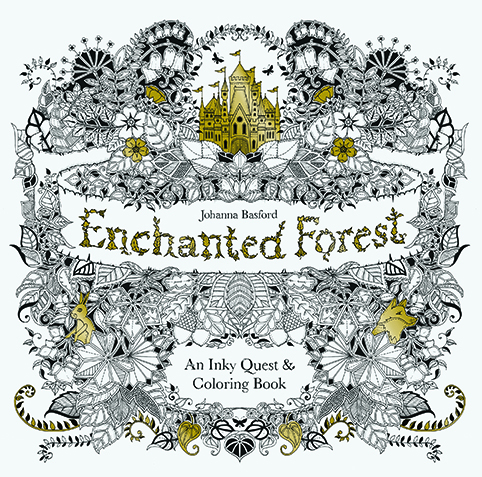 Basford's second book,
Enchanted Forest: An Inky Quest & Coloring Book
 maintains all the same fun puzzles and mysteries as her first with a few more fantastical elements. Dragons and castles make an appearance between the incredible nature illustrations she perfected in 
Secret Garden
.
Enchanted Forest starts off by informing its artist that in order to fulfill his or her quest to unlock the castle and reveal a stunning image that folds out into a four-page coloring enthusiast's dream. He or she will first have to find nine hidden symbols carved into tablets throughout the book. The journey to these final pages is full of mazes, treasure chests, keys and creatures. The foxes, squirrels and lions' frames are made up almost entirely of plant life. A castle perched atop a mushroom with a river flowing off the side and a boat with a sail made of leaves awaits the artist.
It is truly amazing to see how many shapes the environment can take. The two books are bursting with life and a promise to satisfy your inner artist with hours of entertainment. It will be difficult to walk outside without imagining trees bending into birds or abstract shapes.
Draw your own creations
Both Secret Garden: An Inky Treasure Hunt and Enchanted Forest: An Inky Quest & Coloring Book leave enough room between the vines, birds, gardens, castles and flowers for you to add your own creations. Maybe you'll take a peek outside your window and into your backyard and be just as inspired as Johanna Basford was.
One page in Secret Gardens features lily pads, leaves and frogs stretching across it, but has the room and the instructions to fill in the remaining pond with your own cattails and tadpoles. Another page requests to frame a flower with bumblebees, and another has a hanging lantern in need of some fluttering moths. Surrounding almost every design are spaces to unleash your own artistic talents.
Perhaps the best part about the book is its potential to fill your room with art. When you're done coloring in Basford's incredible designs, why not hang up your masterpieces? Forgo the refrigerator magnets. What you'll be creating deserves a frame.
Other coloring books for adults on the market
The strong woman's coloring book
And if you're not quite into the outdoor themes, plenty of options for coloring books are out there. Spiritually themed, The Journey Coloring Book by Adrienne Trafford, features women making decisions. Published by Schiffer Publishing, this coloring book, filled with 46 drawings, allows the artist to delve into the deeper meaning of life and think about her choices, truth and life path. If you dig The Journey Coloring Book, check out Trafford's art blog, which shows off her beautiful drawings in coloring books and Tarot coloring books.
The circular world of Mandalas
Artist Wendy Piersall has also been busy creating adults' coloring books: Coloring Dream Mandalas, Coloring Flower Mandalas, and Coloring Animal Mandalas, published by Ulysses Press. Coloring mandalas (the circular and intricate designs) is an ancient method to help focus and meditate. In Coloring Dream Mandalas, Piersall brings together dream catchers, geometry, angels, and creatures. If you're into gardening and the beauty of nature, lose yourself in the roses, tulips and sunflowers intertwined into mandalas presented in Coloring Flower Mandalas. As you might have guessed, graceful creatures are the focus of Coloring Animal Mandalas.
For the animal lover
Similar to Coloring Animal Mandalas, animals also take front stage in Animal Kingdom . . . Color Me, Draw Me, published by Sterling Publishing, by Millie Marotta who gets her inspiration from the plants and animals she grew up alongside in rural Wales. Dive into these pages and spend hours coloring in (or outside) the lines of these detailed drawings where plants and animals seep into one being.
So whether it's writing, drawing, or coloring, artists like Basford, Trafford, Piersall, and Marotta have the materials to get you started on your journey into the creative world and out of the hectic, busy one in which we live.
Take a deep breath, forget your inhibitions, and pick up a crayon or colored pencil. Surely, there's a little time you can spare for yourself. You may just remember what it was about coloring that was so enchanting in childhood.
You'll probably ask yourself, why did I ever give this up and, maybe, staying home for a while is not so bad!
Contributors: Rizzoli Books, Julie Kostelnik, Elana Beckett