Really? What are we supposed to eat now?
Just when you thought you knew what to eat, the dietary guidelines are being changed yet again.
Recently, the 2015 Dietary Guidelines Advisory Committee, "a group of prestigious outside experts," submitted its recommendations to Health and Human Services (HHS) Secretary Sylvia M. Burwell and Agriculture Secretary Tom Vilsack, in preparation for the final release of the 2015 edition of the Dietary Guidelines for Americans.
These are initial recommendations and not "official" yet.
The public is invited to voice their opinions on these new guidelines. So, if you have a beef with their recommendations, now is the time to speak up.
What's Out
The Food Pyramid (2005)

It seems like we just got used to the Food Pyramid, introduced in 1992 and then updated in 2005.  Remember that? The pyramid was created to depict what was thought to be the elements of a healthy diet with recommended daily servings of those foods.
 My Plate (2010)

Then, five years later, came the "MyPlate." First Lady Michelle Obama and USDA Secretary Tom Vilsack introduced the food icon, MyPlate, "to serve as a reminder to help consumers make healthier food choices… to prompt consumers to think about building a healthy plate at meal times." The theory was the plate would clearly emphasize the importance of the fruit, vegetable, grains, protein foods, and dairy groups.
Unless you are a food or health professional, you may have missed these guidelines entirely. However, there is no need to play catch up. New guidelines are set to be announced later this year.
What's Next for 2015?
Why so many changes? Every five years since 1980, the government has attempted to tackle the nation's nutrition by issuing new guidelines. Often, these new recommendations challenge long-held beliefs of what's the best diet to follow, leaving many of us, well, confused.
Initial nutritional dietary recommendations
Here are some of the recommendations for 2015:
We are encouraged to eat less sugar, grab the kale and forget the steak.
They tell us most people are not getting enough Vitamin D . . . not surprising when everyone is terrified of being in the sun and skipping dairy products.
We are not consuming enough calcium, potassium and fiber either. They say we pour on too much salt, eat too much saturated fat, choose too few fruits, vegetables, whole grains and dairy.
We eat way to much refined grains or "empty calories."
What's new?
Cholesterol. The research panel reports, "Cholesterol is not considered a nutrient of concern for overconsumption."
Reactions to the report from the experts 
Nina Teicholz, food, science and nutrition writer
Nina Teicholz, author of The Big Fat Surprise (Simon & Schuster), has this to say about the report: "Ditching caps on dietary cholesterol was a good move, since the science behind those was always soft. However, limits on saturated fat are based on the same weak evidence and should also be eliminated. Also, the report contradicts itself on total fat: it no longer recommends a "low-fat" diet yet still advises "low-fat dairy." This inconsistency is confusing to the public and fails to provide a clear, science-based path forward for good health."
Teicholz spent a decade researching and reexamining nutrition studies and interviewing many top nutrition experts. She discovered there "were egregious flaws in the science that has served as the foundation of our national nutrition policy, which for more than 50 years has all but forbidden these delicious and healthy foods."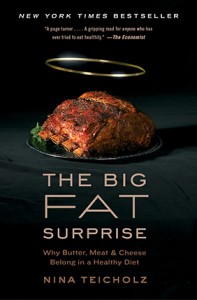 This research led Teicholz to write The Big Fat Surprise, an informative read for anyone who has agreed all along with cookbook author and chef Julia Child's way of thinking… that butter, meat and cheese belong in a healthy diet.
In her book, Teicholz notes, "Almost nothing we commonly believe today about fats generally and saturated fats in particular, appears, upon close examination, to be accurate."
She goes on to say, "Our distrust of saturated fat dates more than 50 years. Fat generally — and saturated fat specifically — came to be blamed for causing heart disease, obesity and cancer. Eventually this unfounded belief became ingrained as our national dogma, and many of our most esteemed nutrition scientists today endorse this idea based on the same kind of soft science."
There are unintended consequences of the low-fat diet, according to Teicholz. "Avoiding fats has led to eating more carbohydrates—25% more since adopting the low-fat diet—and this shift (not only to more sugar but also more whole grains and fruit) has led to today's diabetes and obesity epidemics.
"Cutting back on saturated fat has also meant that we are now eating far more vegetable oils, like soybean, canola and corn. These oils didn't even exist in 1900 and now are 7-8% of all calories we eat. They have always been associated with health problems, including cancer. . . When heated, they oxidize and cause inflammation and gastric damage. These oils are now being used much more commonly in restaurant fryers, ever since the big fast-food chains like McDonalds and Wendy's announced their shift to trans-fat free oils."
High fat, low-carb diet for battle against obesity
Shifting gears from a high carb diet to a high-fat, low-carb diet makes sense to Teicholz. "The most rigorous diet trials clearly show that a high-fat, low-carb diet is better for fighting obesity, diabetes and heart disease. The question is: what kind of fat should you eat?
"If you want to get your fat from red meat, eggs, whole-fat dairy or coconut butter, there's no data to show that's not perfectly safe—and very likely healthier than vegetable oils."
More Opinions: Meat producers have a beef with the guidelines
The National Cattlemen's Beef Association
The National Cattlemen's Beef Association also points out the report has conflicting recommendations. "Unfortunately, the report is inconsistent, and if adopted will lead to conflicting dietary advice. On one hand, the Committee has endorsed the Mediterranean style diet, which has higher red meat levels than currently consumed in the U.S.; and on the other hand, they have left lean meat out of what they consider to be a healthy dietary pattern."
Dr. Shalene McNeill, Registered Dietitian and Nutrition Scientist with National Cattlemen's Beef Association said the recommendation that a healthy dietary pattern should be lower in red meat is not consistent with scientific evidence and would be unsound dietary advice. "Lean meat is red meat. Today's beef supply is leaner than ever before with more than 30 cuts of beef recognized as lean by government standards," said McNeill. "The protein foods category, which includes meat, is the only category currently consumed within the current guidelines, and it is misleading to conclude that a healthy dietary pattern should be lower in red meat."
Dr. Richard Thorpe, Texas medical doctor and cattle producer, said the key to a healthy lifestyle is building a balanced diet around the healthy foods you enjoy eating, coupled with physical activity. "It is absurd for the Advisory Committee to suggest that Americans should eat less red meat and focus so heavily on plant-based diets," said Thorpe. "The American diet is already 70 percent plant based and to further emphasize plant-based diets will continue to have unintended consequences. The Advisory Committee got it wrong in the '80s advising a diet high in carbs, and look at what that got us – an obesity problem. My colleagues and I commonly encourage people to include lean beef more often for their health, not less."
The National Pork Producers Council
The National Pork Producers Council has criticized the recommendations related to meat in the diet.
"We think the advisory committee has taken the wrong approach," said NPPC President Dr. Howard Hill, a veterinarian and pork producer from Cambridge, Iowa. "Science recognizes that meat is, and should be, a part of a healthful diet, and NPPC urges the USDA and HHS secretaries to keep meat in the center of America's plate."
"It appears the advisory committee was more interested in addressing what's trendy among foodies than providing science-based advice for the average American's diet," Hill said. "Have we really come to the point where alcohol is okay and meat isn't"?
What do you say?
The public is encouraged to view the independent advisory group's report and provide written comments at http://www.dietaryguidelines.gov/ for a period of 45 days after publication in the Federal Register. The public will also have an opportunity to offer oral comments at a public meeting in Bethesda, Maryland, on March 24, 2015. Those interested in providing oral comments at the March 24, 2015, public meeting can register at www.DietaryGuidelines.gov. Capacity is limited, so participants will be accepted on a first-come, first-served basis.
Individuals are encouraged to submit written comments to the federal government on the Advisory Report. Written comments will be accepted online through midnight E.D.T. on April 8, 2015.