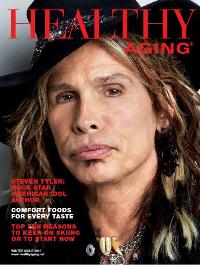 You might be wondering how a rock star like Steven Tyler wound up on the cover of Healthy Aging® Magazine.  Maybe he is, too.  No … it's not because of his age. Well, he is 63, but that's not it.   
Steven Tyler is our cover story because he represents the type of person whose passion can inspire you not only because of his talent, but of how he changes the lives of other people and his own even if it is after all these years. 
Most everyone we've talked to knows Steven Tyler.  If you grew up in the 60s or 70s, you knew him or,  at the very least, his band:  Aerosmith.    If you need reminding…Tyler is noted as the voice of Aerosmith, the rock band that has sold over 100 million albums.  His music was the backdrop for your life with Dream On (written when he was 17), Dude Looks Like A Lady (heard also in Mrs. Doubtfire), I Don't Wanna Miss A Thing, Sweet Emotion (both in Armageddon).    
In his new book, Steven Tyler, Does the Noise in My Head Bother You?, Tyler describes himself as  a "father of four children (loves of my life), a songwriter, a poet, a painter a drug addict and a person who learns something new on a daily basis…"
To read the full article, Subscribe to Healthy Aging Magazine.