Learning how to play an instrument later in life can not only be fun but can have positive physical and mental effects.
We asked Vincent Hill, writer for Music Scanner and a person who loves music and dance and shares his views through writing, what are some of the benefits of playing music.
How nice it is to listen to music. Any beat, any genre, can give you a great feeling and bring joy to your life. Other than the usual advantages that listening to music can provide, there are other benefits that you might not know. These rewards especially come when you actually play an instrument and create the music yourself.
Here are 6 reasons why you might consider learning to play an instrument, no matter what your age:
1. Helps in increasing concentration
You can improve the strength of your brain by playing different musical instruments. As you play any instrument, you will find yourself focusing and concentrating as you practice. As you learn different pieces, you will be fine-tuning your ability to concentrate. This may help you with other activities in your life.
2. Generates a sense of achievement
As you play a musical instrument, the achievement that you feel after learning a piece of music is enormously satisfying.
3. Strengthens respiratory system
Wind instruments, like flute, trumpet etc., can help improve your respiratory system. The regular use of your lungs to play these instruments can help strengthen your respiratory system.
4. Sharpens your memory
As you play any musical instrument, your brain works hard memorizing notes, keeping to the beat and following the tempo. All of this helps you sharpen your memory.
Memorizing the notes to complete a music piece helps you sharpen your memory even more.
5. Enhances your social skills
Playing an instrument is a great way to become more social. You can play with others who play the same instrument or as part of a group. Or, you can play in front of an audience.
It's said that people who play different musical instruments tend to be highly sociable. Playing in front of an audience, large or small, helps build your confidence and ability to communicate with others.
6. Promotes happiness around you
Listening to good music is relaxing and good food for the soul. When you play an instrument for others, you are sharing this happiness.
If you have never played or put an instrument aside a long time ago, why not try to play? Music can be your best escape from this very busy life.
Most Popular Songs People Want to Learn to Play
If you decide to take up music lessons again or for the first time, what do you want to play? The top three picks, according to a recent study, are:
"Somewhere Over the Rainbow" takes first place as the most searched overall
"Riptide" by Vance Joy comes in second by a whisker, while "Jingle Bells" takes third on the podium
The study, conducted by ukulele enthusiasts at Ukulele World, analyzed over 1,000 songs based on searches for how to play them on guitar, piano, ukulele, violin, and cello to discover which song is the most searched in the United States overall and for each instrument.
"Somewhere Over the Rainbow," written by Harold Arlen and made famous by Judy Garland, comes top of the list with a total of 48,960.8 average monthly searches.
The majority of the song's searches are for how to play it on the ukulele, with 39,296 monthly searches, likely influenced by Hawaiian singer and songwriter Israel 'IZ' Kamakawiwoʻole, whose version is played entirely on the instrument.
Second on the list is "Riptide" by Vance Joy, with 45,200.8 average monthly searches. Once again, searches for how to play the song with the ukulele are the highest at 32,085.8, followed by the guitar at 11,519.2.
Traditional holiday song "Jingle Bells" comes in third with 44,753.3 average monthly searches in the US. Americans are most likely to want to learn the piano version of the song, with 28,330 average monthly searches.
Further down on the list, "Hallelujah" is fourth, with a total of 32,199.2 average monthly searches.
Originally by Leonard Cohen but reprised and popularized among younger generations by Jeff Buckley, the classic ballad is popular on all instruments, with the piano on top with 13,505.8 searches, followed by the guitar with 10,541.7 average searches and by the ukulele with 6,025.
The top five closes with Beethoven's "Fur Elise," among the most classic piano pieces, one that many are eager to learn despite the difficulty of some of its parts. The piece receives 30,470 average monthly searches in the US, mostly for how to play it on the piano.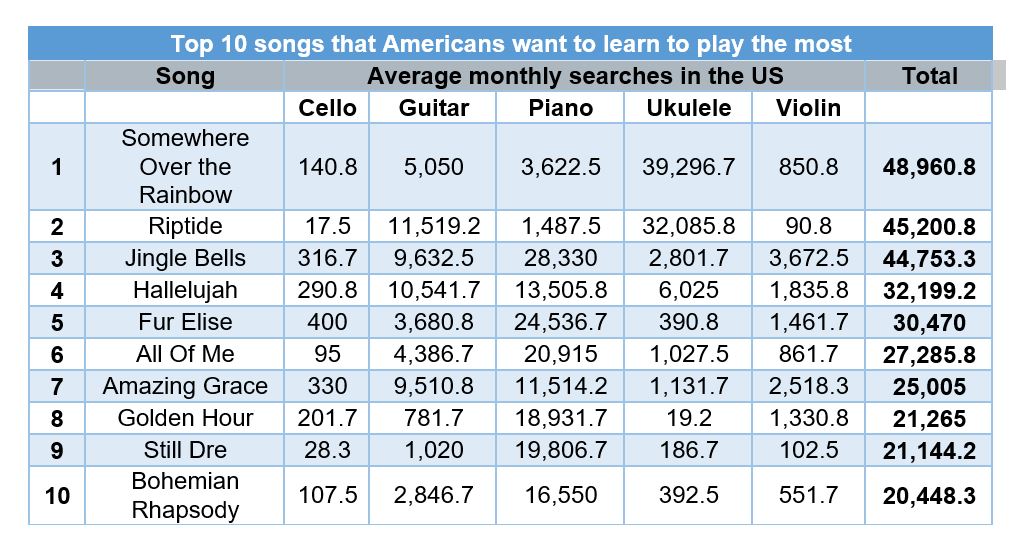 A spokesperson for Ukulele World commented on the findings: "It's always inspiring to see people keen to learn how to play a song on an instrument, and it's fascinating to discover which songs they want to start with or are just curious to check out. Songs like "Somewhere Over the Rainbow," "Hallelujah'" and "Fur Elise" are considered classics that it's very common to start from, mostly for their popularity rather than their level of difficulty.
"It's also very interesting to see a modern and fairly new song such as "Riptide" by Vance Joy in the top three, this is probably because the song is almost entirely played on an ukulele, and for anyone keen to play the instrument, it must a great fun to learn."