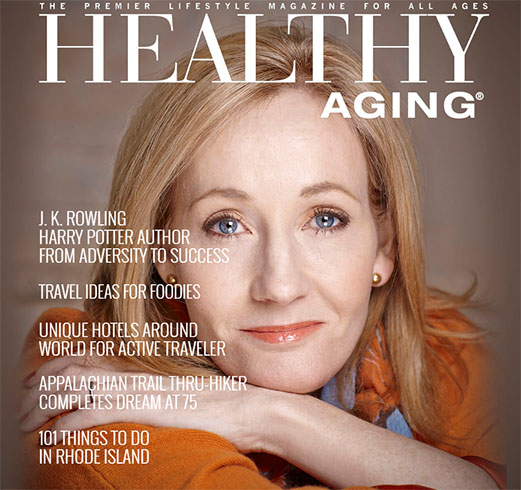 The latest issue of Healthy Aging Magazine has been published.
Travel the world through this special issue featuring unique places to visit, tips on what to wear, international foods to prepare in your kitchen and books to help you dream about your vacation.
You will love the gorgeous photography, thought-provoking articles, easy to read and maneuver, digital edition. While some of the articles will be excerpted on the Healthy Aging website, to enjoy the full articles, a paid subscription is required.
Here's a sampling:
J.K. Rowling, Harry Potter Author, Rise to Success.
How the novelist triumphed over adversity to become one of the most successful authors in history
Traveling the Magical World of Harry Potter.
Ideas for a Harry Potter vacation.
Travel Ideas for Foodies.
Ideas for culinary tours from around the world.
Voluntouring: Vacations that Make a Difference
Travel the world while making a difference in the environment and others lives
Got Bag, Will Travel
Evolution of luggage and what's new.
10 Unique Hotels from Around the World
Awesome places to stay that are just out of this world.
Full-Circle Sojourner
75-year-old Soren "Sojo" West, one of the oldest Appalachian Trail Thru-Hikers
Hostels Gone Upscale
Hostels have grown up. Ideas for where to fine one to test out.
101 Things to Do in Rhode Island
Insider tips of what to do in Rhode Island by Gary Sikorski, Schiffer Publishing.
Profile
Michael Yale Harris, national hotelier follows his passion and pivots to life as a successful sculptor
Not a subscriber? See below.
Subscribe to Healthy Aging Magazine, the lifestyle magazine that is all about following your passion and what you can do rather than what you can't.