For the second year, Healthy Aging® Magazine will be presenting unique active travel ideas to travelers at the New York Times Travel Show, January 26 to 29, in New York City.
Over 30,000 visitors will wander through the aisles of the Jacob K. Javits Convention Center on New York's west side hoping to pick up ideas for their next getaway.
Healthy Aging® Magazine is an official media partner of the show and the Healthy Aging® Magazine editors will be hosting booth #648. The editors will be on hand to offer ideas to the active adult travelers who are researching where to go for "insider" local experiences, active sports destinations, voluntourism programs, educational and cultural opportunities, retirement relocation, as well as wellness, bucket list and solo travel.
Four Amazing Vacation Drawing Prizes
As part of celebrating the active traveler, Healthy Aging® Magazine will be conducting a drawing at the show to some of these unique and fabulous destinations. Visitors to the booth will have a chance to sign up for the drawing with these special prizes:
1. Finest Playa Mujeres, Cancun
Enjoy a 4-night Stay at Finest Playa Mujeres, the only all-inclusive luxury family friendly resort in the Cancun by Excellence Group Resorts.
If you're looking to experience the pristine natural beauty of the Caribbean in a setting of all-inclusive luxury, then Excellence Playa Mujeres is the resort for you. Situated just 25 minutes north of Cancun, Playa Mujeres is the latest luxury development destination in the region, removed from but convenient to the activity of Cancun proper. Excellence Playa Mujeres is an adults-only resort nestled among seven swimming pools on a powdery white sand beach, in a community that boasts an inland marina and a spectacular Greg Norman signature golf course right on the Caribbean.

2. Carmel-By-The-Sea, California – Hofsas House Hotel
World-Class Carmel-by-the-Sea, California, 3-night Vacation at Hofsas House Hotel including a 3-night stay in a deluxe king with a fireplace and ocean view; Welcome wine and cheese package; $25 gift certificate to 5th Avenue Deli for a picnic for a hike.
Long known for its charm, Carmel-by-the-Sea is the one-of-a-kind European-style village that started as an artist colony and has no street addresses, mailboxes, streetlights, or parking meters. With more than 60 restaurants in one square mile, more than a dozen wine-tasting rooms, 80-plus art galleries, and hundreds of unique boutiques, Carmel is perfect for wandering.
The Hofsas House Hotel is a boutique family-owned inn with 38 uniquely decorated, spacious rooms, many with ocean views overlooking the pines in the village of Carmel-by-the-Sea.
Dutch doors appoint each room allowing our guests to enjoy the fresh ocean air. Our guests watch glorious sunsets over the Pacific Ocean from the privacy of the inn's decks or rooms. Some rooms and most suites have fireplaces, private balconies, wet bars or kitchens.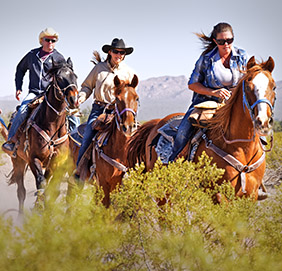 3. Dude Ranchers Association – White Stallion Ranch, Tucson, Arizona
White Stallion Ranch: 4 nights for 2 people. Stay includes lodging, meals, horseback riding and most ranch activities. Drawing prize offered in association with Dude Ranchers Association.
At White Stallion Ranch, the personal touch and hospitality of a traditional dude ranch is carefully blended with the service and amenities of a fine resort. The True family welcomes you to the ranch that has been their home for over 50 years.
Reconnect with nature, family, friends and serenity. Ride through the unspoiled desert, rugged mountains and cactus that have brought Hollywood filmmakers to the ranch for over 70 years. Recognized nationally for excellence in service and value.
4. Aegialis Hotel & Spa, Greece
Come to the luxurious Aegialis Hotel & Spa on Amorgos Island, Greece for a 3-night stay. Enjoy the amazing views of the Aegean Sea and the Aegiali Beach. Hike the island. Be pampered at the spa.
The Aegialis Hotel & Spa is located on the stunning island of Amorgos, Greece that you can only reach by ferry boat and is  located in the Aegean Sea. It is here where you can hike, enjoy the sun drenched beaches in the summer, and find a place to hibernate or retire to in the winter.
Travel Show a Must for Active Travelers Seeking Ideas
"We are excited to be one of the official media partners of the New York Times Travel Show for the second year," Carolyn Worthington, Healthy Aging® Magazine publisher said. "And, particularly about the amazing places we will be offering as part of the Healthy Aging® Magazine drawing at our booth.
"We were blown away by the numbers of 45-plus visitors last year bolstering our belief that this group is ready and able to take on the world – again. We will be sharing ideas for insider experiences you don't see on every travel website."
"Trends we are seeing include more grandparents traveling with their grandchildren, a greater interest in experiences among an already well-traveled group, desire to combine 'active' with relaxation," Worthington said. "Gone are the days of moving from one meal to the next. Our audience wants ideas for feeling great after a vacation as opposed to packing on pounds from sitting and eating."
What's New for 2018 at the Show?
Here is your chance to travel the world under one roof. Visit with over 560 exhibitors representing more than 170 countries. The Show floor is separated into 16 Pavilions including: Adventure, Africa, Asia, Australia/South Pacific, Canada, Caribbean, Cruise, Europe, Family, Latin America, Mexico, River Cruises, Sponsors, Travel Products/Services, Wellness and the USA.
View performance stages, take part in wine & food tastings and culinary presentations from around the world, attend seminars with featured speakers, meet one-on-one with travel experts like publisher of Healthy Aging® Magazine, Carolyn Worthington, who will be offering tips for active travel, decade birthday destinations, anniversary trips, wellness destinations and ideas for where to go if you want to be active but not over-the-top active.
This year marks the 15th year of the New York Times Travel Show. To celebrate, the theme for this year's show is "Celebrating 15 Years of Uncommon Adventures."
Meet the Experts Session
Meet publisher, Carolyn Worthington, at the show's "Meet the Experts" session on Sunday, January 28 from 12:00 to 12:45 pm for questions and answers on "Travel Destinations & Tips for the Active Traveler."
Comp Tickets to New York Times Travel Show For New Healthy Aging Newsletter Subscribers
Sign up for the free, Healthy Aging® Newsletter and receive a complimentary ticket ($20 value) to this year's NY Times Travel Show. Supplies are limited.
Here's how:
1. Sign up for the free Healthy Aging® newsletter here: Free Healthy Aging Newsletter
2. Send us an email requesting your free, comp ticket and a link will be provided for you to download your ticket: tickets@healthyaging.net
Questions? Or, for more information, contact: tickets@healthyaging.net