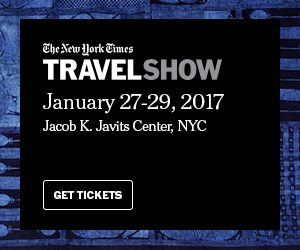 Annual Event to Showcase Latest in Global Travel Trends January 27 – 29, 2017
Healthy Aging® Magazine announces it will be one of the official media partners of the 2017 New York Times Travel Show, the largest and longest-running trade and consumer travel show in North America.
The event will take place from Friday, January 27 to Sunday, January 29, 2017 at the Jacob K. Javits Convention Center.
Tickets are available at NYTimes.com/Travel Show
Special limited number of complimentary tickets available for new Healthy Aging newsletter subscribers. See below.
Public Invited to Travel Destinations and Tips for the Active Traveler Seminar at the Show
Carolyn Worthington, publisher of Healthy Aging® Magazine, will lead a new seminar at this year's show, Travel Destinations and Tips for the Active Traveler, on Sunday, January 29, 2:30PM to 3:30PM.
The seminar will highlight unique and exciting places to visit beyond the typical tourist destinations.
Special Healthy Aging® Magazine guest speakers include:
"Sojo"
One of the oldest Thru-Hikers of the 2,190 mile Appalachian Trail, 75-year-old Soren "Sojo" West. Hear his amazing story of how he hiked the trail in eight months and six days with only his dog and his backpack.
Gary Sikorski, author, 101 Things to Do in Rhode Island
Gary Sikorski, author of 101 Things to Do in Rhode Island (Schiffer Publishing), for insider Rhode Island travel tips from spending a night in a lighthouse and dancing to live blues on the beach,  to enjoying live international jazz over fabulous Chinese food and picking-ur-own live lobster right out of the tub on the boat.
Irene Giannakopoulos, Owner & CEO, Aegialis Hotel & Spa – Aegialis Tours, Amorgos Island, Greece will take you vicariously to the stunning island in the Aegean Sea that you can only reach by ferry boat. It is here where you can hike, enjoy the sundrenched beaches in the summer, and find a place to hibernate or retire to in the winter.
A drawing for 5 nights, 2 guests, at the Aegialis Hotel will be done at the conclusion of the seminar.
And more . . .
Show Stopper Events
"Welcome to the World" is the theme for this year's Travel Show, where industry experts and travel enthusiasts come together to share the latest travel news, trends and inspiration for the year ahead. The Travel Show features more than 525 exhibitors from around the world and is expected to draw more than 30,000 attendees.
The Travel Show is the largest and longest-running trade and consumer travel show in North America, featuring the Travel Industry Conference, Consumer Seminars such as the Healthy Aging® Magazine seminar, and an interactive Exhibition including more than 500 exhibitors from Africa, Asia, Australia/South Pacific, Canada, the Caribbean, Europe, Latin America, Mexico and the United States.
In addition to discounts and special offers, the show provides educational seminars and live entertainment for families, individuals, couples and seniors.
Complimentary Tickets for New Healthy Aging® Newsletter Subscribers
Sign up for the free, Healthy Aging® Newsletter and receive a complimentary ticket ($20 value) to this year's NY Times Travel Show. Supplies are limited.
Here's how:
1. Sign up for the free Healthy Aging® newsletter here: Free Healthy Aging Newsletter 
2. Send us an email requesting your free ticket and a link will be provided for you to download your ticket: tickets@healthyaging.net
Questions? Or, for more information, contact: info@healthyaging.net