Recently, Carolyn Worthington, editor-in-chief of Healthy Aging® Magazine had the opportunity to visit Catalonia, Spain to learn about the wine and food offerings there and to report for the active traveler. Her experiences, recommendations and insider tips for what not to miss in Catalonia, Spain appear as a four-part Healthy Aging® website series and a feature in Healthy Aging® Magazine. Subscribe here: Healthy Aging® Magazine, the lifestyle magazine that is all about following your passion and what you can do rather than what you can't. Would you like to read the entire article as a PDF? Click here: CATALONIA, SPAIN. HEALTHY AGING MAGAZINE ARTICLE AS PDF
By Carolyn Worthington
On the third day of your trip to Catalonia, spend it in Alt Empordà, a county in Girona. Visit two wineries, have lunch at a wine growers' cooperative, and stay in a converted farmhouse that is now a hotel and spa.
Vinyes dels Aspres
The family-owned winery Vinyes dels Aspres is located in the town of Cantallops in Alt Empordà. There, you can take a tour of the vineyards and learn about the winemaking process with head winemaker, David Molas.
The winery began three centuries ago. At the end of the 1990s, new techniques of winemaking were added along with renovations to the buildings. From the first bottle of new wine made in 2002, they produce over 40,000 bottles per year.
Some of the wines you will find there include the following: Oriol Blanc, a young white wine; Blanc dels Aspres, an aged white wine; Oriol Rosat, a young rosé; Oriol Negre, a young red; Negre dels Aspres, an aged red wine; and Vi de Panses, a sweet wine.
The wine tasting is held in an antique-laden dining room. There is a small shop there, too. Plan to spend around an hour and a half at the location. There is a fee of around $10 for the tour and tasting.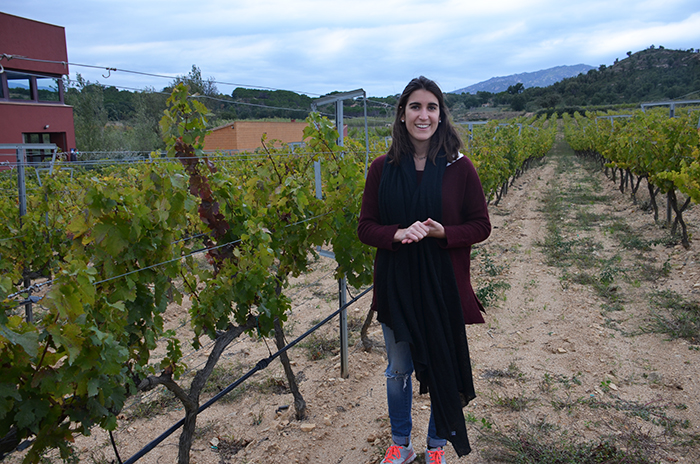 Carlota Pena, Carme's Casacuberta daughter, leading a wine tour of the vineyard.
Wine Tasting at Vinyes d'Olivardots
The role of winemaker has long been exclusively reserved for men. In fact, a study completed only a couple of years ago showed that only 10 percent of the winemakers in California were women.
Vinyes d'Olivardots is the exception to that rule with Carme Casacuberta, alongside her grown daughter, leading the charge. Casacuberta and her husband bought the estate Olivardots in 2002, built the wine cellar in 2006, and now produce quality wines sold in Spain and many other countries throughout Europe.
There, you can take a tour of the vineyards where the grapes are hand-picked at harvest time followed by a wine tasting. You can see their use of the "lyre trellis" system, developed back in the 80s in France's Bordeaux region. This method helps guard against mildew by using the wind, typical in this area, and the sun as defenders. You will learn about how they make their wines, from picking by hand and even crushing the grapes with their feet.
Wines include Finca Olivardots, a blend of syrah, grenache, and carignan, a red Spanish and French grape; Gresa, a barrel-aged red; and Vd'O Col.lecció with its unique labels of gray for wines grown in the slate soil, beige in sandy soil, and numbering instead of names to signify the vintage.
Vinyes d'Olivardots
Paratge Olivardots
Girona, Capmany, Spain 17750
Traditional Lunch and Wine Tasting in Cooperativa El Parral
Agrobodega El Parral
Carrer Santcliment 27
Capmany, Girona, Spain 17750
Agrobodega El Parral is a unique opportunity to taste and buy local wines and foods and have a tasting of the most extraordinary local ingredients at what began as an agricultural cooperative in 1916. The cooperative at one time housed up to 4 million pounds of grapes. Today, the renovated space is a fabulous stop for tasting and buying local products from wine and sausage to olive oils of all types.
Where to Stay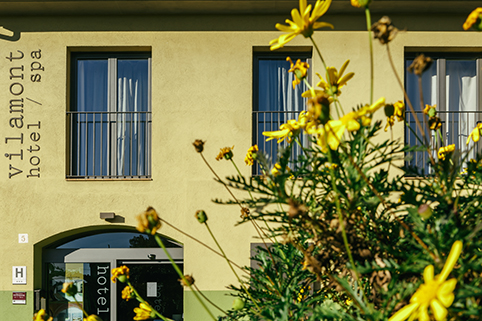 Hotel Spa Vilamont
Plaça de l'Església 5
Garriguella, Spain 17780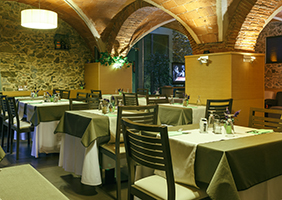 Hotel Spa Vilamont was originally an old farm house that dates back to 1800. It is located in the center of Garriguella in Alt Empordà. The farm house was restored six years ago but still has the same flavor of what it must have been so long ago.
The small hotel has eleven rooms with private bathrooms, a spa with a swimming pool, a Jacuzzi and sauna, massage and beauty services, dining, and all types of excursions and activities to explore your surroundings. (Photos: Hotel Spa Vilamont)
Where to Have Dinner
A trip to Spain would not be complete without having a five-star dinner in a castle.
Castell de Peralada, dating back to the Middle Ages and located in the village of Peralada, fits the bill. Since the time of the monks who lived and made wine there, the castle has kept the oenology spirit alive and today offers a unique spot for dining and for those who love casinos.
When Miguel Mateu bought the Castell de Peralada in 1923, his main goal was to bring back its winemaking tradition. He more than achieved his goal. Peralada today, headed up by Javier Suqué, grandson of the founder, is one of the leading wine and cava producers of Spain.
Before you dine in the five-star restaurant, take a tour of the Peralada Castle Museum and the convent library, which holds Mateu's collection of some 80,000 books and manuscripts. The museum houses his Medieval and Renaissance sculptures, tapestries, paintings, glassware, ceramics, and more.
Castell Peralada Restaurant will impress you with its haute cuisine prepared by chef Xavier Sagristà who achieved fame through his time at the world-renowned elBulli restaurant. The food is stylishly presented, using local ingredients from the Empordà region.
Castell de Peralada
Plaza del Carmen 1
Peralada, Girona, Spain 17491
To read the full article about travel to Catalonia, Spain complete with insider tips for what not to miss, subscribe to Healthy Aging® Magazine. Subscribe here: Healthy Aging® Magazine, the lifestyle magazine that is all about following your passion and what you can do rather than what you can't.