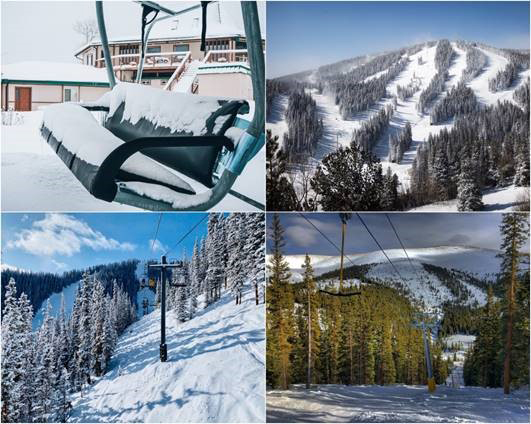 Skiing continues to be one of the most popular sports in the world and a contributor to overall health … making it a perfect choice for adults who want to stay active. As winter draws near and with COVID-9 rules everchanging, skiers may be wondering if and when they might hit the slopes.
One popular destination is Colorado. As snow blankets the Centennial State's high-country and three ski areas are open for the season, Colorado Ski Country USA (CSCUSA), the trade organization representing member ski areas has compiled a list of areas including what's new for the 2020-21 winter season.
While many things in our lives are different, what guests have come to love about skiing and snowboarding, the association said, will be refreshingly the same this season. The fresh, crisp mountain air and stunning scenery as well as the world-class terrain and world-class guest service Colorado is known for will be ready for guests to enjoy on a pair of skis or snowboard this winter.
Over the summer and fall Colorado Ski Country USA (CSCUSA) member ski areas have been working with local and state officials to prepare for the 2020-21 winter season. Colorado Ski Country encourages all skiers and riders, no matter how experienced, to "Know Before You Go," long a backcountry mantra that will apply to all skiers and riders this year.
Guests should visit ski area websites, social media and other channels to ensure they have the most up-to-date information on any COVID-19 protocols and understand what is expected during their visit. Colorado Ski Country's COVID-19 webpage will be updated throughout the winter with tips, information and the most up-to-date resort protocols.
What's New
Many ski areas will be requiring pre-purchase of lift tickets, ski school reservations, rentals, and other activities and guests should check with the ski area they plan to visit before and leading up to their arrival.
Ski parties will be allowed to load lifts and gondolas together at full capacity. Parties that are not together will have at least one seat between them on lifts. Up to two unrelated parties can load a gondola together up to 50 percent capacity. Parties that are uncomfortable riding with other parties will be allowed to ride as a single party.
Ski school classes will be limited to under 10 and most ski areas will limit class sizes to between four and six and offer half-day lessons. Ski areas will be following state and local guidance for indoor spaces, lodging, transportation, and other activities where appropriate. Guests who are experiencing symptoms or have been in contact with someone who has tested positive for COVID-19 are asked to self-isolate and delay their trip.
In addition to new COVID-19 protocols and health guidelines, several CSCUSA member ski areas have used the summer to work on replacements to lifts, updates to snowmaking operations, and more.
Below is a summary of CSCUSA member ski areas announced plans for the winter and the many resort improvements for the 2020-21 winter season.
Arapahoe Basin Ski Area
Arapahoe Basin will not require reservations for season pass holders and will have contactless skiosks in the base area where guests can pick up pre-purchased daily lift tickets, which will be required.
To-go food and beverage options will be the norm and the Beach will remain closed until further notice. Indoor facilities are open for bathroom use or to purchase food only. Guests should plan to boot and gear up at their car with no personal locker use available. Guests are encouraged to avoid weekends when possible, enjoy afternoon skiing, and avoid historically busy days.
For additional information, visit www.arapahoebasin.com.
Aspen Snowmass
Aspen Snowmass will sell tickets onsite at lift ticket windows, but pre-purchasing online is highly suggested to guarantee access. Rental, retail stores, and restaurants will have capacity limitations to maintain social distancing in accordance with state and local guidelines. Additional outdoor dining and grab and go options will be available across all four mountains and guests can use the Aspen Snowmass app to order food to go.
Aspen Snowmass pass holders do not need a reservation at this time, but Ikon pass holders will need to make a reservation before their visit. The Aspen Highlands snowcat will not be operating this winter.
For additional information, visit www.aspensnowmass.com.
Cooper
Cooper will feature several new food and beverage outlets for winter 2020-21 including a pizzeria at Katie O'Rourke's, a new grill on the base area deck, the Shamrock Snack Shack and the revamped Base Camp Cafeteria offering grab and go options. These new options will help lunchtime flow more smoothly. Also new this year is streamlined access with the Cooper Port of Entry, which all daily guests will need to enter for mountain access. Once a guest has entered, they will rarely need to scan tickets again, reducing contact and improving mountain access. For more information, visit www.skicooper.com.
Copper Mountain
Copper Mountain will be implementing a parking reservation system this winter to help manage volume at the resort. Guests can book up to seven advanced reservation days throughout the season beginning November 9 and once the season begins make an unlimited number of reservations within a rolling 7-day window. As advance days are used, guests will be able to book additional advance days. Copper will open on November 30, to ensure that more acreage and lifts will be available on opening day. Copper's three villages and naturally divided terrain will allow guests to spread out on the mountain and in base areas.
For additional information, visit www.coppercolorado.com.
Echo Mountain Resort
Echo Mountain does not have a reservation system planned for this winter, but online ticket purchases will be required in advance of a visit. Parking will be staggered to provide adequate space for guests and rentals will require a reservation online in advance. For additional information, visit www.echomountainresort.com.
Eldora
Eldora will be implementing a parking reservation system this season to help manage access at the ski area. Guests can make up to seven reservations throughout the season beginning November 9 and once a day has been used an additional day can be booked for the upcoming seven-day period. Touchless transactions will be available for all food, beverage and retail purchases. For additional information, visit www.eldora.com.
Granby Ranch
New this winter, the Granby Ranch Patriot Pass offers all active duty US military members complimentary skiing and snowboarding at Granby Ranch. Granby Ranch will be making improvements to the guest experience with a major overhaul of the snowmaking system to ensure a better early-season experience. Also new this year is overhauled pass pricing with season passes priced at $344 and the new 3-Day Pack for $88. For more information, visit www.granbyranch.com.
Hesperus
Hesperus will announce additional COVID-19 specific policies closer to its expected opening date in mid-to-late December weather permitting. For more information, visit www.ski-hesperus.com.
Howelsen Hill
Howelsen's lodge will be open for food and ticket purchases, but guests will not be allowed to consume food, hang out or congregate inside the lodge this season. Howelsen will have several outdoor warming huts this winter for guests to utilize and an outside lift ticket window to ensure social distancing.
Howelsen Hill is the oldest continually operating ski area in North America and will be celebrating its 105th year of operation this season. Howelsen Hill will continue its popular Ski Free Sunday program again this season, with free skiing/riding every Sunday beginning November 29. For additional information, visit www.steamboatsprings.net/ski.
Loveland Ski Area
Loveland will offer one of the longest seasons in the state, an average of 400 inches of snow and affordable ticket, rental and lesson options, but there will be operational changes. Guests will be required to pre-purchase lift tickets, rental equipment and Ski & Ride School lessons online prior to arrival. The Ridge Cat, Loveland's free snowcat service, will not operate this winter, but the terrain served by the cat will be open with hike-to access. On-mountain cabins and the Loveland Child Care Center will be closed.
For additional information, visit www.skiloveland.com.
Monarch Mountain
At Monarch, in-person lift ticket sales will not be available on weekends or from December 19, 2020 through January 3, 2021 and guests are encouraged to pre-purchase tickets online. Guests are asked to avoid weekends, historically busy peak times and be a weekday warrior. Childcare services and locker access will not be available this winter.
For additional information, visit www.skimonarch.com.
Powderhorn Resort
This winter Powderhorn will be prioritizing pass holders and may limit the number of daily lift ticket sales dependent on local county restrictions. Rentals and lessons will need to be reserved online in advance. Food and beverage services will include online ordering, grab-and-go and outdoor dining.
For more information, visit www.powderhorn.com.
Purgatory Resort
Purgatory will feature additional drop off areas and a general admission plaza where guests will need to be scanned once upon entry and not in each lift line for guest convenience and guest and employee safety. There will also be online food and beverage ordering options.
This winter Purgatory will have three new snowcats to maintain groomed terrain reliably as well as new energy-efficient snowmaking guns that will give snowmaking operations nearly double the snow production power during the early season. For more information, visit www.purgatory.ski.
Silverton Mountain
Silverton Mountain will welcome a new reservations platform for 2020-21 reservations and will continue its daily reservation system that guests are accustomed to using. The new platform will help further streamline the reservation process and help provide the most elbow room on the slopes with more than 26,000 acres of skiable terrain. For more information, visit www.silvertonmountain.com.
Steamboat
Steamboat is not requiring reservations for pass holders at this time. Advanced purchase lift tickets, packages, and season pass products are the only way to access the mountain currently.
Lift tickets will not be available for purchase at the resort ticket office. Stand-alone lift tickets will not be available for purchase between December 23 and January 2. Reservations for ski and ride school, rentals, some restaurants and free clinics are required. Night skiing will only be available on Fridays, Saturdays and Sundays.
Steamboat will also feature two unique outdoor dining options, welcoming back the roaming Taco Beast as well as the brand-new Pizza Ranger, which will offer a pizza delivery option in the Bashor area. First tracks will also start earlier this year at 7:45 am to help spread guests out and additional skier drop off locations will be available.
For additional information, visit www.steamboat.com.
Sunlight Mountain Resort
Sunlight will feature new grab and go dining options as well as reconfigured base food stations to maintain physical distancing. Sunlight suggests that your car become 'base camp' for you and your family.
New this season, a fresh coat of paint inside and out will greet guests at the base lodge. For additional information, visit www.sunlightmtn.com.
Telluride Ski Resort
Telluride will feature 20 refurbished gondolas offering dining options in Mountain Village as well as an expanded yurt and outdoor dining services across the mountain.
Telluride will welcome new air service this winter with Southwest Airlines and Jet Blue adding flights into Montrose Regional Airport (MJT) starting in mid-December. Southwest will fly 2-3 times daily from Denver (DEN) and Saturdays and Sundays from Dallas Love Field (DAL). Jet Blue will operate from Boston Logan Airport (BOS) on Saturdays and select Wednesdays during the season. For additional information, visit www.tellurideskiresort.com.
Winter Park Resort
New this winter is a mid-week pass that gives guests unlimited access on non-holiday Mondays-Fridays through the season starting at $539 for adults and $299 for children. Winter Park is not requiring reservations at this time. All rentals, lessons, activities and tours will need to be pre-booked in advance of arrival. Winter Park is also working to create as many contactless options as possible in all restaurants and retail areas.
For additional information, visit www.winterparkresort.com.
Colorado Ski Country USA
Colorado Ski Country's COVID-19 webpage, https://www.coloradoski.com/covid-19, will be updated throughout the season with up-to-date information from member ski areas including tips and advice on how to successfully visit a ski area.
Colorado Ski Country's 5th and 6th Grade Passport Program, offering Monday-Friday skiing and riding for 5th and 6th graders, can be purchased at https://www.coloradoski.com/passport. The Colorado Ski Country Gems Card, good for two uses at 11 ski areas for either two-for-one lift tickets or 30 percent off adult lift tickets can be purchased at https://www.coloradoski.com/gems.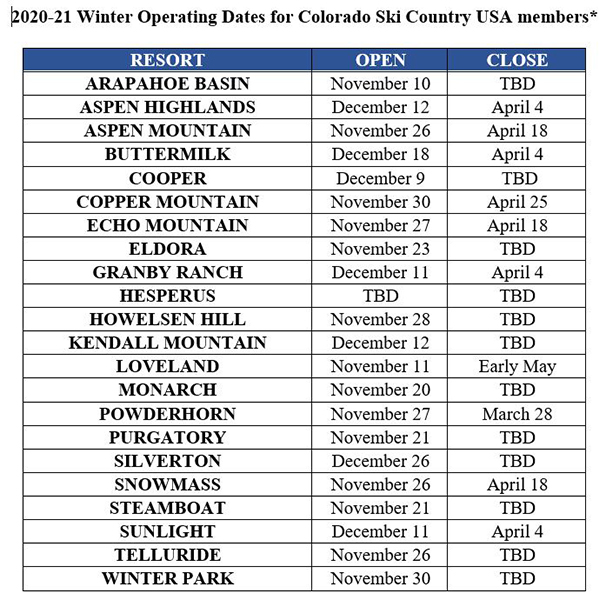 * These dates are weather dependent and subject to change