Recently, Carolyn Worthington, editor-in-chief of
Healthy Aging® Magazine
had the opportunity to visit the Region of Valencia, Spain to learn about the active travel options there. Her experiences, recommendations and insider tips for what not to miss in the Region of Valencia, Spain appear as a five-part Healthy Aging® website series and a feature in Healthy Aging® Magazine. Subscribe here: Healthy Aging® Magazine, the lifestyle magazine that is all about following your passion and what you can do rather than what you can't. Would you like to read the entire article as a PDF? Click here: VALENCIA REGION, SPAIN. HEALTHY AGING MAGAZINE ARTICLE AS PDF
By Carolyn Worthington
When you think of the Region of Valencia, Spain, images of oranges and paella may first come to mind. And why not? Valencia bears the mantle "the Orchard of Spain" because more oranges are grown here than anywhere else in Spain. Since the Moors introduced rice to the area more than 1,200 years ago, the Region of Valencia has the additional honor of being the birthplace of paella, a rice dish made of chicken, rabbit, and vegetables but no sausage! (More on that factoid later.)
The region is, however, much, much more than rice and oranges, as delicious as they are. It is an amazing part of the world that's made up of delightful contrasts from the beaches along the Mediterranean to the fertile inland and mountainous areas to the west, the cosmopolitan city of Valencia juxtaposed against the old city and the ancient ones in the region like Morella and Sant Mateu.
The Region of Valencia for Active Travelers: Cyclists, Walkers, Foodies, Culture Seekers
The contrasts of the Region of Valencia, along with some of the world's most beautiful countryside, first piqued our interests as a place where my cycling-crazed husband and I could combine many of our varied interests.
Full disclosure: After 35 years of marriage, I have realized that my surefire secret weapon for getting uplifted brows from my husband on a trip suggestion is to include cycling. Over the years, I have gotten his attention with such ideas as, "Let's go to Aruba … and see the Tour of Aruba!" Or, "How about Jamaica? Can't miss the Tour of Jamaica!" And, of course there have been trips to the Tour de France many times as well as World Championships in places like Spain and Italy. What can you do when your husband is a two-time Olympic cyclist and journalist in his own right?
And as crazy as this sounds, organizing a trip that weaves in cycling, combining some road rides, a day as a spectator to the starting or finish line of a big or even local bike race, an afternoon picnicking in the mountains, munching on local cheese and sausage slices, sipping a local wine while waiting for the pros to pass by, puts a very fun and different spin on travel.
Our trips are not just cycling, cycling, cycling. We love to find the most beautiful beaches, local favorite restaurants, tour guides to open our eyes to the history of the land, and also a special place to have a drink and watch the sunset.
So, this year, when I realized La Vuelta, Spain's world-class tour similar to the Tour de France, was in part passing through the Region of Valencia, I was on it! Ta-da—Valencia! Our choice was made, hands down as a destination.
If you have not been to this part of Spain, the Region of Valencia should definitely be high up on your list. Here is the inside story of what a foodie-photographer-journalist discovered with her cycling-dimensional, journalist, active-traveling husband.
Where Is The Region of Valencia?
Spain is made up of "autonomous communities," or regions, as we would say in the states. The autonomous community of Valencia lies along the Mediterranean, is flanked by Catalonia to the north, Aragon and Castilla-La Mancha to the west, and Murcia to the south. Valencia is also the name of the region's capital, home to almost five million people.
The layered history and cultural influences began with the founding of the city of Valencia in 138 B.C.; passing through the rulings of the Carthaginians, Romans, Visigoths, and Arabs; was taken back by El Cid, followed by James the Conqueror; and later, the 19th century War of Independence; the dictatorship of Franco; and all the way up to as it is today as a democracy. During the 20th century, Valencia was a mostly industrial city. To visit it now, you would not know this at all with its stunning beaches, harbor, and impressive City of Arts and Sciences—a cultural and architectural complex built in various stages from 1998 to 2009.
All this historical tapestry has greatly influenced Valencia from a cultural, architectural, and gastronomic perspective.
Getting There
We caught up on this bit of the Valencia's history before the six-hour plane ride from Philadelphia to Madrid, got our tiny Fiat 50 rental car at the massive Madrid Airport, and took off on the four-hour drive to the Region of Valencia on the coast.
Once out of Madrid, most of the drive was over wide-open, sparsely populated countryside through La Mancha on the A-3 superhighway.
Sure, you could fly into the city of Valencia or take the high-speed train and sleep until you get there in under two hours from Madrid, but then you would miss the chance to really see the countryside along the way, through the region of Castilla-La Mancha, well-known as the backdrop for the 17th century novel Don Quixote by Miguel de Cervantes.
Along the A-3 route, you will see vast plains, mountain ranges, castles, and fertile fields. You will be surprised to see a few giant, 46-story-high, black silhouette images of bulls along the highway. The bulls are apparently left over from a past sherry promotion that began in 1956. Rather than promoting the sherry, today, thanks to popular demand, the bull billboards have been painted black and preserved.
The other benefit of driving is the chance to stop by one of the roadside rest stops where you will be surprised to find full restaurants with quality food, including cheeses, local fruits, and vegetables and meats—putting the New Jersey Turnpike rest stops to shame.
Gandia
First stop, Gandia, a stunning beach town just 40 miles south of the city of Valencia, and the very special Hotel La Gastrocasa.
Gandia is known for its beautiful, unspoiled, four-and-a-half-mile beach that boasts a shallow, gradual sandy and clean sea bottom. During the summer months, people bring picnics, games to play, and spend the entire day on this unspoiled beach.
Hotel La Gastrocasa is a stylish, adults only, boutique hotel with just five beautifully decorated rooms and an in-town setting to die for.
Opened for just two years but with an amazing feel of historical elegance, this welcoming hideaway boasts a pool, outdoor bar, relaxing conversation areas, and a wine cellar with 150 types of wine.
During the winter months, the Gastrocasa (culinary house) offers cooking classes with its renowned chef, Juanvi Mas. And Agustín Gómez, who runs this family hotel, is welcoming and happy to talk about the area and its history. Oh, and if you're there during the summer, it's less than a mile (2,000 steps!) from the beach.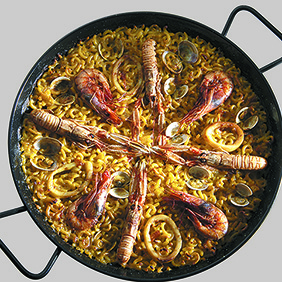 Authentic fideua, like paella but made with pasta. Photo: Valencia Tourism
Birthplace of Fideua, a version of Paella
While Valencia has its paella, Gandia has fideua, a dish like paella but made with small noodles.
Gandia claims the honor of being the birthplace of fideua.
Lore has it that the first rendition of paella using noodles was done in Gandia and so fideua has become the area's national dish. Fideua is so popular that there are even competitions to see who can made the most flavorful dish.
The most famous competition is the International Fideua Competition of Gandia and Gastronomy, held each June and now approaching its 44th year. Attracting food lovers and chefs from around the world, the award is for the best chef of Gandia's "emblematic" dish.
Within a few hours of arriving at Gastrocasa, our hosts Desam Garcia and her boyfriend, Fernando Gallego, thought it would be great if we experienced a more casual, mini-version of the grand competitions. So—never mind the jet lag—we were whisked off to one such event on the patio of the RH Bayren Hotel and Spa, overlooking the beach in the heart of Gandia.
Thanks to the gourmet chef and fideua impresario, we were cajoled into competing against three other teams of visiting hotel guest families and their friends.
We sautéed our shrimp, mixed in our noodles, flavored our fideua with saffron and paprika in the giant, wide, flat, round paella pan set over burners.
It was great fun and amazing to taste the final results. All of us used the same ingredients but each dish still tasted slightly different.
Best of all, the team with a wide-eyed little girl won. I think she would have been heartbroken if she hadn't!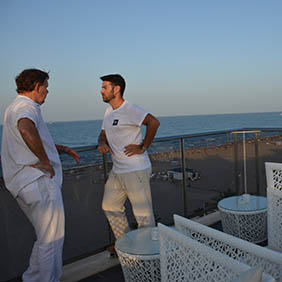 This hotel, by the way, is a perfect place to stay for a beach vacation, complete with rooms overlooking the beach, a spa, pool, and with even bicycles to rent. Pleasantly full and bleary-eyed from the trip, we ended the day with a cerveza at the rooftop bar with a spectacular view of the beach.
Ducal Palace
For our next and final night in Gandia, Desam and Fernando (an avid cyclist as it turned out) took us to a unique and very special evening tour outside and dinner in the 14th century Ducal Palace of Gandia, formerly the home of the royal dukes of Gandia and later from 1485, the Borgia family.
If your history is rusty, you may perhaps know the Borgias from Netflix?
This Spanish family was prominent in political and ecclesiastical arenas during the 15th and 16th centuries. They produced two popes, Alfons de Borja, ruling as Pope Callixtus III from 1455–1458, and Rodrigo Lanzol Borgia, as Pope Alexander VI, from 1492–1503. It was Pope Alexander VI who inspired the Netflix series The Borgias, filled with stories of incest, adultery, bribery, murder, and lots of drama.
The Ducal Palace is a stunning backdrop for a special evening under the stars on certain nights of the summer. Called "Borgian Dinners of the Senses," the event is an effort to combine history, culture, and gastronomy in the unique setting.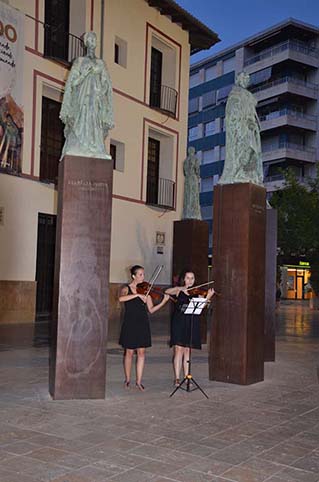 First, we met with other diners as a group outside the palace in Escuelas Pías Square to hear some history from a local guide and then were welcomed into the palace while being serenaded by chamber music.
Evarist Miralles, twice named best chef in Spain, prepared an unforgettable meal of local ingredients with a creative flair.
Our menu was four courses of local specialties such as appetizers of local sardine and olives, duck with a splash of orange, the local specialty "jelly" soup, followed by a main course of lamb and eggplant with a hint of lavender, and also a dessert of wonderful sweets. All of this goes for around $90.
We ate in the most amazing outdoor courtyard within the high walls of the palace. I couldn't help but marvel at the wealth and opulence of the long Borja rein from so many centuries ago.
But I had to chuckle as my husband and Fernando chattered on, comparing Spanish and American cycling and also discussing our most infamous icon Lance Armstrong!
Parts 2, 3 and 4: On to  the city of Valencia, La Vuelta, Benicassim, Morella, San Mateu, Pensicola and more!
This article on active travel in the Region of Valencia, Spain appears as part of a five-part Healthy Aging® website series and a feature in Healthy Aging® Magazine. To read the full article, subscribe here: Healthy Aging® Magazine, the lifestyle magazine that is all about following your passion and what you can do rather than what you can't.