The following article is excerpted from Healthy Aging® Magazine. To continue reading this article and more like it, subscribe to Healthy Aging® Magazine, the lifestyle magazine that is all about following your passion and what you can do rather than what you can't.
Now is the time to reap the benefits of the glorious vegetables at local farmstands, in your grocery store, or your own garden. Looking for ideas? You might grab a copy of No Recipe? No Problem! How to Pull Together Tasty Meals without a Recipe by Phyllis Good and hone your skills of stir frying with her guidance.
An author, editor, teacher, and television personality, Good loves to connect writers and readers. And that she did to compile this book. She organized "The Cooking Circle," as she calls it, a virtual cooking group of 14 cooks from around the country to contribute. The experienced cooks shared their ideas, tips, hints, and stories.
Good added the icing on the cake with ideas of her own drawn from many decades in the culinary field. She is a New York Times bestselling author whose cookbooks have sold more than 14,000,000 copies. Good is best known for her Fix-It and Forget-It series of slow cooker cookbooks. She has appeared on QVC more than 40 times with great success selling the series. Good served as a writer and editor for 35 years of Good Books, where she oversaw the acquisitions and editing of more than 1000 books. She is currently the Executive Editor of Walnut Street Books.
Despite all of those accomplishments, Good has resisted becoming a celebrity. She prefers being a teacher and an encourager. "I'm not a celebrity," she says. "The cookbooks are the celebrities."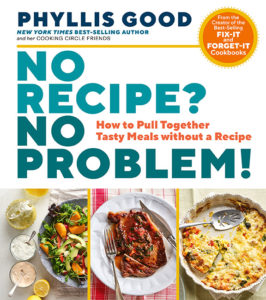 The book is not a beginner's how-to tome. Instead, it promotes "freestyle" cooking and improvisation. Much like jazz musicians who start with a theme, "They try it out. They add a few riffs. Something new floats up, and they weave it in," Good said. "With this style of cooking, you bring the theme – the ingredients. They help suggest what happens next."
Three questions provide the recipe creation: What are you hungry for, what do you have on hand, and how much time do you have?
Discover tips and techniques for vegetables, pasta and grains, popular proteins, salads, soups, and more. Endless variations of sheet-pan meals, eggs, toast toppers, flatbreads, and sandwiches with mix and match charts will peak your creativity.
Unpack essential stir-frying techniques with Goods step-by-step preparation tips and recommendations for the best vegetables to choose.
Freestyle Tomato Sauce is a breeze to make by following Goods' suggestions for ingredients and preparation order.
Fans of bowls will appreciate the "What Grows Together Goes Together" Bowl guide to making them quickly, from what vegetables to choose, seasonings to add, and dressing for flavoring.
Essential Technique Stir-Frying
asparagus and ­carrots (cut on the bias)
bell peppers (diced)
Brussels sprouts (halved, depending on their size)
cauliflower and broccoli florets and stems (peeled and cut into small chunks)
corn kernels
fresh herbs (chopped)
green beans
mushrooms (sliced)
onions (sliced)
snow peas
sprouts
winter squash (peeled and sliced)
zucchini and yellow squash (chunked)
Steps to Take
Prep all the vegetables first, cutting them to size so they're ready when you need them. It's best to slice them thin so the intense heat penetrates the individual pieces while you stir them. You won't have time to stop once you start stir-frying without sacrificing the texture of the vegetables in the hot pan.
Heat the skillet over high heat.
Add 1 to 2 tablespoons vegetable or peanut oil, which can withstand high heat, when the skillet is hot. Butter is likely to burn because of the constantly high temperature.
Add the densest veggies that need the longest cooking time first: onions, green beans, broccoli, cauliflower, Brussels sprouts, carrots, and winter squash. Cook until they soften and blister, stirring constantly so they don't stick or burn.
Add the next-dense vegetables — zucchini and yellow squash, asparagus, and mushrooms — and continue stirring. Cook just until they soften slightly and begin to brighten in color.
Add the more delicate vegetables — corn kernels, bell peppers, sprouts, fresh herbs — and continue to stir everything together. Cook until the ­vegetables are slightly crunchy but still brightly colored. Do not overcook.
Stir in any seasonings, sauce, or eggs, and heat through to coat the vegetables.
Serve immediately over your choice of base — rice, wheat berries, farro, quinoa, or pasta.
Cutting veggies on the bias means that more of each piece will be in contact with the hot bottom of the skillet.
Excerpted from No Recipe? No Problem! © 2021 by Phyllis Good. Used with permission from Storey Publishing.