Presented by the Chicago Architecture Center with John Ota
By Paulina Budzioch
Here's your chance to tour some of the great kitchens of the United States without leaving home:
On May 27, 2020 at 12PM Central Time, the Chicago Architecture Center invites the public to attend "CAC Live: The Kitchen Book Talk" featuring historic preservationist and book author, John Ota.
On a mission to design the perfect kitchen of his own, Ota traveled across North America to find inspiration in the kitchens of famed figures.
"I wanted to cherry-pick the best features of all the designs with the hope of incorporating them into our own perfect kitchen," Ota said. As part of the research process for his book "The Kitchen: A journey through history in search of the perfect design," Ota visited—and cooked in—the kitchens of Louis Armstrong, Thomas Jefferson and Georgia O'Keeffe, as well as the more humble abodes of pilgrims and turn-of-the-last-century tenement families.
Ota will host the online book talk on "The Kitchen" as part of the Chicago Architecture Center's ongoing series of virtual programs, CAC Live, many of which are free to CAC members.
The history of North American kitchens is as rich and complex as the continent's own. Early colonial kitchens often occupied the entirety of one-room houses. Cooking was extremely labor-intensive, done over an open fire on a dirt floor with smoke filling the entire space.
Yet while cooking quail, duck and fried pumpkin, just as early Americans did, Ota discovered that the food was fabulous. Even the most humble conditions and tools can produce enough delicious food to nourish a family.
Those early, full-home kitchens gradually gave way to rooms more sequestered at the back of houses, in an effort to separate smells and smoke from the rest of its rooms.
The cottage of John and Abigail Adams in Quincy, Massachusetts has just such a layout, its front rooms reserved for entertaining guests. Thomas Jefferson's Monticello was designed with a series of underground passages around its basement kitchen, essentially segregating enslaved people and servants responsible for food preparation. While taking a Jefferson-themed cooking class, Ota made macaroni and cheese, a dish Jefferson popularized by serving it at a White House dinner in 1805.
As Ota traveled through time and visited more contemporary kitchens, such as Frank Lloyd Wright's and Julia Child's, he rediscovered how the kitchen evolved into a communal area used for both cooking and entertaining.
Child famously hosted guests in the very kitchen she cooked in, forgoing the dining room entirely. At first glance, Child's kitchen appears cluttered and messy, with nearly all of her kitchen utensils on display in cups, pans of various sizes hanging off pegboards, and ingredients covering the counters.
But a closer look reveals a precisely organized system, complete with labels on masking tape. Child's kitchen is a homey space for family and friends to gather—likely similar to the one you use today.
"The goal of my journey was to improve our kitchen," Ota reflects. "But along the way, I also found that cooking is love—its memories, its culture, its comfort, and taking care of people."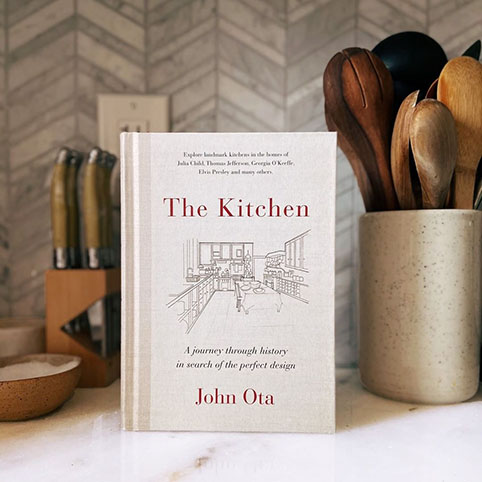 During CAC Live: "The Kitchen" Book Talk, Ota will lead attendees on a trip through time to connect past traditions to some of the many ways we live and cook—and cook to live—at home today. His findings and tales might just inspire you to transform your own kitchen.