Subscribe to Healthy Aging® Magazine. Don't miss the issue!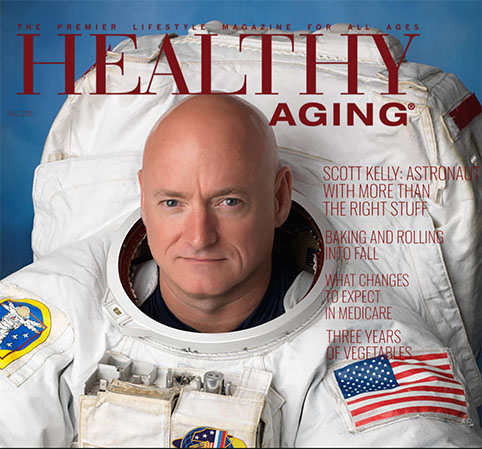 The latest digital issue of Healthy Aging® Magazine will be published this week. Don't miss out on the fall spectacular of inspirational and informative articles written with the active, never-give-up spirited audience in mind.
Want to see what's inside? You need to SUBSCRIBE!
Already a subscriber? Just login and the door will be open for you to read all of the features and columns. Not a subscriber? Click here to receive your issue the digital Healthy Aging® Magazine: Subscribe!
Here's a sampling of what you will have access to as a subscriber:
Scott Kelly: The Astronaut With More Than the Right Stuff … Profile on Scott Kelly who spent a year in space
Fall Active Travel Roundup … Where will it be?
Mallorca, Spain, Quebec, Canada, Williamsburg, Virginia, Southern Calif.?
The Lure of Trout … Fabulous cookbook on trout plus fly fishing trips
To Tell or Not to Tell … Lying about your age? Pros and cons
3 Belief Systems That Hurt High Achievers …
Common counter-productive belief systems
and what you can do about them
Making Lemonade … Samantha Harris shares inspirational breast cancer recovery
Spritzing to Success with the Woman Who Brought an
Industry to its Senses … Profile of Annette Green, "High Priestess" of the fragrance industry
When Caregiving Takes Its Toll: Important Tips for Self-Care …
What about the caregiver?
Making Better Ethical Decisions Every Day … How ethics serve as our lighthouses
Can Sugar Dissolve Your Memory? The effects of sugar on the brain
Staying in Shape for Life … Celebrity Dr. Bill Dorfman shares his secrets for a healthy lifestyle
Ode to the Mushroom … A tribute to fungi
Making marvelously delicious meals with the magnificent mushroom
Baking and Rolling into Fall … New cookbooks score big in fall recipe ideas
Why Aquatic Therapy Is a Great Choice for Treating Injuries … Is aquatic therapy right for you?
7-Pullup Challenge … One woman's story of a life-changing challenge
6 Unexpected Health Benefits of Playing a Classical Instrument … It's never too late to play
Fall Fashion 2018 Is Full of Colorful Surprises … Tips for how to jazz up your fall wardrobe without breaking the bank
3 Years of Vegetables … How professional cyclist, Stephen Hall, removed animal products from his diet
What Changes to Expect in Medicare for 2019 … Tips for existing and first-time medicare beneficiaries