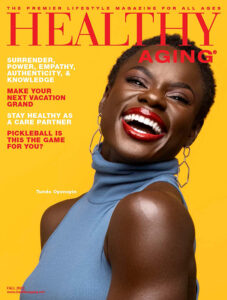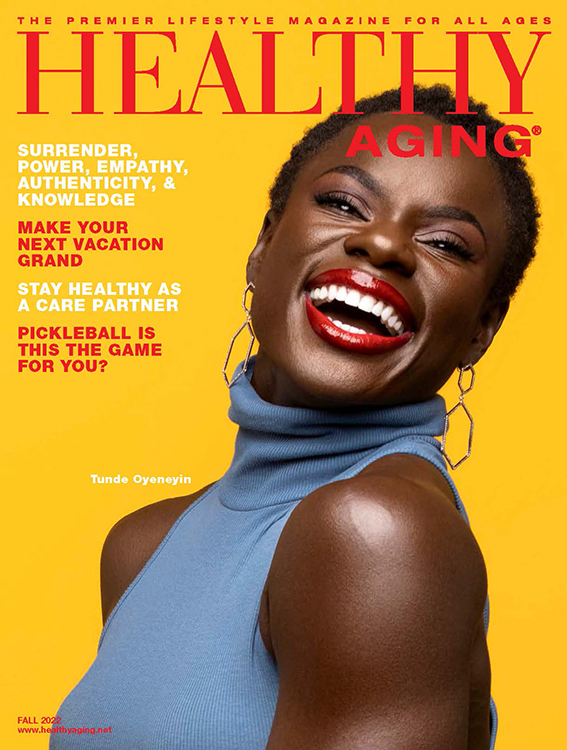 What is a fit, 30-something doing on the cover of Healthy Aging® Magazine, you ask? Offering plenty of inspiration on how she overcame obstacles in her life to become a mentor to thousands, that's what.
Each issue of Healthy Aging® Magazine features someone who can give you ideas for improving your lifestyle, regardless of your age or theirs. And for this issue, Tunde Oyeneyin is it.
At 36, Tunde Oyeneyin has become one of the top Peloton instructors, training and inspiring millions worldwide from the pedals of her stationary bicycle. And she has written a memoir of her young life, something usually reserved for those twice her age.
In Speak, Find Your Voice, Trust Your Gut, and Get From Where You Are to Where You Want to Be, Tunde details her rise to her dream job from being a chubby adolescent, becoming a make-up artist, and succeeding on the Peloton stage. Within her first three decades of life, she was forced to face the death of her parents and a brother … something many of us do not have to experience until much older.
Tunde dedicates the book to the ones she has lost. "In losing you, I stepped into the greatest version of myself," she says.
Through her journey, Tunde has developed a philosophy to live a life of purpose that should resonate with all of us. She calls it S.P.E.A.K. – Surrender, Power, Empathy, Authenticity, and Knowledge. Putting it all together, she hopes to empower others to move forward and achieve the life they want. To that, I might add, even if it's in the second half!
Learn more about Tunde in this issue's feature article and her new memoir, which will make you laugh, cry and feel empowered.
More About the Issue
As always, we include features on improving your lifestyle physically, mentally, socially, and financially. Here are some highlights . . .
Fitness
Have you tried pickleball yet? If not, learn all about it in our feature on the game catching on, particularly with older adults, like wildfire. Or, you can take some tips from a pro on how ballroom dancing is good for your body, mind, and soul. For those that want something more intense, we offer "The Workout Routine Pro Cheerleaders Use to Stay Game-Day Ready." Don't worry, the author does not recommend you relearn how to do the splits!
Ballroom Dancing
Speaking of ballroom dancing, as I am getting ready for my son's wedding, I am practicing for the mother-son dance at a ballroom dancing studio near here. We've been having more fun getting ready for our dance with much-needed lessons (for me anyway).
We've met a number of people at the studio who were inspired by a special event to take the lessons and have continued on to do competitions. They love it, they say, for the physical fitness and for the social side. You will enjoy our article on ballroom dancing in this issue and maybe you will be inspired to grab your dancing shoes too. For me, I am hoping not to trip on my dress and to follow my son's lead!
Food
Check out the recipes and features from Fueling Your Inner Athlete and Eat More Conquer-Cancer Foods to fun stuff to do with a multi-cooker like the Instant Pot®  and air fryer from cookbook author Robin Fields.
Travel
We focus on domestic travel in this issue by highlighting three grand resorts in the U.S. Our travels have taken us from The Omni Homestead, Hot Springs. Virginia to The Greenbrier, White Sulphur Springs, West Virginia, and all the way out to the Del Coronado in San Diego. I had a chance to test my skills at fly fishing (even caught a few!), skeet shooting, and being pampered at the Omni Homestead spa. The Greenbrier has been one of our favorites since our children were small and my first experience at the Del was a very special luncheon with my grandparents. I love all of these resorts!
Notes for Caregivers
If you find yourself taking on the caregiver role, we applaud you and know it is not easy. I did this myself for four years for my Dad. I learned that you need to not only help that person look forward as much as possible, but also take care of yourself to take on that responsibility. Your health, mental and physical, is essential too. The Parkinson's Foundation has created a helpful online course for caretakers. We feature some of the tips from the course in this issue.
Finance
As you plan your future, you'll appreciate the 10 Tips for Saving Money After Retirement and How to Live Big on a Budget.
So, check out the latest issue of Healthy Aging© Magazine, chockful of inspiration, hope, and how-tos.
Subscribers
Subscribers can log in at any time from any page of the Healthy Aging® website, top right corner.
Not a Subscriber?
Click here and join the Healthy Aging© audience! SUBSCRIBE!
Do sign up for our newsletter and send me an email at info@healthyaging.net with what you'd like to see us cover.
And please let us know what you think on our Facebook page .