The following article is excerpted from Healthy Aging® Magazine. To continue reading this article and more like it, subscribe to Healthy Aging® Magazine, the lifestyle magazine that is all about following your passion and what you can do rather than what you can't.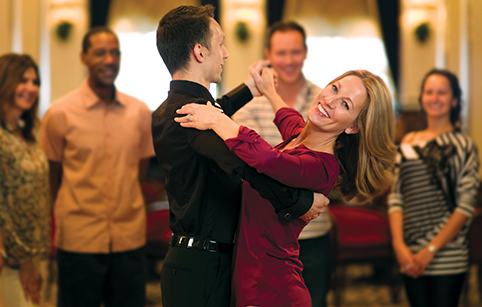 Back in the 70s, Disco Fever swept the nation and Manhattan's Studio 54 was the hottest place in town. Disco dancers gyrated to the sounds of "Last Dance", "I Love the Nightlife," "YMCA" and "Macho Man." John Travolta, as Tony Manero in the 1977 blockbuster, Saturday Night Fever, took the pulsating phenomenon to its height of popularity . . . Along with the white bell-bottom suit and the vibrato harmonies of the Bee Gees.
Way before that, the Greatest Generation loved their ballroom dancing, swing music and longed to glide like the well-groomed and classically-attired Fred Astaire and Ginger Rogers.
But it was rock 'n' roll of the fifties that forever changed popular dancing. Well-choreographed duets gave way to fast-paced jitterbug and melded together slow dancing, ultimately ushering in a plethora of new, anything goes dance moves, usually popularized by hit tunes like The Twist, The Swim and The Bristol Stomp.
Arguably, it all began around 1952, when the hit teen dance show,  American Bandstand, premiered in Philadelphia. Hosted by Bob Horn and then the legendary Dick Clark, American Bandstand was the first time Americans across the country were exposed to new sounds, new looks and unleashed teen exuberance. They bopped to "At the Hop" and "A Whole Lot of Shaking Going On" and slow-danced to "Tears on My Pillow" and "Lovers Never Say Goodbye." Girls in ponytails wore wide skirts and danced in party shoes or sneakers and bobbi socks while the guys dressed in suits and sported crew cuts, flat tops and greased pompadours.
Resistance to the radical introduction of dancing to rock 'n' roll on American Bandstand took the form of after school social dancing classes, also popular during the fifties, early sixties and remains so today. Many parents of the Greatest Generation wanted their kids to learn the waltz, fox trot and cha-cha-cha, perhaps in an attempt to preserve ballroom dance skills or avoid embarrassment at the country club dance. Some young dancers even were required to wear white gloves.
Chubby Checker threw a wrench in all of that and pulled the pairs of couples apart in 1960 with "The Twist."
"The Twist is putting out a cigarette with both feet or coming out of the shower and wiping off your bottom with a towel to the beat of the music," Checker has described.
Over the past two decades, if you've been raising kids, building a career or just generally too busy to hit the dance floor, you've missed out on some crazy dances like "Gangnam Style," "The Macarena" and "The Urkel."
The return to the dance floor
Well, it's not over yet, baby. The dance craze is resurging and with a vengeance. And it's not just for Millennials. GenXers and Baby Boomers are backsliding and shaking at dance clubs, fitness studios and dance classes all across the country.
The reasons adults are returning to the dance floor are varied. Social, mental, physical.
And, just maybe, thanks to ABC Television's Dancing with the Stars. Ballroom dancing has taken a big leap in popularity in the last several years and many say Dancing has had an influence…a reimagined, repackaged and glitzy descendant of American Bandstand.
The show has proven that all ages can dance. Billy Dee Williams performed at age 77. Donny Osmond won the competition at 51. Cloris Leachman wins the honor of the oldest contestant who was 82 at the time of her competition.
Stay tuned for the upcoming Season 21 of Dancing with the Stars with 68-year old Paula Deen and Victor Espinoza, Triple Crown rider of American Pharoah, who is just 43 but confesses he is not a dancer – yet.
The physical and mental benefits of dancing
Like any form of exercise, dancing has a laundry list of physical benefits. It helps to increase stamina, flexibility, and body tone. Rocking and boogieing strengthens bones and muscles without straining joints. It improves posture and balance and decreases the likelihood of illnesses like osteoporosis, diabetes, heart disease and high blood pressure. Dancing also increases cognitive perception at all ages, because it requires using several different brain functions at once.
"Dancing will affect your brain as profoundly as your body," author of Thinner, Fitter, Happier, Dancing Will Change Your Life! Marian Condon said. "Regardless of whether a person is leading or following, dancing stimulates the brain enormously. Dancers have to stay on rhythm while executing complicated steps and patterns, often rapidly. They must also maintain constant physical communication with their partner and avoid collisions with other couples."
A study at the University of Derby, United Kingdom found that depressed patients saw significant improvement in their moods after trying dance therapy. Researchers attributed the change to the endorphin boost, combined with social interaction and concentration, as well as the increased self-confidence from learning a new skill.
Care for a dance? The social side
But the benefits of dancing don't stop at the physical and psychological advantages. Dancing also has social benefits, including building confidence and providing opportunities to meet people and make new friends.
"Good way to meet women. Social side is terrific. It's artistic," said Arthur Coleman, 63, who joined the social ballroom scene six years ago in Fairfield County, CT. "You get more exercise than you expect. You work up a sweat. And then there are the artistic and physiological aspects. Plus, there's always a shortage of men so it's great for single men."
Coleman joined the ranks of the social dancers at first by testing the waters at the local Y with a friend who was taking lessons there. He observed that the dancers came to the classes for many different reasons.
"Some people are getting married and want to do one dance at the wedding. Others just for the social or physical side. I've heard that couples who continue to take lessons have longer marriages," Coleman said.
Dance weekends
For those dancers who want to further improve their skill level, there are dance weekends. The Stardust Dance Productions hosts total immersion weekend getaways and dance cruises. The dance weekend includes overnight accommodations, dance workshops, some meals and daily and nightly dancing. Participants also dance with professionals during the shows.
Newbies and accomplished dancers practice all types of dances from Latin, Viennese Waltz and Waltzing to hustle and tango.
From September 18-20, 2015, Stardust Dance is hosting their over 100th Fall Ballroom Dance Weekend at Honor's Haven Resort in Ulster County, NY.
One big dance party before work or after work
Beyond social dancing, you can sign up for a Zumba class at a local gym or try the latest workout trend among urban professionals: pre-work dance parties.
Daybreaker is one of these hot, trendy places with locations in many U.S. cities and around the world. Daybreaker cofounder, Matthew Brimer said. "It's a great way to start the day off with a bang, and without alcohol. It's very much a workout."
"More than a health-driven dance party," Brimer said," Daybreaker is a networking hotspot for likeminded creatives to collaborate and feed off of each other's positive energy."
Dance-lovers head over to Daybreaker, like the one in San Francisco, before work, get their dancing in, all without alcohol, and then head on to work. Who needs the gym?
GROOV3™ targets those who want to learn how to dance and those who used to dance. Their "choreographed dance party" is designed to put the fun back into fitness. Their motto is "Dance, Sweat, Live!" Founded in Los Angeles California by dancer/choreographer, Benjamin Allen, the GROOV3 was designed to introduce dance and the benefits it holds to the general public.
Dance clubs for nightlife
If an early morning dance party doesn't appeal to you, maybe nightlife does instead. "Older crowd dance clubs" are especially popular in larger cities like Philadelphia, Los Angeles, and Washington, D.C. Yelp.com is an excellent resource to find a dance club near you that's suited to a more of mature audience.
Cruise ship dancing
The cruise lines have been offering dancing as a regular activity for years.
Holland America offers complimentary dance lessons with the ship's professional dancers who also teach routines from Dancing with the Stars. They also have a Dancing with the Stars contest for the honor of becoming "cruise champion." In January 2016, they are offering a special cruise featuring television personalities Carson Kressley and 81-year old Florence Henderson.
Cunard claims to have one of the largest dance floors at sea. Dance classes are offered to learn or brush up on the waltz, cha-cha, salsa or line dancing. Guests can test their skills at the ships Royal Balls. Live orchestras or bands are part of the scene. No need to be a shrinking violet if you are alone. Cunard often provides gentlemen hosts to take single women for a spin on the dance floor.
Crystal Cruises also offers ballroom dancing with a live orchestra. Dancing to live music is a nightly highlight in the main show lounges and nightclubs. Whether traveling solo or with others, guests can hone their skills at dance classes taught by professional dance instructors. Unescorted female guests who love to dance will enjoy Crystal's Ambassador Host Program. Four to six carefully-screened hosts, with interests and backgrounds similar to Crystal's onboard guests, serve as dance and conversation partners on every cruise. Crystal Cruises promotes each Ambassador Host to be "cultured, well-traveled and an accomplished ballroom dancer."
Ballroom-themed Experiences of Discovery sailings also feature female Ambassador Hostesses, in addition to extra Ambassador Hosts.
"The primary responsibility of our Ambassador Hosts and Hostesses is to encourage camaraderie and to ensure that everyone feels welcome. Like our cruise staff, they help create a friendly, comfortable and inclusive atmosphere for all our guests. Their activities include everything from joining a shore excursion and hosting a table at dinner, to dancing the night away," Bret Bullock, Crystal's vice president, entertainment said.
Arthur Murray
And, then there's Arthur Murray Dance Studios that started over 100 years ago. Today there are over 260 studios in 21 countries. There, you can brush up on or learn the cha-cha, disco/the hustle, foxtrot, mambo, merengue, rumba, salsa, samba, swing, tango and waltz.
The mission of the Arthur Murray® Schools of Dance is that your dancing will last a lifetime. It's always yours to continue to enjoy.
So there are no excuses; if you're looking for a way to incorporate dance into your daily routine, you can find a way. Few would argue that the physical, mental and social benefits of dancing are all rolled into one heart-beating exercise. In short, one of the best ways of "stayin' alive."
Contributors: Clare Haggerty and Robert Kaplan. This article is reprinted from Healthy Aging Magazine. Subscribe!