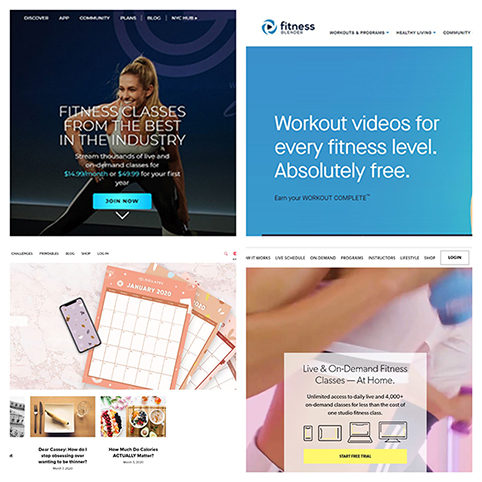 The boom has lowered … Is this your situation? Your office is closed. Your gym has locked the doors. Beauty salons, restaurants, bars, museums, sports arenas … closed. Living in a retirement community? Parties and dances canceled.
What to do?
To face whatever comes your way, it's important to stay mentally and physically fit. Thankfully, spring is here and we can all at the very least take walks out of doors.
Now more than ever, the availability of online exercise programs is incredibly fortunate.
There are a multitude of online exercise videos that can help you keep motivated.
We have gathered some suggestions for you.

Daily Burn
Daily Burn is currently offering a 60-day trial for those looking to stay home and away from gyms during this time. The deal and details are available on Daily Burn After 60 days, Daily Burn is $19.95/month, and you can cancel anytime.
Some of the workouts offered are intro to exercise, tone and target, full-body group workout, yoga basics, barre for all, muscle building and more.
Your Time Training
Melisa Pizzuti shares her exercise and fitness videos via her Your Time Training YouTube channel. You'll be inspired by her before-and-after photo on each video. She apparently lost 120 pounds after childbirth. A certified personal trainer, Melissa is also experienced in kickboxing, group fitness, and women's self-defense. Don't let that psych you out. She is inspirational no matter what shape you're in.
The exercise videos we viewed require no special equipment, are easy and fun to follow, and produce results.
One video we tried was the "Get Amazing Arms Fast! At Home, No Equipment! Slim & Lean Arms." Melisa provides a routine that she recommends doing three times in a row. The whole thing takes around 20 minutes, and we definitely experienced toned arms in a matter of about six weeks after doing these exercises every day or every other day.
Some of Melisa's most popular training videos, she said, are:
I LOST 120 LBS! HOW TO START YOUR WEIGHT LOSS JOURNEY! TIPS & MOTIVATION!
YOUR TIME TRAINING PLAYLIST OF WORKOUTS
This is a great one to try, and you will see results. If you keep it up, making it a lifelong habit, your arms will continue to look great, not flap in the wind, and might make your skin look less like crepe paper.
Fitness Blender
YouTube sensations are husband and wife team Kelli and Daniel Segars, founders of the Fitness Blender channel, to make health and fitness information available.
They felt "there was a lack of reliable health and fitness information on the web, and too many people in the industry were more focused on monetary gain or appearance than they were on good health."
What started out as workout videos produced in their garage, Fitness Blender has now produced over 500 videos and has a monthly workout audience of 35 million people from around the world.
The exercises are clearly explained without annoying background music. The visuals are simply presented with just the Kelli and-or Daniel against a white screen. The explanations are easy to follow, and the exercises are what you could find with the best of personal trainers in a quality gym. Very little equipment is required except for optional dumbbells in the videos we reviewed.
Try these videos:
The "1,000 Calorie Workout," which includes a low-impact demonstration. Spoiler alert: this exercise program takes 87 minutes to burn 1,000 calories, but it's fun and goes fast.
"Lower Back Stretches for Sciatica Pain"
"Top 10 Fat Burning Exercises" from "Best Fat Burning Workout Videos and Total Body Strength to HIIT and Strength Training Combined."
Some of their best fat burning exercises include:
Burpees
Lunge/Jumping
Jackknife crunches
Best of all, these are free, easy to follow, inspirational, and will help you get or keep in shape.
More Ideas
Designed especially for midlifers – focuses on functional movements that build strength, mobility, flexibility, and balance. The at-home platform offers a collection of Integrated Movement Routines that get muscles, joints, and tendons working together to maintain safe, pain-free everyday movements, counteract becoming sedentary during quarantine, and encourage an empowered, less-stressed state of mind.
Free 30-day trial. $14.99/month or 149.90 with one month free.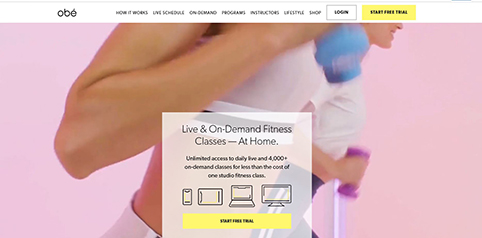 Obefitness.com. Live and on-demand classes including strength, power, dance HIIT, yoga and more. $27 a month or $199 for a yearly membership (55 cents a day). Free trial offered.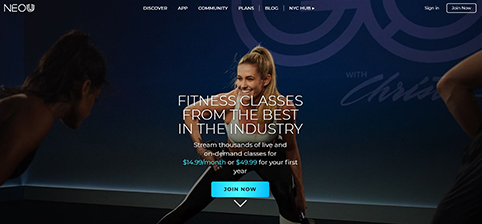 Neou Fitness. Beginner to advanced workouts. Over 60 fitness concepts. $49.99 annual membership; 50% off the first year plus 30-day free trial.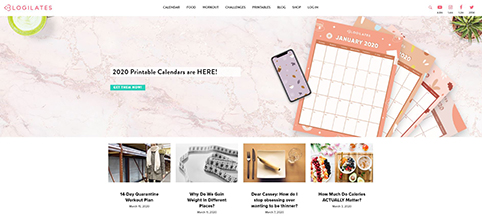 Blogilates Free online videos such as 10 Minute Arm Toner, Inner Thigh Slimmer or Lower Ab Flattener; 12 minutes to Burn Fat, Toned Booty Workout or Total Body. A 14-Day Anti-Coronavirus plan is currently featured.