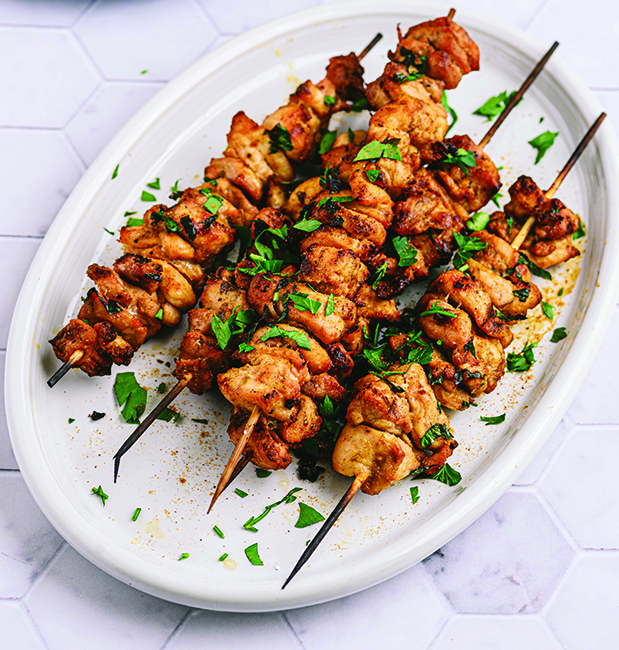 The following article is excerpted from Healthy Aging® Magazine. To continue reading this article and more like it, subscribe to Healthy Aging® Magazine, the lifestyle magazine that is all about following your passion and what you can do rather than what you can't.
For centuries, the people of the Mediterranean countries knew of the value of diets low in saturated fats and high in fruits and vegetables to be an important element in their longevity. And for many years now, the value of the Mediterranean has become widely known.
What is the Mediterranean diet?
The Mediterranean diet is a broad description of the traditional dietary habits gleaned from the countries along the Mediterranean Sea. Each of the more than 20 countries has its own culture and cuisine, but they share these common diet choices:
Including fruits, vegetables, whole grains, beans, and nuts
Choosing olive oil over butter or other oils
Limiting dairy products and red meat, sweets, sugars, salt, and highly processed food.
Followers of the Mediterranean diet are said to have the lowest rates of chronic diseases such as heart disease and some cancers.
The beauty of the Mediterranean Diet is not only is it good for your health, but it is sustainable for the long term. It's not a fad or unreasonable plan that you will quickly drop because it is unnatural for your body.
What's New?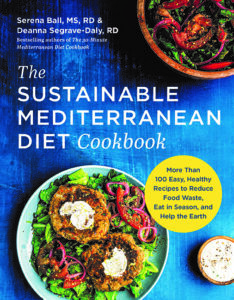 Taking the Mediterranean Diet to the next level are cookbook authors Serena Ball, MS, RD, and Deanna Segrave-Daly, RD, who each has over 20 years of culinary nutrition experience. Together, they are the authors of The 30-Minute Mediterranean Diet Cookbook, and The Easy Everyday Mediterranean Diet Cookbook. And now, The Sustainable Mediterranean Diet Cookbook: 110 Easy, Healthy Recipes to Reduce Food Waste, Eat in Season, and Help the Earth.
This unique take on the Mediterranean Diet offers eco-friendly kitchen guidelines paired with more than 100 recipes. A few examples of their tips are:
Reduce food waste by using the entire herb, keeping the skins on vegetables, saving the scraps, and repurposing.
Eat in season …For example, in winter, go for potatoes, carrots, etc.; in spring, opt for asparagus, peas, etc.
Buy more sustainable staple crops … ones that can help the soil where they are grown, like oats, legumes, and seeds for snacking.
Buy local – support the efforts of your area farmers and ranchers.
Grow your own!
Each recipe includes a Healthy Kitchen Hack, interesting recipe notes, and nutritional information.
Here are three recipes with their notes to sample :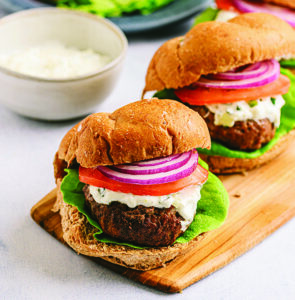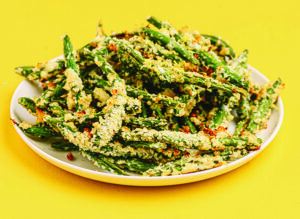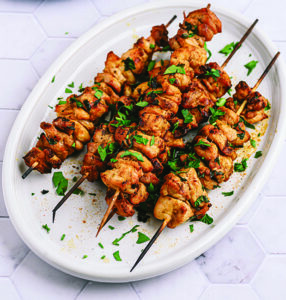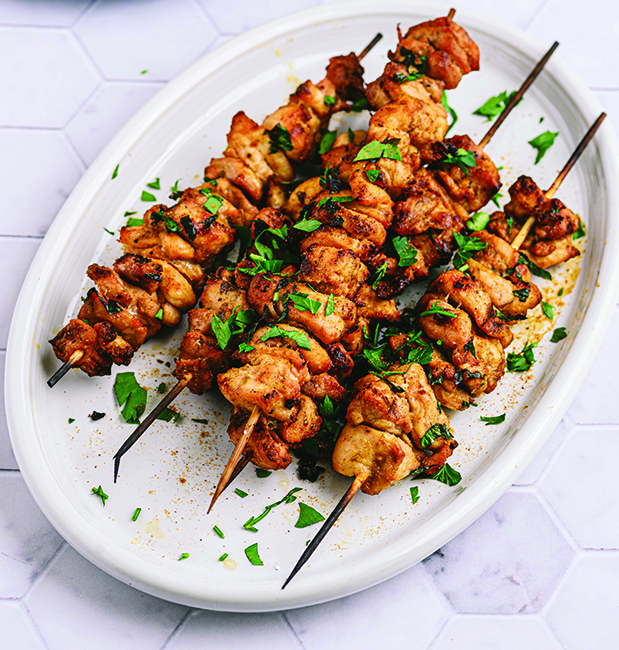 Harissa-Spiced Chicken Kebabs
Makes 4 servings
1 lime
2 tablespoons sweet paprika
1 tablespoon ground cumin
1 teaspoon ground coriander
1/2 teaspoon smoked paprika
1/2 teaspoon garlic powder
1/2 teaspoon kosher or sea salt
1/2 teaspoon black pepper
3 tablespoons extra virgin olive oil
1 medium onion (any type), cut into 8 wedges (without removing the root end so they remain intact)
1 1/2 pounds boneless, skinless chicken thighs, cut into 1-inch pieces
1 cup chopped fresh mint or cilantro, leaves and stems
2 large whole-wheat pita breads, halved crosswise and toasted (optional)
Using a Microplane or citrus zester, grate the zest from the lime over a large bowl, then cut the lime in half and squeeze in the juice.
Add the sweet paprika, cumin, coriander, smoked paprika, garlic powder, salt, pepper, and oil and whisk to combine.
Add the onion wedges and carefully toss to coat, keeping the wedges intact. Transfer the onions to a plate and brush any extra spice paste back into the bowl.
Add the chicken to the spice paste and toss to coat. Cover with a plate and marinate at room temperature for 20 minutes. (If making ahead, chill up to 12 hours in the refrigerator. Set out at room temperature for 30 minutes before grilling.)
Thread the chicken onto four to six (10-inch or longer) metal skewers (or wooden skewers that can be composted), keeping the chunks close together so the meat stays juicy.
Coat the cold grill with cooking spray, then heat to 400°F, or medium-high heat. Place the skewers and the onions, round edges down, on the hot grill over direct heat. Cook the skewers, turning every 2 to 3 minutes, until the chicken is cooked through and just barely charred, about 15 minutes. Remove the skewers from the grill and let rest for at least 5 minutes to allow the juices to set. Do not turn the onions as they cook; remove when lightly charred, about 18 minutes.
Transfer the chicken and onions to a serving platter. Sprinkle with the mint and serve as is or stuffed inside pita bread halves, if you like.