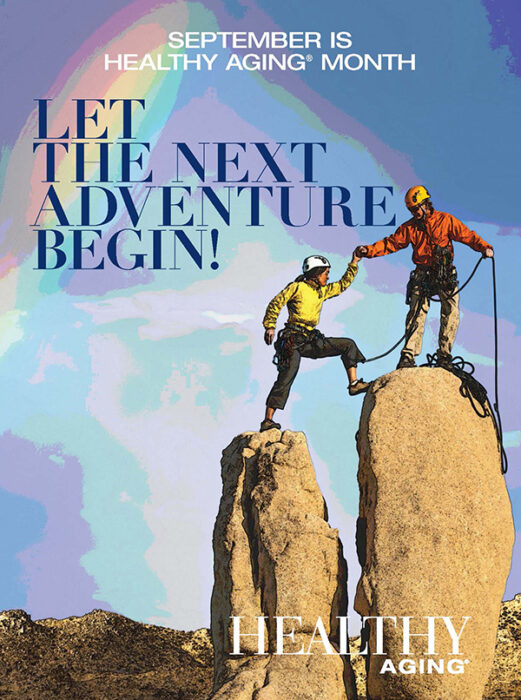 The official 2023 September is Healthy Aging® Month poster is now available.
If you are a health educator or administrator or simply want daily inspiration, the September is Healthy Aging® Month poster is the perfect visual for you.
The motivational poster captures the essence of a healthy lifestyle … dream big, look forward, and climb every mountain no matter how impossible it may look.
The 4-color poster is 18" x 24" and printed on high-quality 80 lb. cover stock. The poster is shipped promptly and arrives rolled in a shipping tube. Posters are shipped promptly.
Single print posters are $15.95 plus postage and handling.
Quantity discounts and the option for adding your corporate logo are available. Email: sales@healthyaging.net for further information.
Tips for Poster Use
The 2023 September is Healthy Aging® Month poster makes an excellent lead-in to any wellness program discussion. If you are a health educator or wellness coordinator, you can use the poster to kick off sessions on how a healthy lifestyle should include getting and staying in shape, the importance of challenging the mind and spirit, why making a commitment to better health and keeping up social connections are critical.
About September is Healthy Aging® Month
Healthy Aging® Month is an annual observance month designed to focus national attention on the positive aspects of growing older.
The mission of Healthy Aging® Month is to encourage local-level Healthy Aging® events that promote taking personal responsibility for one's health… be it physically, socially, men¬tally, or financially.
The observance month began more than 30 years ago thanks to the efforts of Educational Television Network, Inc., a 501C3 non-profit, as part of the National Healthy Aging® campaign to continue to draw attention to healthy, active lifestyles at any age.
September was chosen as the second time of the year to celebrate positive aging, in addition to May being Older Americans Month.
"Since we kicked off the observance month," Carolyn Worthington, president of Healthy Aging®, the multi-media platform promoting the month, said, "the myths of aging have been chipping away.
"Of course, there are still stereotypes about older adults. Perhaps the baby boomers embracing aging like no other generation before them started turning the tide. Today, it is not unusual to see people in their 80s and 90s doing spectacular things."
It wasn't that long ago that 105 year old, Julia "Hurricane" Hawkins set a world record in the 100-meter Senior Games track race. https://healthyaging.net/fitness/105-year-old-julia-hurricane-hawkins-sets-new-track-and-field-world-record/
Recently, 93-year-old Everett Kalin, a retired professor, climbed Yosemite National Park's Half Dome at 8,800 feet.
Successful aging is not limited to physical feats.
Forbes magazine even started a "50 Over 50" annual list three years ago. Some of those on the current list include Peggy Whitson, 63, who was the first woman to head up a private mission to the International Space Stations; Cynthia Chavez Lamar, 51, became director of the National Museum of the American Indian; Joy Harjo, 68, 23rd Poet Laureate of the United States.
There are so many other success stories out there. So let's all continue to celebrate older adults who follow life with a passion, give back, and inspire others.
And, here's to celebrating positive lifestyle choices, especially during September is Healthy Aging® Month!
Resources
Poster
Order your official September is Healthy Aging® Month poster today!
Healthy Aging® Magazine Celebration Discount
Subscribe to Healthy Aging® Magazine and receive 70% off the subscription rate as part of the September is Healthy Aging® Month promotion.
Use promo code: 70percent