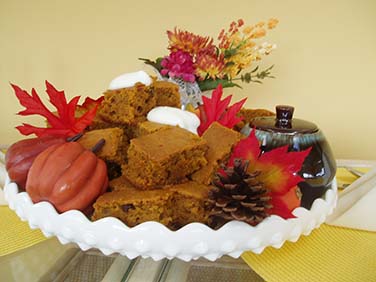 Just as important to one's well-being as diet and fitness, is mental wellness. A great way to savor friendships and family is to stay for a night or a weekend at a bed and breakfast.
The Stonewall Jackson Inn, Harrisonburg, VA is one you might try.  It is four season destination with every season having its advocates. It's a matter of personal choice. They have skiing in the winter, hiking and fishing/river adventures in the summer, brilliant leaves in the fall, and flowers galore in the spring, wineries and civil war historical sites and museums year round. Harrisonburg is the dining and fine/performing arts center of the Valley and our downtown Historic District is lively with food and entertainment. www.downtownrenaissance.org
If you can't make it to one, at least you can feel like you are at home by trying some of their homey recipes.  The Stonewall Jackson Inn offers this recipe for Pumpkin Brownies.  You can be assured your home will have the delicious aroma of a visit to a country inn with this recipe.
For other ideas on where to stay or recipes to try, visit The Bed & Breakfast Website:  http://www.bnbfinder.com/
Pumpkin Brownies
Ingredients:
1 15-ounce can of pumpkin
1 ¼ cups vegetable oil
4 eggs
1 cup brown sugar
1 cup granulated white sugar
2 cups flour
1 teaspoon baking soda
1 teaspoon baking powder
1 teaspoon cinnamon
½ teaspoon allspice
½ teaspoon salt
1 container whipped topping or cream cheese frosting (optional)
Directions:
Preheat oven to 350 degrees. Beat together eggs, oil, pumpkin, and sugars. Stir in remaining ingredients until evenly mixed. Pour into a greased and floured 9-by-13 inch baking dish. Bake for 30 minutes, or until center springs back when touched.
Top with whipped topping or cream cheese frosting! Great way to use those left over pumpkins!