Health cookbooks … which one to choose?
With the myriad of healthy recipe cookbooks out there, it's often difficult to separate the hype from the evidence-based recommendations. A good starting point is to choose which books authors with nutrition or medical credentials write.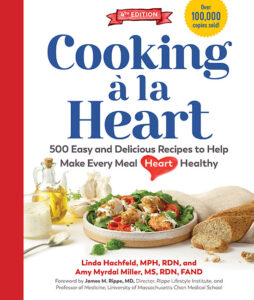 One new cookbook that does just that is Cooking a la Heart, 500 Easy and Delicious Recipes to Help Make Every Meal Heart Healthy.
The book is written by Linda Hachfeld, MPH, RDN, and Amy Myrdal Miller, MS, RDN, FAND. Hachfeld is the former nutrition coordinator for the Mankato Heart Health Program and has volunteered with the American Heart Association for 35 years. Miller is a dietician whose career has included working with food companies and associations and is president of Farmer's Daughter® Consulting, a marketing and communications company.
The duo's new book offers 500 recipes focusing on promoting cardiovascular wellness. They offer five tips:
There is no single dietary pattern best suited to every person. Still, there are traits common among eating patterns that predict outcomes, such as greater consumption of fruits, vegetables, and minimally processed foods.
Healthful dietary patterns do not have to be low in total fat …
Health-promoting eating patterns never need to eliminate entire good groups …
If you want to focus on limiting a single nutrient … limit your sodium …
There are no superfoods! Healthful eating patterns should be filled with a wide variety.
The Mediterranean, DASH, and MIND diets inspire the principles and practices the authors suggest.
Sample one of the book's recipes: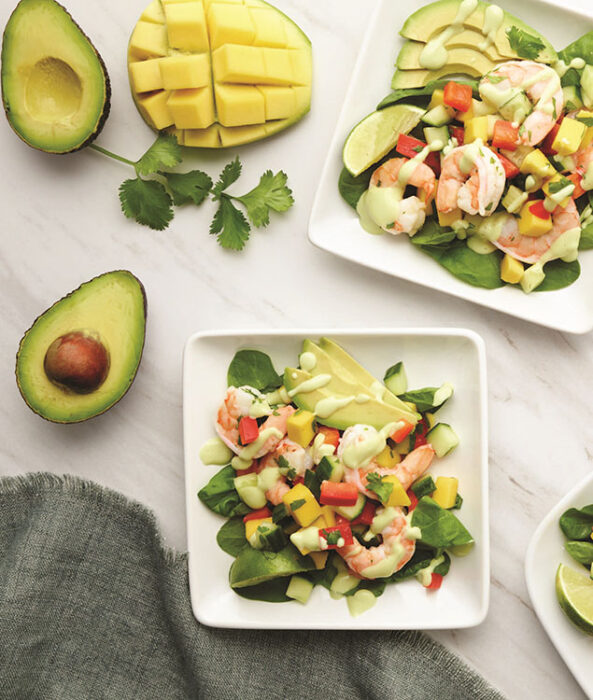 Mango, Spinach & Shrimp Salad
Makes 4 servings
One 16-ounce bag frozen cooked, peeled shrimp, thawed and drained
1 mango, pitted, peeled, and diced
1 English cucumber, diced
1 red bell pepper, seeded and diced
½ cup chopped fresh cilantro
One 5- to 6-ounce bag baby spinach (about 4 to 6 cups)
2 cups Avocado Lime Cilantro Aïoli
1 avocado, halved, pitted, peeled, and sliced
1 lime, halved
Combine the shrimp, mango, cucumber, pepper, and cilantro in a large bowl.
To assemble the salads, divide the spinach among four plates, top with the shrimp mixture, and drizzle each plate with ¼ cup of the aïoli. Add the avocado slices to each plate; squeeze half the lime over the top.
Quarter the remaining half lime and add a wedge to each plate. Serve the remaining aïoli on the side.
For the Aioli
2 garlic cloves, sliced
1 avocado, halved, pitted, flesh scooped out
One 5.3 ounce container plain Greek yogurt (about 2/3 cup)/li>
1/4 cup mayonnaise
2 tablespoons chopped fresh cilantro
Grated zest of 1 lime
1 tablespoon fresh lime juice
1 tablespoon chopped fresh tarragon or thyme
Crush the garlic with a mortar and pestle to form a creamy paste. Combine the garlic with the avocado in a small bowl. Mash the avocado and mix to combine. Add the yogurt, mayonnaise, cilantro, lime zest and juice, and tarragon. Whisk until well blended. This can be stored in an airtight container in the refrigerator for up to 1 week. Do not freeze.)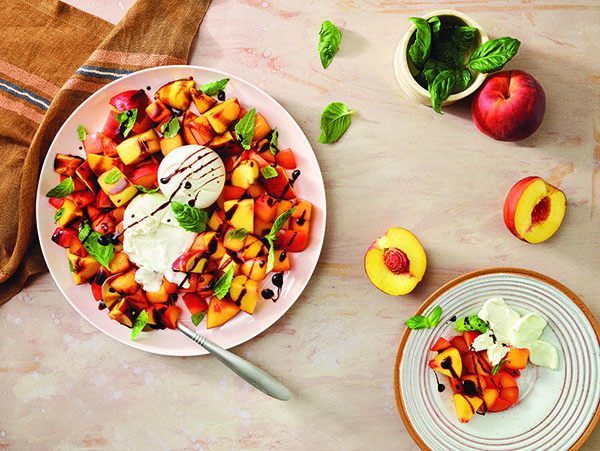 . . .is an inspiration from one of Miller's favorite restaurants, Mulvaney's B&L in Sacramento, California, celebrating the arrival of the perfect peach season.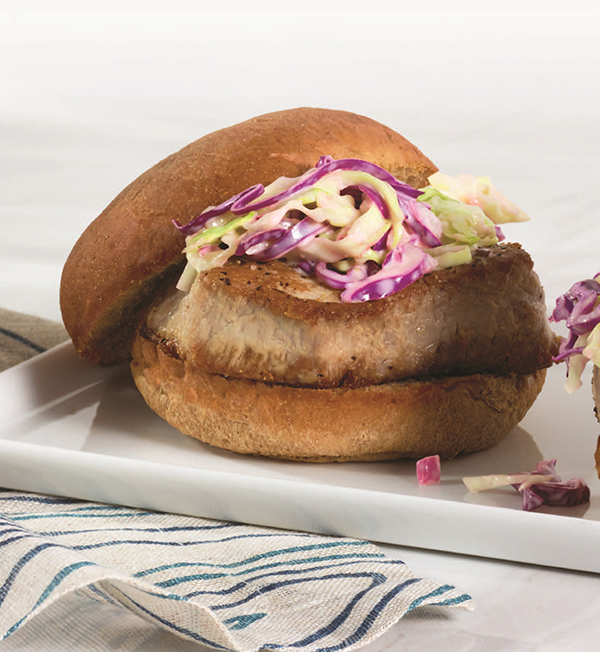 Are barely seared ahi tuna steaks paired with crunchy yet creamy Wasabi-Ginger Coleslaw.
Recipe from Cooking à la Heart: 500 Easy and Delicious Recipes to Help Make Every Meal Heart Healthy Ⓒ Linda Hachfeld, MPH, RDN, and Amy Myrdal Miller, MS, RDN, FAND, 2023. Reprinted by permission of the publisher, The Experiment. Available everywhere books are sold. theexperimentpublishing.com