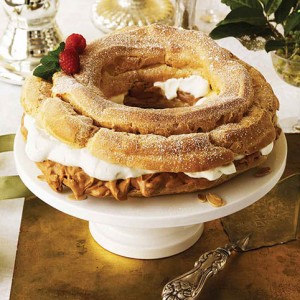 If your holiday entertaining menus have become routine, we have some ideas for you: something old, something new and something with a new twist.
Here are some creative recipes that are not only fabulous but come from books that would make terrific holiday gifts.
Easy, festive, hors d'oeuvres for holiday entertaining
For your open house party, or for the perfect hostess gift, the small, 6" x 7" book, Party Food, published by Sterling Epicure, has big ideas.
Just 20 minutes to prepare, Red Pepper and Pesto Croutes, are as delicious as they are pretty. And in 15 minutes, you can prepare and then bake for an hour, the Broccoli, Gorgonzola and Walnut Quiche. Although not a finger food, your guests will love the quiche. . .even real men!
Red Pepper Pesto Croutes
Makes 24 servings
1 thin French bread baguette, sliced into 24 rounds
Olive oil to brush
Fresh pesto
4 pepper pieces (from a jar of marinated peppers), each sliced into 6 strips
Pine nuts to garnish
Preheat the oven to 400 degrees Fahrenheit. Brush both sides of the bread slices with oil and put on a baking sheet. Bake in the oven for 15–20 minutes or until lightly brown.
Spread 1 teaspoon pesto on each croûte, top with a pepper strip, then garnish with pine nuts and serve.
Broccoli, Gorgonzola and Walnut Quiche
Makes 6 servings
1 9-inch pie pastry
Flour to dust
½ cup broccoli florets
¼ cup Gorgonzola, crumbled
2 medium eggs, plus 1 medium egg yolk
1 cup heavy cream
1 ¼ cups walnut halves, coarsely chopped
Salt and freshly ground black pepper
Preheat the oven to 400°F. Roll out the pastry on a lightly floured work to fit a 9 inch pie pan or a deep fluted tart tin. Prick the base all over and chill for 15 minutes. Line with parchment paper, fill with pie weights or dried beans. Bake for 20 minutes then remove the paper and weights or beans and bake for 5 minutes. Lower the oven setting to 300°F.
Cook the broccoli in boiling water for 3 minutes, then drain and dry on kitchen paper. Arrange the broccoli in the pastry case and dot with the Gorgonzola. Whisk together the eggs and egg yolk, cream and seasoning, then pour into the case. Scatter the chopped walnut halves over the surface.
Bake the quiche for 40 minutes or until the filling is set. Serve warm or at room temperature.
Reprinted with permission from Party Food © 2015 by Sterling Epicure.
Chips so good they don't even need the dip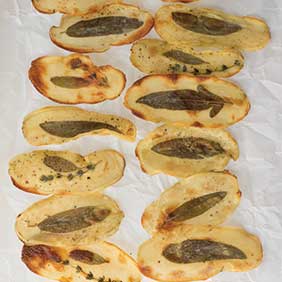 If you have a little more time for kitchen prep, your guests will be awed by the show-stopping Sage Sandwiched Chips, from the cookbook, Chips: Reinventing a Favorite Food, by Chris Bryant. They look almost too good to eat.
Guaranteed to elicit, "wows," golden, translucent potato medallions are embedded with whole, fresh sage leaves. You can also use sprigs of thyme, tarragon leaves, dill tips or parsley leaves. You will need a super sharp knife to slice the potatoes or use a Mandoline.
According to author Chris Bryant, "Fresh, whole sage leaves are key. To match leaf size to potato size, you may have to buy extra and pluck out the just-rights. As for the too-bigs, too-smalls, and plain-uglies, fry them in hot oil until they're crisp, then crumble them, and use them to season chips. Potato-wise, choose large Russets with smooth skins in shapely ovals."
Add more color to your table with Bryant's Double Dill Carrot and Parsnip Ribbons, very pretty orange and yellow sticks seasoned with dill.
"You could be more inventive by using tandoori seasoning or curry powder," Bryant said. "Either way, these ribbons take only 10 minutes to prepare and around an hour to bake."
Sage Sandwiched
Makes about 20–25 chips
2 large (the bigger, the better) Russet potatoes, peeled
1/4 cup (1 stick) butter, melted (there may be some leftover)
20–25 perfect sage leaves
White pepper or finely ground black pepper
Kosher salt or sea salt
Preheat the oven to 400°F. Cover a large baking sheet with parchment paper or a silicone baking mat. Have ready another silicone baking mat or parchment paper cut to size. Also have on hand another baking sheet to stack on top.
Cut the potatoes lengthwise into 1/16 inch thick slices—or the thickness of a quarter. As you work, lay the slices out on a dry surface in the order they're cut. You want about 40 to 50 nice-sized slices.
Lay a sage leaf in the center of every other slice, then cover those slices with their unadorned mates. Press each pair together and transfer them to the baking sheet in a single layer.
Brush both sides of the slices with a generous amount of the butter, sprinkle them with salt and pepper, and cover them with a silicone baking mat or parchment paper. Place the baking sheet on top and then place a heavy ovenproof pan, or a clean brick, on top for weight.
Double Dill Carrot and Parsnip Ribbons
Makes about 4 cups
½ to 1 pound carrots, choose wide ones
½ to 1 pound parsnips, choose wide ones
1 tablespoon walnut or olive oil
1/4 teaspoon kosher salt
1/4 teaspoon freshly ground black pepper
1/4 teaspoon dill seed
1–2 tablespoons fresh dill weed, loosely chopped (or 1/2–1 teaspoon dried)
Preheat the oven to 225°F. Line two baking sheets with parchment paper or silicone baking mats.
To make the slices, I recommend a Y-shaped vegetable peeler for this recipe. Lay the carrot or parsnip on a counter and hold it firmly at the stem end. Pull the peeler down the root in a steady, even motion, bearing down to make thicker shavings than you would for peeling.
Hint: When my Y-shaped peeler can't get at the last part of the root, I make a platform to perch it on out of the flat-sided handle of a large knife. This allows you to get every last ribbon.
Combine the oil and spices in a mixing bowl. Drop in the carrot and parsnip ribbons and toss them until they're evenly coated.
Arrange the ribbons in straight lines on the baking sheets. They can touch and overlap slightly.
Bake the ribbons for 30 minutes, then rotate the baking sheets and switch their positions in the oven. Bake for another 20 to 40 minutes (or more depending on thickness), until the color begins to deepen and some of the edges start to brown.
Pluck out any ribbons that are done early. Sprinkle the chips with salt, if you like, as soon as they come out of the oven. Allow them to cool on the baking sheets for at least 10 minutes before serving. They'll get crisper as they cool.
Reprinted with permission from Chips © 2014 by Chris Bryant, Lark Books, an imprint of Sterling Publishing Co., Inc. Photography by Lark Books
Calling all Francophiles
Any of the Hillary Davis cookbooks celebrating French cooking would make treasured holiday gifts and have many ideas for both special and every day entertaining. These are coffee-table style books that you would hate to mark with cooking splatters. All of her books are filled with beautiful photography and creative recipes.
Davis is the author of Le French Oven, French Comfort Food, Cuisine Niçoise, and A Million A Minute. She is also a food journalist, cooking instructor, and writer and creator of the popular food blog, Marché Dimanche. Davis is a long time food columnist and restaurant critic for New Hampshire Magazine and many other publications.
Davis draws her inspiration for many of her books from her days in France where she lived both in the south and in Paris for some 14 years.
Here are two samples from her book, Cuisine Nicoise, sun-kissed cooking from the French Riviera with photography by Steven Rothfeld, published by Gibbs Smith. One is a unique hors d'oeuvres, "Uncle Johns," and her house olives.
"One specialty of the French Riviera is small fried turnovers called barba jouan (Uncle Johns)," Davis said, "which are offered with a glass of wine or served as a snack. In the winter they are stuffed with pumpkin, rice, and grated Parmesan; in summer, Swiss chard, leeks, rice, brousse (ricotta), and Parmesan. Sometimes there are bits of cooked ground meat or ham in them."
"My Uncle Johns are baked in store-bought puff pastry and stuffed with a mild butternut squash filling," she said.
How to serve? With a small bowl of crispy, salted fried sage leaves on the side.
No cocktail party would be complete without olives. There are so many to choose from today at olive bars but nothing is better than the ones you marinate yourself.
Davis includes several recipes in her book for house olives, "Les Olives Chez Nous."
"I frequently serve olives on a fragrant bed of rosemary or, during the holidays, on an angelic wreath of rosemary arranged on a large round serving platter," Davis said.
Uncle Johns
Makes 24
1 package puff pastry, thawed
1 cup water
1/4 cup brown rice
7 tablespoons olive oil, divided
2 tablespoons sugar
1/2 teaspoon cinnamon
2 cups cubed raw butternut squash
1/2 cup whole milk ricotta cheese
1 egg, beaten
1 1/4 cups grated Pecorino Romano cheese
1 teaspoon salt
1/4 teaspoon freshly ground black pepper
Dash of Cayenne pepper
2 sprigs fresh thyme, leaves minced
Egg wash: 1 egg beaten with 1 teaspoon water
Salt
Heat the oven to 400°F. Lightly oil a baking sheet. Unfold the thawed puff pastry, cover with plastic wrap and keep cool in the refrigerator until ready to roll out.
Bring water and rice to a boil; reduce to simmer and cook for 30 minutes. Drain.
Whisk 2 tablespoons olive oil with the sugar and cinnamon and pour over the cubes of squash, using our hands to toss and coat them. Spread the squash cubes out on the baking sheet, and bake for 20 to 25 minutes. Let cool, then mash with a fork, potato masher, or in a food processor, but do not puree; leave some small pieces in the mix.
In a large bowl, place the ricotta, egg, cheese, salt, black pepper, rice, butternut squash, 1 tablespoon olive oil, cayenne pepper, and thyme. Mix well with a fork.
Unfod the pastry sheets and place one on a sheet of parchment paper. Place some plastic wrap over the other sheet to keep it from drying. Roll the pastry sheet out to 10 x 13″, and then cut into 3″ circles with a wine glass or cookie cutter to yield 12 circles.
Place 1 teaspoon of filling in the center of each circle, pull the top over to form a semicircle, and press the edges firmly to seal. Press the edges again with a fork. Place the pastries on a baking sheet lined with parchment paper.
Repeat process with the other pastry sheet. Prick each pastry once with a fork, then brush with the egg wash. Bake for 15 to 20 minutes until golden.
For the fried sage leaves, heat 4 tablespoons olive oil in a small skillet until shimmering hot, add the sage leaves, and fry for about 30 seconds, until crisp but not brown. Transfer to paper towels, sprinkle with salt, and cool. Serve in a small bowl beside the barba jouans.
Black Olives with Orange
4 tablespoons extra virgin olive oil
4 tablespoons fresh orange juice
1⁄2 teaspoon salt
4 teaspoons sugar
1 small clove garlic, pressed
4 teaspoons white vinegar
1 tablespoon Cointreau orange liqueur
3 tablespoons finely grated orange rind
1 (6-ounce) can or jar pitted black olives, best quality available
1⁄2 lemon, rind only, coarsely chopped
Whisk the olive oil, orange juice, salt, sugar, garlic, vinegar, Cointreau and orange rind together. Pour over the olives and toss with a fork to mix. Place everything in a screw-top glass jar and refrigerate to marinate for at least 1 day before serving.
To serve, spoon the olives into a bowl. Strain and reserve the marinade in another bowl to capture the orange rind; spoon rind over the top of the olives, sprinkle the chopped lemon peel over the top as well, and add a little drizzle of the marinade. Discard any remaining marinade.
Reprinted with permission from Cuisine Niçoise: sun-kissed cooking from the French Riviera © 2013 by Hillary Davis, Gibbs Smith. Photography by Steven Rothfeld.
*More of the Hillary Davis books will be reviewed in the upcoming issue of Healthy Aging® Magazine.
Crown jewel for the holiday table
Center-stage for the holiday meal is often the classic entrée, prime rib. This pricey cut of beef may not appear on your table but once a year, so make sure you do it right. The Good Housekeeping Christmas Cookbook, with triple-tested fail proof recipes is a good resource for such a recipe.
Pepper-Crusted Prime Rib is easy using their simple directions. The recipe takes only 15 minutes to prepare followed by the long, slow roasting in the oven. Serve with a simple roasted garlic and horseradish cream sauce.
Crown such an elegant meal with, Dulce de Leche Christmas Wreath, a cream-puff pastry wreath, filled with caramel and cream.
From the creative hors d'oeuvres to an elegant holiday dinner,  you can feel confident with these beautiful and stress-free recipes. Just be prepared take a bow.
Pepper-Crusted Prime Rib
Makes 12 main-dish servings
1 (4-rib) beef rib roast (7 pounds), chine bone removed
2 tablespoons cracked pink or black peppercorns
2 teaspoons kosher salt
1 head garlic
1/2 teaspoon olive oil
1/2 cup reduced-fat sour cream
1/2 cup heavy cream
1 cup prepared horseradish, drained
1/4 teaspoon salt
1/4 teaspoon ground black pepper
Fresh dill sprigs for garnish
Preheat oven to 450°F. Place rib roast, fat side up, on rack in 14″ by 10″ roasting pan. Rub cracked peppercorns and kosher salt all over roast.
Cut top third off head of garlic, and keep both pieces intact. Drizzle oil over cut sides and place garlic top back on bottom. Wrap tightly in foil.
Place garlic on rack next to rib roast in oven. Roast both 20 minutes, then reset oven control to 350°F. Roast garlic 40 minutes longer, then unwrap and let cool. Roast beef 1 hour 30 minutes longer or until meat thermometer inserted into thickest part (not touching bone) registers 135°F. Internal temperature will rise to 145°F (medium-rare) upon standing. (If well-done meat is desired, continue roasting to desired doneness.) Transfer meat to large serving platter; cover loosely with foil and let stand 15 minutes for easier slicing.
Meanwhile, in medium bowl, with wire whisk, whip both creams together until soft peaks form. Press soft roasted garlic out of each clove into small bowl; discard skins. Add horseradish to garlic and mash with fork. Fold into cream mixture. Stir in salt and ground pepper. Spoon into small serving bowl. Garnish platter with fresh dill sprigs. Serve sauce alongside beef.
Dulce de Leche Christmas Wreath
Makes 12 servings
1/2 cup butter or margarine (1 stick)
1 cup water
1/4 teaspoon salt
1 cup all-purpose flour
4 large eggs, at room temperature
1 cup heavy cream
1 can (13 to 14 ounces) dulce de leche
1 1/2 cups sliced almonds (6 ounces) toasted
2 tablespoons confectioners' sugar
Raspberries for garnish
Fresh mint leaves for garnish
Preheat oven to 425°F. Line large cookie sheet with parchment paper. Using 8-inch plate or cake pan as guide, with pencil, trace circle on parchment. Flip parchment over on cookie sheet so pencil line does not touch food.
In 3-quart saucepan, heat butter, water, and salt to boiling on medium-high. Reduce heat to medium-low and add flour. Stir continuously 1 minute or until mixture leaves side of pan and forms ball. Continue stirring 2 to 3 minutes or until mixture begins to coat bottom of saucepan. Transfer to large mixer bowl and cool 2 minutes.
With mixer on medium speed, beat mixture 1 minute. Continue beating and add eggs, one at a time, then beat 2 to 3 minutes longer or until satiny. Mixture should still be warm and cling to side of bowl. Transfer dough to large piping bag fitted with ¾ -inch plain tip or to large resealable plastic bag with one corner cut off to form ¾ -inch hole.
Using circle traced on parchment as guide, pipe dough onto parchment in 1-inch-thick ring just inside circle. Pipe second ring inside of first, making sure dough rings touch. With remaining dough, pipe third ring on top of center seam of first two rings. With moistened finger, gently smooth dough rings where ends meet.
Bake 20 minutes. Reset oven control to 375°F and bake 25 minutes longer, or until golden. Remove wreath from oven and, with tip of small knife, make several small slits all over to release steam. Return to oven to bake 10 minutes longer. Cool wreath completely on cookie sheet on wire rack. (Cooled wreath can be stored in resealable plastic bag at room temperature for up to 2 days. Before serving, recrisp in 325°F oven for 10 minutes and allow to cool before proceeding.)
While wreath is cooling, whip cream until soft peaks form. In large bowl, with mixer or wooden spoon, beat dulce de leche 5 minutes or until soft. Gently fold almonds into dulce de leche. With long serrated knife, slice wreath horizontally in half; remove and discard moist dough from inside. With spoon or spatula, spread almond mixture into bottom of wreath; top with whipped cream. Replace top of wreath.
To serve, dust wreath with confectioners' sugar and garnish with raspberries and mint leaves.
Reprinted with permission from  Good Housekeeping Christmas Cookbook © 2013 by Hearst/Sterling Publishing Co., Inc.