Years ago, outdoor dining meant charred burgers topped with processed cheese, sizzling steaks slathered with bottled steak sauce, maybe some deviled eggs, and, if you were lucky, homemade potato or macaroni salad. The fanciest touch might have been the grill marks on the hot dogs. Healthy grilling and barbecues were not hot partners.
Today's dining al fresco has come a long way thanks to the never-ending creativity of both home and professional cooks, the focus on local fresh ingredients, the creation of new barbecue tools, and the desire to recreate restaurant-quality food at home. And, who says grilling is owned by summer?  Keep the fires burning and healthy grilling through the fall and even into a balmy winter evening.
Healthy Grilling Recipes from New Cookbook
Better Homes and Gardens Fresh Grilling, by the Editors at Better Homes and Gardens, (© 2014, published by Houghton Mifflin Harcourt) offers creative new ideas that will take you through the fall. Fresh Grilling merges seasonal produce with classic main dishes. A neat feature of this book is the recipe icons indicating if a recipe is low calorie or can be prepared in thirty minutes or less.
Try the Warm Salad with Lamb Chops and Mediterranean Dressing. Cherry tomatoes and wedges of radicchio are skewered and grilled along with rib lamb chops. All are served up on a bed of greens like romaine, arugula, or spinach. Easy-to-grill tuna takes on new flavors with a ginger-lime marinade alongside a vegetable packet of fennel, bok choy, asparagus, and carrot.
Or, our favorite, Artichokes with Tarragon Drizzle, is a fabulous side or appetizer that will dazzle guests.
Warm Salad with Lamb Chops and Mediterranean Dressing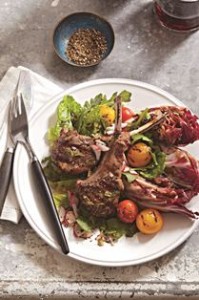 Makes 4 servings
1/3 cup olive oil
3 tablespoons red wine vinegar
2 tablespoons finely chopped green onion
1 tablespoon snipped fresh marjoram
2 teaspoons snipped fresh thyme
1/2 teaspoon salt
1/4 teaspoon ground black pepper
8 lamb rib chops, cut 1 inch thick
2 small heads radicchio
1 cup small red and/or yellow cherry or grape tomatoes
6 cups torn romaine, arugula, and/or spinach
4 radishes, coarsely chopped 
For dressing, in a medium bowl combine oil, vinegar, green onion, marjoram, thyme, salt, and pepper.
Place lamb chops in a resealable plastic bag set in a shallow dish. Pour about 1/4 cup of the dressing over chops. Cover and set aside remaining dressing. Seal bag; turn to coat chops. Marinate in the refrigerator for 1 to 2 hours. Drain chops from marinade, discarding marinade.
Meanwhile, cut each head radicchio through the core into 6 wedges; brush lightly with some of the remaining dressing. Thread tomatoes onto 4 wooden skewers. Thread radicchio wedges onto additional skewers, leaving a 1/4-inch space between pieces.
For a charcoal or gas grill, place chops on a grill rack directly over medium heat. Cover and grill for 12 to 14 minutes for medium rare (145°F) and 15 to 17 minutes for medium (160°F), turning once halfway through grilling. Add radicchio and tomatoes to grill. Cover and grill for 2 to 3 minutes or until radicchio is slightly wilted and tomatoes are beginning to blister, turning once halfway through grilling.
Divide greens among four plates. Remove radicchio and tomatoes from skewers. Place lamb chops, radicchio, and tomatoes on greens. Drizzle with remaining dressing; top with radishes.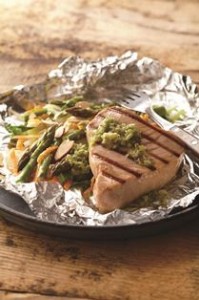 GINGERED TUNA AND POUCH GRILLED VEGETABLE TOSS
Makes 4 servings
4 5 to 6-ounce fresh or frozen tuna steaks, cut 1-inch thick
2 tablespoons vegetable oil
1 tablespoon peeled and grated fresh ginger
1 tablespoon finely shredded lime peel
2 cloves garlic, minced
1/2 teaspoon salt
1/2 teaspoon sugar
1/2 teaspoon ground black pepper
2 tablespoons rice vinegar
1 tablespoon toasted sesame oil
1/2 teaspoon dry mustard
1 bulb fresh fennel, trimmed, halved, cored, and very thinly sliced
1 head baby bok choy, thinly sliced
1 cup trimmed fresh asparagus, cut into 1-inch pieces
1 medium carrot, coarsely shredded
1 teaspoon vegetable oil
1/4 cup toasted sliced almonds
Thaw tuna, if frozen; set aside. In a small bowl combine 2 tablespoons vegetable oil, ginger, lime peel, garlic, salt, sugar, and pepper. Set 1 tablespoon of this mixture aside.
In a small bowl combine remaining 1 tablespoon ginger mixture, the vinegar, sesame oil, and dry mustard; set aside. Tear off an 18×36-inch piece of heavy duty foil. Fold in half to make an 18-inch square. Place the fennel, bok choy, asparagus, and carrot in the center of the foil. Drizzle ginger dressing over the vegetables. Bring up two opposite edges of foil and seal with a double fold. Fold remaining edges together to completely enclose vegetables, leaving space for steam to build. Brush tuna with vegetable oil.
For a gas or a charcoal grill, place tuna steaks and foil packet on a generously greased rack of a grill directly over medium heat. Cover and grill tuna for 7 to 8 minutes or until fish flakes when tested with a fork and center of fish is still slightly pink, turning tuna and spreading with remaining ginger mixture halfway through grilling. Grill vegetable packet about 10 minutes or until vegetables are tender, turning once.
Serve tuna with vegetables and sprinkle with sliced almonds.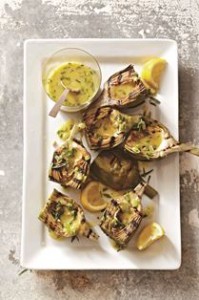 ARTICHOKES WITH TARRAGON DRIZZLE
Makes 8 servings
4 to 5 large whole artichokes or 12 to 15 baby artichokes
2/3 cup extra virgin olive oil
1/3 cup white wine vinegar
1/3 cup thinly sliced green onions
2 tablespoons snipped fresh tarragon or 2 teaspoons dried tarragon, crushed
2 tablespoons Dijon-style mustard
Sea salt or salt
Ground black pepper
Extra virgin olive oil
2 lemons, each cut into 8 to 10 wedges
Snipped fresh tarragon (optional)
Wash large artichokes; trim stems, if desired, and remove loose outer leaves. Snip off the sharp leaf tips. If using baby artichokes, remove outer leaves to reach pale green or yellow leaves on bottom half. Cut darker green portion of leaves off top half of artichoke; discard. Cut off stem and trim any remaining green from base of baby artichokes. 
In a large pot, bring a large amount of lightly salted water to boiling; add artichokes. Return to boiling; reduce heat. Simmer, covered, for 20 to 30 minutes for large artichokes or 10 minutes for baby artichokes or until a leaf pulls out easily.
Place artichokes in a large bowl of ice water to cool completely. Drain artichokes upside down on paper towels. Cut artichokes in half from top through stem; using a spoon, scoop out the fibrous cores, leaving the hearts and leaves intact.
For tarragon drizzle, in a screw-top jar combine the 2/3 cup oil, vinegar, green onions, 2 tablespoons tarragon, and the mustard. Cover and shake well. Season with salt and pepper.
Brush artichoke halves with additional oil. For a charcoal or gas grill, place artichokes, cut sides down, on a grill rack directly over medium heat. Cover and grill for 7 minutes; turn artichokes and grill for 5 to 7 minutes more.
On a serving platter place grilled artichokes cut sides up. Shake tarragon drizzle; pour some over artichokes. If desired, sprinkle with additional snipped tarragon. Serve with lemon wedges. Pass the remaining tarragon drizzle.
All recipes reprinted with permission from Better Homes and Gardens Fresh Grilling, © 2014 Houghton Mifflin Harcourt.
These recipes and more appear in Healthy Aging Magazine.  Subscribe now!