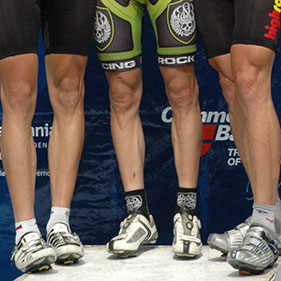 There's no question our knees take a beating every day, but now there's a new treatment option for those who've been plagued by knee pain stemming from damage or injury to the meniscus on having previously had surgery requiring the removal of a segment of their meniscus, the cartilage pad wedged between the thigh and shin bones, says orthopaedic surgeon Kevin D. Plancher, MD, founder of Plancher Orthopaedics & Sports Medicine.
Collagen meniscus implants offer a new opportunity rather than artificial implants such as those for the knee, hip and shoulder joints to help people with chronic joint pain to attempt to return to their favorite activities. Dr. Plancher, who performs meniscus implant surgery, is witnessing his patients experience dramatic relief from nagging knee pain that wouldn't respond to nonsurgical measures such as rest, ice, compression, or physical therapy or surgery that fails to repair the meniscus.
Because the knee's meniscus is especially prone to tearing in active young individuals, there has long been a need for more effective treatment options, Dr. Plancher says. About 1 million surgeries are performed each year in the United States to remove or repair a torn meniscus, but many of these procedures are only partially successful.
"While artificial meniscus implants are still new and still being studied in clinical trials, early evidence indicates they surpass traditional meniscus surgery, which leaves many struggling with persistent knee pain," he says. "I'm excited by what I'm seeing in my patients: collagen meniscus implants are providing their knees … and them … new lease on moving around with ease."
What causes meniscus tears?
A torn meniscus is among the most common knee injuries, according to the American Academy of Orthopaedic Surgeons. The reason this occurs is because the rubbery, wedge-shaped pieces of knee cartilage comprising the meniscus which normally cushion the joint loses its water content making it friable, easily crumbled, and vulnerable to tears. These tears can result from a sports injury involving squats, twists or tackles; trauma such as a car accident; excess weight, which strains the entire knee; or the normal aging process, which weakens and thins cartilage over time.
"You might not know you've torn your meniscus right away, but typical symptoms include pain along with stiffness or swelling that worsens over several days in your knee," notes Dr. Plancher, also a Clinical Professor in Orthopaedics at Albert Einstein College of Medicine in New York. "You might feel a popping sensation in the knee, or the feeling that your knee is giving way."
Imaging tests, such as X-rays or MRI scans, can help confirm a diagnosis of a torn meniscus. But conservative treatment or conventional surgery to repair the meniscus both face a major obstacle because of the way the meniscus is constructed: Its inner two-thirds lacks a blood supply, meaning it can't extract nutrients from blood to help it heal at times.
What does meniscus implant surgery involve?
One of the reasons the new collagen meniscus implants are so promising is they take advantage of the body's own ability to heal, Dr. Plancher says. Comprised of purified collagen, the type of structural protein found in skin and other bodily tissues, the implant is completely absorbed by the body and becomes filled with its own cells over time.
What does meniscus implant surgery entail? It's fairly straightforward: After removing decayed meniscus tissue, the artificial version is sewn into place using only small incisions, Dr. Plancher explains. Patients may be advised to use crutches and a knee brace in the first weeks after the operation, and those in sedentary jobs can go back to work within days.
"We're hoping that the advent of collagen meniscus implants will prevent many people's knees from deteriorating further, causing arthritis and eventually requiring total knee replacement surgery," says Dr. Plancher, who lectures globally on issues related to orthopaedic procedures, sports injury management and arthritis.
Kevin D. Plancher, MD, is a board-certified orthopaedic surgeon and the founder of Plancher Orthopaedics & Sports Medicine.
Plancher Orthopaedics & Sports Medicine is a group of  fellowship trained surgeons with expertise in hip, knee and shoulder arthroplasty, sports medicine, hand and microvascular surgery, foot and ankle and cartilage specialty procedures. Offices are located in NYC and Greenwich, CT with office hours 6 days a week.