It IS the GREAT Pumpkin, Charlie Brown
Linus may have been right, after all, Charlie Brown.
The pumpkin is great and we now know it deserves its position on the list of superfoods. While Linus may not have connected with the Great Pumpkin in the 1966 Charles Schultz animated TV special based on Peanuts, you can and with the benefit of the nutritional wallop this fall favorite offers.
Once just considered a symbol of fall, Halloween jack-o-lanterns, Thanksgiving, pumpkin pie and Peanuts, the nutrient-packed squash is being added in a variety of ways to the diets of those in the know.
Nutritional Value of Pumpkin
The bright orange color of pumpkin heralds its abundance of the antioxidant, beta-carotene. Derived from the Latin name for carrot, beta-carotene converts to Vitamin A in the body–good stuff for heart, lungs, kidney function, better vision and a healthy immune system. Beta-carotene, so rich in pumpkin, may help in anti-aging by fighting off cancer and heart disease.
In addition to Vitamin A, one cup of plain cooked, boiled pumpkin has a mere 49 calories, is low in fat, a good source of dietary fiber, vitamin C and Iron.
Pumpkins are hot
Pumpkin flavors are trendy. According to Nielsen data, the pumpkin flavor craze continues to grow and has become an integral part of our fall diets.
Last year, 37% of U.S. consumers purchased a pumpkin-flavored product. And this means big dollars: Pumpkin products accounted for $361 million in sales in the last year alone, having grown 79% since 2011.
Pumpkin pie filling still dominates the market, with $135 million of sales in the last year. However, several other products also contribute to the significant sales, Nielsen reports.
Pumpkin is moving beyond the baked goods category and infiltrating other categories from pumpkin-flavored dog food and oral hygiene to gum products. Nielsen data shows with sales of $12,878,380, $1,038,879 and $970,460, respectively, pumpkin-flavored goods show no sign of slowing down.
And, then there's pumpkin flavored coffees and ales.
Who knew?
Pumpkin in your coffee cup
Pumpkin lovers rejoice in the fall when Starbucks brings their Pumpkin Spice Latte back to the menu. Starbucks describes the recipe as their "signature espresso and milk, highlighted by flavor notes of pumpkin, cinnamon, nutmeg and clove." Starbucks recommends enjoying it topped with whipped cream and pumpkin pie spices.
The flavored coffee is so popular that estimates are that Starbucks will make around $100 million in revenues from pumpkin spice lattes this fall.
Starbuck's Pumpkin Spice Latte is so popular that it even has its own Twitter account with over 120,000 followers.
Yummy, fun and logs in at a mere 380 calories for 16 oz.
Pumpkin in your beer
Pumpkin beers sound new but they harken back to the colonial days. The colonists used pumpkin and squash as their fermenting medium

because malted barley was scarce. Once the malt became more plentiful, pumpkin was replaced only to have a comeback in the 1990's.
Samuel Adams Harvest Pumpkin Ale is brewed with real pumpkin and a blend of caramel and roasted malts to create a rich depth of malt flavor.
At 5.7% ABV, this dark, reddish-amber ale a full body ale with sweetness complemented by a distinct roasted character. The addition of classic pumpkin pie spices like cinnamon, ginger, allspice and nutmeg provides a subtle warmth to this malty brew.
You might wonder what to eat with such an ale. Pair with desserts like apple pie, carrot cake, or pecan pie where the spicy flavors balance out the sweetness of the dessert. The ale also complements savory fall favorites like lamb stew, squash ravioli or mushroom pasta.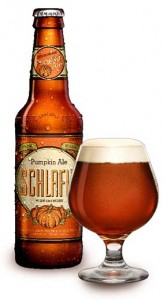 Schafly, the St. Louis locally-owned independent brewery, produces Pumpkin Ale that blends the spices of the harvest with full-bodied sweetness for a beer that tastes like pumpkin pie. Pounds of pumpkin form a malty foundation that supports the fall flavors of cinnamon, nutmeg and clove. At 8.0% ABV, Schlafly's Pumpkin Ale is copper colored and made with a variety of grains such as pale, crystal, Munich and wheat.
Pumpkin on your table
Pumpkin is so versatile and delicious that cookbook authors have made it the main theme. There's 20 Easy Pumpkin Recipes…by Hannie Scott, Easy Pumpkin Cookbook by Chef Maggie Chow, The Pumpkin Cookbook by Julie Hatfield and Pumpkin Love by Rachel Maser.
And, of course, the packers of pumpkin, like Farmer's Market Foods with their Organic Pumpkin and Libby's®, which cans more than 85 percent of the world's pumpkin annually, have their recipe suggestions too.

Author, Stephanie Pedersen, has written a sweet book, The Pumpkin Pie Spice Cookbook, heralding pumpkin pie spice, the delicious combination of cinnamon, ginger, allspice, cloves, nutmeg and mace.
This 6" square book of a little fewer than 100 pages makes a great holiday gift to say nothing of a great addition to a cookbook collection. From chai latte and vegan nog to waffles, chili, bisques, breads and chutneys, these recipes are not only fun but will fill the house with the holiday aroma.
Not only do these spices lend an intriguing flavor, research shows that they also have powerful healing benefits, including helping to lower blood pressure and cholesterol levels, serving to regulate blood sugar and helping to boost immune system function.
Try these pumpkin recipes and make the holidays last beyond the traditional season.
Spicy Pumpkin-Coconut Bisque*
Makes 4 servings
Light, deeply nutritious, delicious, and just exotic enough to be exciting, this pumpkin soup is fantastic. And easy. It freezes well, too—if you happen to have any leftovers.
1 tablespoon butter
1 large onion, chopped
1 or 2 large garlic cloves, minced
2 cups strong chicken or vegetable
broth
2 (14 ounce) cans pumpkin puree
1 (14 ounce) can regular coconut milk
2 tablespoons orange or lemon juice
2 teaspoons ground ginger
2 teaspoons pumpkin pie spice
2 teaspoons chili powder
Optional garnish: chopped chives, parsley, cilantro or pumpkin seeds
Melt the butter in a large pot over medium heat. Add the onion and garlic. Stir until softened, about 5 minutes. Add the broth to the onions and garlic. Cook 2 to 3 minutes.
Stir the pumpkin puree, coconut milk, orange juice, ginger, pumpkin pie spice, and chili powder into the liquid. Bring the soup to a simmer, and cook until heated through, 5 to 7 minutes.
Working in batches, pour soup into a blender until the blender's pitcher is no more than half full. Puree soup until completely smooth, returning pureed soup to pot. Continue until all soup is blended. Alternately, use a stick blender to puree the soup in the pot.
Warm the pureed soup over medium heat. Bring to a simmer and cook another 10 minutes.
Spicytini*
Makes 6 servings
This creative recipe makes a sweet cocktail. It's different. It's easy. And it's delicious.
1 cup raw sugar
1 teaspoon pumpkin pie spice
1 cup water
Juice of one lemon
Splash vanilla extract
1 ½ cups vanilla vodka
1 liter seltzer, chilled
Make a simple sugar syrup by putting a small pot over medium heat, then mixing together the sugar and pumpkin pie spice with 1 cup water and the lemon juice.
Bring it to a boil, remove from the heat, and allow to cool for 1 hour. The syrup can be stored in the refrigerator for up to 2 weeks.
To a pitcher, add the vanilla extract, vanilla vodka and half the simple syrup. Stir until blended. Stir in the seltzer.
Pour drink into chilled martini glasses. Add more sugar syrup, to taste, if necessary.
Pumpkin Spice Muffins**
Makes about 2 dozen muffins
2 3/4 cups all-purpose flour
1 cup sugar
1 tablespoon baking powder
1 teaspoon baking soda
1 teaspoon ground cinnamon
1/4 teaspoon ground nutmeg
1/4 teaspoon ground ginger
1 cup Farmer's Market Pumpkin
3/4 cup sour cream
1/3 cup coconut milk
1/4 cup vegetable oil
1 teaspoon vanilla extract
1 egg + 1 egg white
Topping:
1 tablespoon sugar
2 teaspoons brown sugar
Preheat the oven to 375˚F. Lightly grease muffin tins or add paper liners.
Sift flour, sugar, baking powder, baking soda, cinnamon, nutmeg and ginger in a large bowl, whisking after each addition. Make a well in the center.
In a separate bowl, combine the pumpkin, sour cream, coconut milk, vegetable oil, vanilla extract, egg and egg white.
Pour the wet ingredients into the dry and stir to combine. Spoon the batter into prepared tins, filling about 3/4 of the tin. Mix the sugar topping and sprinkle on top of muffins.
Bake for 25 minutes or until a toothpick inserted into the center comes out clean.
*Reprinted with permission from The Pumpkin Pie Spice Cookbook © 2014 by Stephanie Pedersen, Sterling Publishing Co. Photography by Guy Ambrosino
**Pumpkin Spice Muffin recipe and photo courtesy of Farmer's Market Pumpkin
*Pumpkin photo: Shutterstock