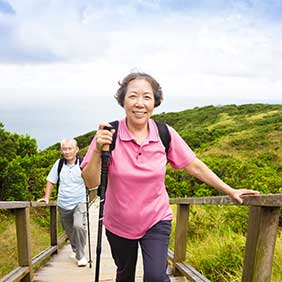 Make September is Healthy Aging® Month the time when you will really, really, do something to change your life. Use the celebration to be inspired, try something new, meet new people, get started again.
Remember how you felt when you started a new school year in September? Recapture that feeling of excitement and wonder.
Every day, we will be adding new tips from health and aging professionals, authors and from our readers who want to share their tips.
Have a tip? Send your tips to secret@healthyaging.net
Check back often!
Here are some inspirational tips from Dr. Francine Lederer, clinical psychologist with a private practice in Los Angeles.
Tips from Dr. Francine Lederer
1. Make sure you have at least one social encounter a day. Having a sense of community and positive connections in your life is crucial to the aging process.
Sexual and emotional intimacy is equally important. Many articles and research indicates that surrounding oneself with loved ones slows down the aging process.
2. Commit yourself to a couple of activities outside your home a week. It's important to keep your mind active and stimulated. Make sure you make time for hobbies or experiences that make you HAPPY. Having passion for things we enjoy doing (i.e. hiking, dance class, painting, book club, playing chess, etc.) keeps us youthful and gives us a sense of PURPOSE.
Research shows that people who feel like they have a purpose really do prolong their life!
3. Get fresh air. Commit yourself to weekly outdoor activities that allow you to breathe in fresh air. Whether it's a morning walk, outdoor stretching, or any form or outdoor exercise helps you remember you are ALIVE. It also helps to motivate further mental, social and spiritual activity.
These tips are from Dr. Francine Lederer, Clinical Psychologist, Life Transitions Specialist®, Therapist and Counselor. Website: LA Talk Therapy