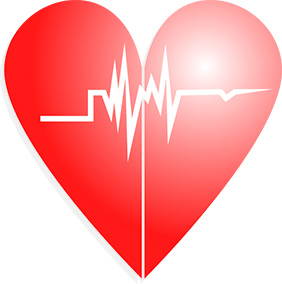 Your heart may be older than you are – and that's not good. If this is the case, you have a higher risk for heart attacks and stroke. But you can take action to put your heart on a healthy beat.
According to a new CDC Vital Signs report, 3 out of 4 U.S. adults have a predicted heart age that is older than their actual age. The heart age concept was created to more effectively communicate a person's risk of dying from heart attack or stroke and to show what can be done to lower that risk. The risks include high blood pressure, cigarette smoking, diabetes status, and body mass index as an indicator for obesity. You can check out your heart age at the Centers for Disease Control website.
Actual age vs. heart age
Examples of actual age vs. heart age. Many people have a heart age that is greater than their actual age because of certain reasons. CDC Vital Signs.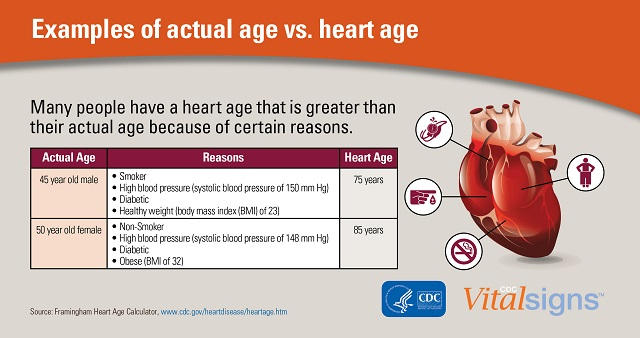 Heart disease, stroke and other cardiovascular diseases is the nation's number one cause of death among both men and women. You may be able to prevent it by focusing on a risk factor that you're ready to change. Not smoking, controlling blood pressure and controlling cholesterol can drastically reduce your risk of having a heart attack or stroke.
You can increase your heart age by:
•Eating a healthier diet.
•Controlling your blood pressure.
•Increasing physical activity.
More health facts:
1 in 2 men have a heart age 5 or more years older than their actual age.
2 in 5 women have a heart age 5 or more years older than their actual age.
About 3 in 4 heart attacks and strokes are due to risk factors that increase heart age.
CDC scientists used risk factor data collected from every state in the U.S. and information from the Framingham Heart Study to determine that nearly 69 million adults between the ages of 30 and 74 have a heart age older than their actual age. That's about the number of people living in the 130 largest U.S. cities combined.
The CDC Vital Signs report shows that heart age varies by race/ethnicity, gender, region and other sociodemographic characteristics. Excess heart age is highest in African-Americans and increases with age in all populations.
By taking steps now, Americans can be young – not old – at heart.