By Halee Fischer-Wright
The times, they are a-changin'. Bob Dylan's wisdom might be almost 55 years old, but it's never been more relevant to our healthcare. As patients, we're all feeling the shifts — some for the better and some not.
We are paying more, but we can also spend more time making an appointment than we do with our doctor. Our care can sometimes feel "by the numbers," but we also seem to have to do more to get it. Our providers are certainly collecting a lot of information, and yet we may leave an appointment not really understanding what's supposed to happen next or why.
(Try the fortune cookie game on Dylan's lyrics—add "in healthcare" at the end of every third or fourth line. It works. Listen here.)
In just about every way—financially, administratively, educationally—our responsibilities as patients seem to be growing.
The patient experience is a trickle down of the doctor and practice experience—layers and layers of new responsibilities being pushed down onto their shoulders, and ours. Given the weight, we have to ask: how do we make sure we're getting the care we want and need? And how can we spend less time and energy managing our way through the health care system?
The solution is to be an empowered partner with your doctors and steer your appointments to get the most out of every one. With the three questions below, you can save time, money, and mental energy—and keep your health on track.
1. Why am I going to see the doctor?
Before you even make your appointment, write down exactly why you want or need to see the doctor. This may sound obvious, but we tend to focus on the big, urgent issue only. You might also have a number of less urgent questions that have been building up. It's important to write them down. Once you have, use them:
Prioritize your list so that you can get the most important items addressed—in the likely case there isn't time to cover everything.
Share the top three with the practice staff so that they can schedule the right kind of appointment for you.
Do the same with your doctor at the start of your appointment to set expectations and help them use the time well. Surprisingly—for providers and patients—why you are in the room may not be why your physician thinks you're in the room.
2. For the visit to be successful, what needs to happen?
During a visit, your provider will process an incredible amount of information and make hundreds of small decisions. They have to capture all of that information in your record. And they want to spend time treating you like a human being. Sometimes, the purpose of the visit or some of your needs can get overshadowed.
You can help by considering what you need to walk away with for you to feel that the visit was successful? That might include test results, a referral, a form completed, or a discussion with somebody about the cost of treatment. Share your list with the practice staff and the doctor. They want the visit to be successful just as much as you do.
3. What haven't I asked or mentioned?
Despite good prep work, you know that once you're with the doctor, the plan can change. They might have new test results to share or a new medication they want to discuss.
When it seems like the visit is wrapping up, pause and ask yourself, "What haven't I asked or shared?" Is there a priority that wasn't addressed? Do you understand what you need to understand? If you feel good, you can also turn the question over to your doctor by asking, "What should I have asked but didn't ask?" This gives everybody an opportunity to get the things that may have been missed onto the table and it shows that you're engaged.
These are my three favorite questions and the questions I counsel my friends and family to use. If your doctor is open and engaged with them, great. If your doctor regularly cuts you off or doesn't seem to want to focus on your priorities, just remember: there are 800,000 doctors in the US.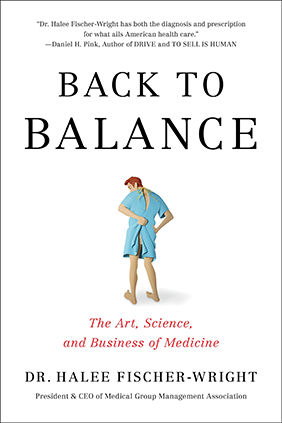 When Bob Dylan wrote that powerful song in 1963, he wanted to capture the sentiment of the masses and their desire for change. Well, we're the masses in healthcare. Here's the good news: if we want our healthcare to be satisfying and healing, we just have to seize the opportunities to empower ourselves. We can help create the experiences we want and need—and that can power a movement for the best kind of change.