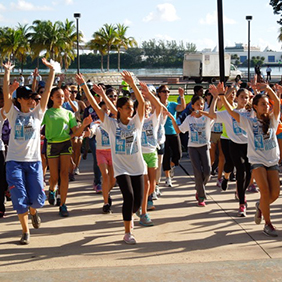 It's a well-known fact that exercise if beneficial to a healthy lifestyle. However, how exercise can impact those with disease such as Parkinson's had previously been unknown territory.
Study supports importance of exercise for Parkinson's disease patients
Data released today from the National Parkinson Foundation's (NPF) Parkinson's Outcomes Project shows that people with Parkinson's disease (PD) who start exercising earlier experience a significant slower decline in quality of life than those who start later. The study is being presented today by NPF researchers at the 19th International Congress of Parkinson's Disease and Movement Disorders in San Diego, CA.
"This study makes it clear that everyone with Parkinson's disease should be exercising. Patients suffer when they delay starting their exercise, and it doesn't seem to matter what they do, they benefit from just getting up and moving," said Michael S. Okun, MD, NPF's National Medical Director.
About the study
Researchers looked at data on nearly 3,000 patients receiving care for three years at NPF Centers of Excellence participating in the Parkinson's Outcomes Project—the largest clinical study of Parkinson's ever conducted.
Over 1,300 of the study participants reported little regular exercise at the beginning of the study. Five hundred of those individuals began exercising greater than 2.5 hours per week within the next two years. The researchers compared participants who exercised regularly for the entire two years, to people who didn't exercise at the beginning of the study, but then started to exercise regularly.
In this study, they didn't separate what types of exercise were done, just the total exercise reported. Quality of life scores were compared using the Parkinson's Disease Questionnaire (PDQ-39). The PDQ-39 is a self-reported questionnaire that measures the impact of PD on daily life through multiple factors, including mood, movement and social interaction. Over the two-year study period, the PDQ-39 scores worsened 1.4 points in the early starters and 3.2 points in the late starters.
What the study revealed
"This analysis is interesting because it is structured as a 'delayed start' trial, comparing people who start early versus those who start late. This design is the standard approach to show an intervention slows the disease: if it just improved symptoms, people who start late would get the same benefit as those who start early," explained Peter Schmidt, PhD, NPF's Senior Vice President and Chief Mission Officer and an author of the study. "We found that people who start exercise early get more benefit than those who start late."
Lead study author Miriam Rafferty, PT, DPT, whose doctoral research at the University of Illinois at Chicago focuses on exercise and Parkinson's, noted that this difference of almost two points on the PDQ-39 could be enough to make everyday activities feel harder.
"This is great news that people can have a positive impact on the course of their own disease," said Joyce Oberdorf, NPF's President and CEO. "It is tremendously empowering."
NPF's Parkinson's Outcomes Project is the largest clinical study of Parkinson's disease ever conducted with more than 8,000 patients with PD who receive care at 20 NPF Centers of Excellence in four countries.
NPF issued care recommendations in 2012 around the issue of depression in PD after finding that it was undiagnosed in the patients tracked through the study. The goal of the Parkinson's Outcomes Project is to continue to identify best care practices for Parkinson's that could help get better care to more people affected by the disease.
For more information about NPF's research initiatives, visit www.parkinson.org/research.
Photos courtesy of  National Parkinson Foundation.