The following article is an excerpt from Healthy Aging Magazine, the lifestyle magazine that is all about following your passion and what you can do rather than what you can't. Subscribe to read the full article.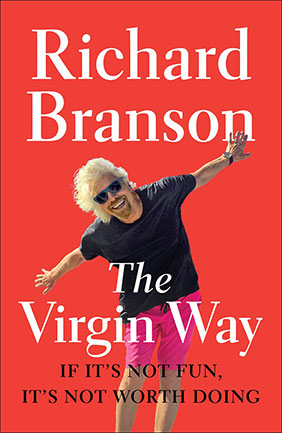 Back in 1965 when many of the baby boom generation were either backpacking around Europe, thinking of themselves as hippies or being swept up by political protests, one 16-year-old named Richard Branson was convincing his parents he should drop out of school and start a student newspaper.
Richard Branson, or "Ricky" to his mother, showed the beginning of his entrepreneurial skills when he became passionate about starting Student, a youth-culture magazine. It was the beginning of Branson's many early stage passions, which ultimately made believers out of his parents.
In his latest book, The Virgin Way…If It's Not Fun, It's Not Worth Doing(Penguin Random House LLC), Richard Branson describes this first venture into what would become to him a logical progression of exciting ideas and businesses and to others, dumb luck or a topsy-turvy career path.
Early Entrepreneurial Signs
"When I shocked my parents as well as friends by dropping out of the prestigious Stowe School," Branson said, " I did it with my young eyes wide open in order to pursue a dream of starting my own magazine publishing business. In my heart of hearts I knew that making Student magazine a success simply didn't necessitate me spending any more of my precious time sitting in stuffy classrooms. The idea of spending another couple of years memorizing mind-numbing facts from textbooks, wrestling with the joys of calculus and defining little-known Latin verbs seemed totally irrelevant to my future life and so I had to escape or risk my sanity."
A Parent's View of a Kid Who Wanted to Do His Own Thing
Branson's mother pays a heartwarming tribute to her son in the book, noting how as parents they had somewhat of rollercoaster ride with their budding entrepreneur. "What if we had insisted that you not take on so many silly risks and, rather than allowing you to drop out of school at sixteen, forced you to buckle down and complete your education?" Mum said. "What we saw as being a pig-headed little boy who was utterly determined to do his own thing, turned out to be nothing more than the growing pains of a budding entrepreneur."
Early Days
Richard Charles Nicholas Branson was born in Surrey, England in 1950. His father, Edward James Branson "Ted" was a barrister and his mother, who Branson describes as an entrepreneur in her own right, was an airline attendant early in her life.
A few years after starting the magazine, Branson started his company, Virgin, as a mail order record retailer in 1970. He founded Virgin Records and opened a record shop on Oxford Street, London. After building a recording studio, The Manor, the first Virgin artist, Mike Oldfield, recorded and released Tubular Bells. Virgin Records went on to sign household names from the Sex Pistols to The Rolling Stones, becoming the biggest independent label in the world. All this from a high school dropout.
**Reprinted from THE VIRGIN WAY: If It's Not Fun, It's Not Worth Doing by Richard Branson with permission of Portfolio, an imprint of Penguin Publishing Group, a division of Penguin Random House LLC. Copyright © Richard Branson, 2014.
To continue reading this article and more like it, subscribe to Healthy Aging Magazine, the lifestyle magazine that is all about following your passion and what you can do rather than what you can't.