Arianna Huffington: mother, sister, flat shoe advocate, sleep evangelist.
In today's fast-paced, technologically overloaded world, who  has  not  thought: Stop the train, I want to get off ? Things are supposed to get easier as we become more accomplished,  but somehow they are becoming more complicated. The  responsibilities pile up from childcare, careers, grandchildren, elder care, to say nothing of the  invasion of social media in our lives. Facebook, Twitter,  Instagram, Pinterest all vie for our attention and  are intended  to make us feel "more connected." We long for the train  to pull  into the station so we can re-energize, take stock, and  reevaluate if we are on the route to the good life. It may come as a surprise, but even some of the most successful  people in the world want the train to come to a screeching halt.  Arianna Huffington, creator of the Huffington Post and a nationally syndicated columnist and prolific book author, is no exception.
According to Arianna Huffington in her new book, Thrive: 
"What is a good life?" has been a question asked by philosophers going back to the ancient Greeks. But somewhere along the line we abandoned the question and shifted our attention to how much money we can make, how big a house we can buy, and how high we can climb up the success ladder. These are legitimate questions, particularly at a time when women are still attempting to gain an equal seat at the table. But as I painfully discovered, they are far from the only questions that matter in creating a successful life."
Huffington, who has been recognized on Forbes Most Powerful Women list and Time Magazine's list of the world's 100 most influential people (twice!), had her own very personal wake-up call seven years ago. The turning point came after years of shoulder-to-the-grindstone work, political activism, and devotion to family. Born in 1950, Arianna Stassinopoulougrew up in Athens, Greece, and studied economics at Girton College, one of the colleges within Cambridge University. She found an early niche as a book author. Her 1970s book, The Female Woman, was a counterpoint to the women's liberation movement. As a biographer, she penned Maria Callas: The Woman behind the Legend and Picasso: Creator and Destroyer.
She married politician Michael Huffington   in 1986.They have two daughters. After eleven years of marriage, they divorced.  One of her daughters, Christina, went through a dark period of drug addiction  and, with support from her mother, recovered and wrote about her struggle. Huffington has been involved in politics and causes including a run for California  governor against Arnold Schwarzenegger. In 2005, she launched The Huffington  Post, a multimedia company, selling it in 2011 for more than $300 million and  continuing on as president and editor-in-chief of Huffington Post Media Group.
 The Eye Opening-Experience
Working long hours building and managing her business eventually took its toll.  In her book, she describes her personal eye-opener:
The first thing I remember that morning is finding myself lying on the floor of my  home office in a pool of blood. It was my own, as it turned out. I know it might be  a juicier story if it was someone else's, but that would be a very different story.
I had collapsed from exhaustion and lack of sleep. On my way down, my head had  hit the corner of my desk, cutting my eye and breaking my cheekbone.
 In the next few days, I learned that doctors' waiting rooms are good places to  think. As I was going from MRI to CAT scan to echocardiogram to find out what was wrong with me, I had time—finally—to ask myself the sorts of questions that have been asked by philosophers throughout the ages. The Greeks asked what is a good life? But in the last few centuries, instead of continuing to ask ourselves these valuable questions, we started acting as if the good life is simply about more money and more power.
So I asked myself, is this the life I really want? What kind of success am I after?
Having founded the Huffington Post two years earlier, I was working eighteen hours a day, seven days a week. And it was working, according to traditional measures of success. But I was not living a successful life by any truly sane definition. I was on my way up in the ways that don't matter. And on my way down—literally—in the ways that do. My life, I realized, was out of control. I was not thriving.
And after all the tests, it turned out nothing was wrong . . . except for the fact that everything was wrong.
Time for a Change
Nothing like a knock on the head to make life changes. For Huffington, her personal journey to redefine herself and what was important in her life resulted in what she calls "the Third Metric." "To live the lives we truly want and deserve, and not just the lives we settle for, we need a Third Metric," she says. "A third measure of success that goes beyond the two metrics of money and power." She defines the four pillars of this metric as well-being, wisdom, wonder, and giving and shares her road map to a happier life in Thrive. "I wanted it to be about my own personal journey, how I learned the hard way to step back from being so caught up in my busy life that life's mysteries would pass me by," she says. "But it was also important to me to make it clear that this was not just one woman's journey. Many people come to this same place through other kinds of wake-up calls: burnout, sickness, addiction, a job change. But it can also be a line of poetry that stirs something in you."
Huffington strongly believes that meditation and sleep are two big changes people can  make in their lives to get in touch with what truly is important. She became a self- proclaimed "sleep evangelist." She began meditating. And she noticed that people  whose lives were thriving "made room for well-being, wisdom, wonder, and giving." Part of well-being, of course, is exercise. In fact, she credits the ability to think clearly  with hiking, an activity she actively pursued when living in LA. "When I go back, I  still have hiking meetings instead of sit-down meetings. Our rule is that whoever is in  the best shape does most of the talking on the way up, and the rest of us do the talking  on the descent (I usually find myself talking more on the way down)."
Take it From Huffington
Perhaps Huffington's desire to give comes from her Mediterranean heritage. Giving is definitely part of her metric. She suggests:
Start by making even small gestures of kindness and giving a habit, and pay attention to how this affects your mind, your emotions, and your body.
 During your day make a personal connection with people you might normally tend to  pass by and take for granted: See how this helps you feel more alive and reconnected  to the moment.
 Use a skill or talent you have—cooking, accounting, decorating—to help someone who could benefit from it. It'll jumpstart your transition from a go-getter to a go-giver, and reconnect you to the world and to the natural abundance in your own life.
From her lifetime of experience, change, and reinvention, Huffington now sums it all up in her Twitter profile as "mother, sister, flat shoe advocate, sleep evangelist . . ." Clearly, she has taken her self-realization metric to heart. As she is wont to say, "Upward, onward, and inward."
Book mentioned in this article: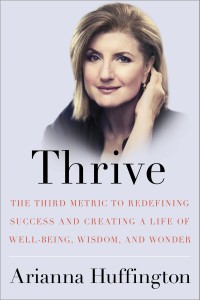 Thrive: The Third Metric to Redefining Success and Creating a Life of Well-Being, Wisdom, and Wonder